Meet Gloria, CHATS student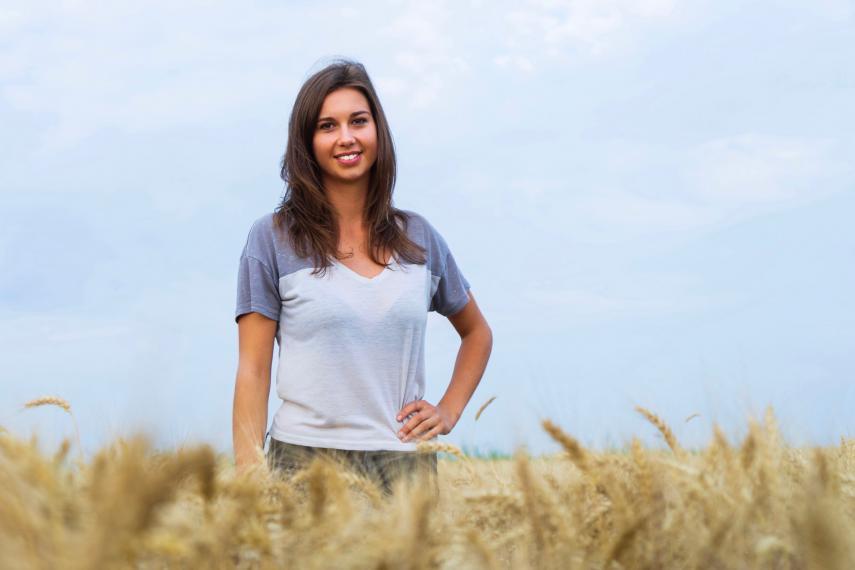 About Gloria Walch
Gloria's passion for agriculture and farming play a significant role in her life. Because of this she chose to study crop, horticulture, and turfgrass science at the University of Guelph (U of G). Gloria hopes to take advantage of her newly developed knowledge to become a certified crop advisor and stay involved with her family farm.
Program: Bachelor of Science in Agriculture – Crop, Horticulture and Turfgrass Sciences
Year of Study: Fourth-year 
Hometown: Stratford, ON
---
Why did you decide to study at the University of Guelph?
Ever since a young age, my parents have attended the FarmSmart Conference that the U of G runs on campus every January. My siblings and I would always tag along when we were able to and take part in the kids' program that they offered. This allowed me to tour the campus and learn interesting science material related to agriculture. When it came time to choose a university to attend, U of G seemed to be my only wish!
What do you like best about your program?
The best part about my program is the people! With everyone having a similar interest in agriculture, there is always lots to talk about and you are constantly learning from one another. I also get the impression that you make valuable connections with people attending the same program that will last a lifetime, which is a great tool to have.
Do you have a favourite class or professor? 
There are so many great classes and professors within the OAC and the classes to choose from. The classes keep getting better every year as they become more specified to your interests. It is difficult to pick favourites, but my two favourite professors so far are John Lauzon and François Tardif. 
What residence did you live in during first year? 
For first year I lived on the fourth floor of Addington in the Lennox and Addington Residence, located on the north end of campus. This is where the "Aggie cluster" was for my first year and I wouldn't have changed one thing about it! Living in the cluster was a great way to meet people, always have someone to talk to, or have classmates to help with homework. The Aggie cluster became a home away from home because of the people in it.
How are you keeping busy this summer?
This summer I am working on the family farm where we grow edible beans, wheat and corn. There are a variety of jobs that I take part in doing but I spend most time keeping myself busy with the crops. I also have my AZ licence; therefore, I drive transport truck every now and then. 
Where is your favourite spot to hang out on campus?
My favorite spot to hangout on campus would have to be the Aggie Lounge in Johnston Hall. You are always able to find fellow Aggies there and have interesting conversations about events that happened, are happening, and  the courses you're taking. You can often learn a thing or two from the conversations held in the Aggie lounge. Another one of my favourite places to hang out at would be Brass Taps). It's a great place to go to get your mind off school and just relax a little; it's also a great place to meet up with friends.
What are your post-graduate plans or goals?
After graduation, I would like to complete my certified crop advisor certification and stay involved with the family farm. Agriculture is a passion of mine and is not only a job, but  it is also a way of life that is incomparable to any other.
What's one fun fact about yourself?
I can speak two languages! German and English.
Share this page
News Topics