Meet Ibrahim, Environmental Sciences Student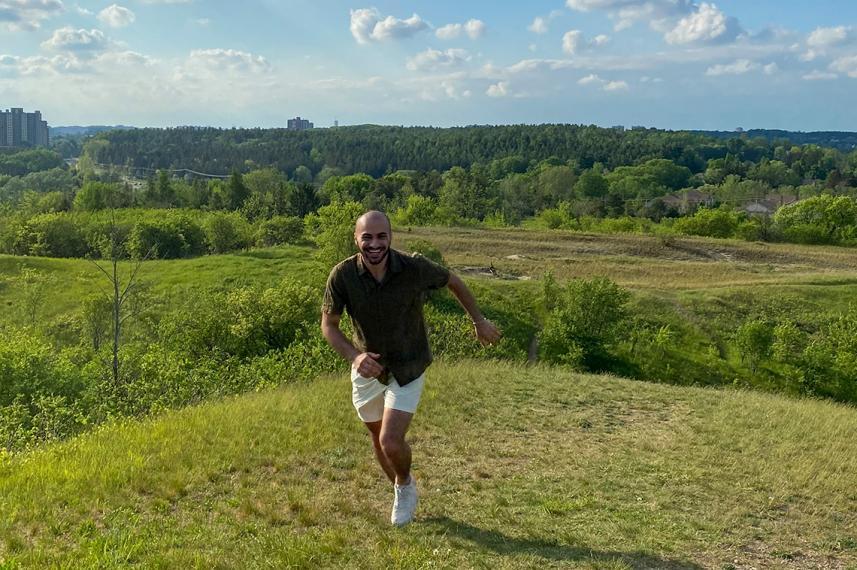 About Ibrahim Aburaneh
Environmental science student, Ibrahim, believes his program displays an inspiring level of passion and enthusiasm. His love for service and volunteering is demonstrated over the years by his involvement in the Peer Helper Program, and through work as an environmental science student rep for recruitment events, and senior co-op student duties. He views environmental studies as a way of life and recognizes that what he is learning today, opens him up to a of future exciting and diverse career choices.
Program: Bachelor of Science in Environmental Sciences - Environmental Sciences (Co-op) 
Hometown: Cambridge, ON
Year of Study: Fifth
Why did you decide to study at the University of Guelph?
Guelph made the most sense to me because they offered such a great variety of majors for the environmental sciences. I needed some flexibility in my major options because, before grade 12, I didn't know much or anything about environmental science. The non-competitive general first year really sold the program and, I knew I would grow into my interests. Looking back, I was 17, I had no idea what the difference between environmental resource management and ecology was, so that ability to take a year and ask a million questions was everything.
What do you like best about your program?
I like the passion within my program the most. Someone once described environmental sciences as not just a subject you learn about, but the way you practice your life. To me, that's beautiful because everyone can take what they love about the science and put it into use in their own life. Things like product sustainability, water protection and reducing emissions.
In what ways were/are you involved on campus? 
I enjoy volunteering. It is a great way to meet new people and learn about what's out there. For the last two and a half years, I have been volunteering with the program counsellor for recruitment event as an environmental science student representative. I'm also involved with other students through work as a senior co-op student and recently as a peer helper for first year students.
Do you have a favourite class or professor? 
A class I highly recommend to all U of G students is GEOG*2210 - Environment and Resources. That class is so well designed and taught. I have only great things to say about its content and importance. My favourite professors are for sure Neil Rooney and Susan Glasauer. I should also say that everyone's favourite is Shelly Hunt and, if you ever get the pleasure of taking one of her classes, you will quickly learn why!
What residence did you live in during first year? 
The residence of my parent's home. I am and always have been a commuter student – it has always just made the most sense for me.
Where is your favourite spot to hang out on campus?
My favourite place is by far the tropical greenhouse in the back of the Bovey building. It is not well known and is always amazingly beautiful year-round.
What is an unforgettable university experience you've had?
A story I will tell anybody who will listen is how my second-year soil science course had us digging deep holes into the ground to collect soil samples. I still can't believe that was real and not a fever dream. It was a memorable experience because I've never done something like that before. It was very tough work to figure out with just our small team, and digging holes in a random park in Guelph was just so comical but so cool at the same time. If you ask any environmental science major about it, they each have their own story to tell.
Do you have favourite spots in Guelph?
Blaze Pizza. If you don't like Blaze Pizza, it is because you are doing it wrong.
What is a hobby that makes you happy, or relieves stress?
I really enjoy cooking. Especially lately, I find myself saving every new or interesting food recipe to my phone. It's such a fun way to share your love with other people and say, "look what I made for us".
What are your plans or goals after graduation?
This is for sure a big question and, I am so grateful I will be back for a fifth year so I can figure that out. I think first, I want to get a job with people around my age and enjoy being young for a little longer before either going back to school or starting my career. The environmental sciences are so far-reaching that I can see myself starting out in one place and fully changing paths later on.
Knowing what you know now, what piece of advice would you give to your high school self?
Just be present and be active. I was always a bit high-strung and a bit anxious growing up but if I could go back, I would tell myself to take a breath and let loose. COVID put life into perspective, and it has reminded me to cherish all parts of it.
What methods have you found to adjust to remote learning during the period of online class delivery? 
Lots of breaks. I struggled to stay focused and on task and, then I would beat myself up about losing time or being wasteful. Eventually, I adopted a kinder approach and recognized I needed to schedule more frequent breaks in my day so I wouldn't burn out. On these breaks, I always tried to do different things as well. Sometimes that meant being on Twitter and, other times I was going on walks or just stretching.
What's one fun fact about yourself?
I get the hiccups all the time. Probably a concerning amount for an adult.
 
Share this page
News Topics