Meet Jon, animal science student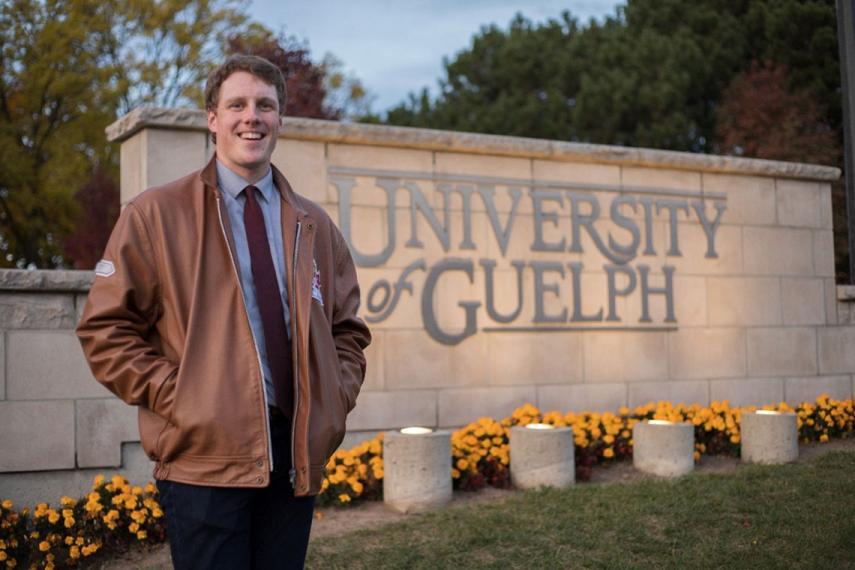 Jon may have been a bit tentative about coming to the University of Guelph, but he quickly made friends and hasn't looked back. He's spent his four years as an Aggie doing all sorts of activities on campus.
Program: Bachelor of Science in Agriculture – Animal Science
Hometown: St. Pauls, Ontario
Year of study: 4th year
---
Why did you decide to study at U of G / animal science?
When I applied to U of G I knew I wanted to continue my education in agriculture. I grew up on a dairy farm and knew that I had an interest in learning more about animal production. The animal science major has allowed me to gain a lot of useful knowledge about animal production that will be applicable to many careers once I graduate.
What do you like best about your program?
I like the community feel my program has. Starting out undeclared with all of the other B.Sc. (Agr.) students allowed me to meet a lot of peers that share the same classes and interests as me. Some of these peers I have shared courses with throughout university and we have been able to work together on labs and assignments. This allowed us to help each other out with difficult questions.
In what ways are you involved on campus?  
In my first two years I was privileged to be the President of the OAC 2023 Coyotes class. In third year, I was the B.Sc. (Agr.) and Student Events & Risk Management rep on the SFOAC student government.  Throughout university I have been a part of the Gryphon Varsity Nordic Ski team, as well as participating in several intermural sports with my peers!  I have also attended several Dairy Science, Beef Science and Soil and Crop club meetings as ways to extend my learning beyond the classroom.
Do you have a favourite class or professor?
My favourite class would be ANSC*4230, Dairy Challenge.  In this course I learned about improving the efficiency of dairy farms. I was put into different groups of students over the semester and we went to dairy farms to analyse their production. We then came up with real life solutions to problems they may be encountering. As a group you present these ideas to a panel of judges who ask questions and give feedback on the ideas. This was one of the most practical courses that I have taken in university and allowed me to apply the things I have learned during my time here to real world issues.
What residence did you live in during first year?
I lived in an Addington double room in my first year in the Aggie Cluster.  I was fortunate enough to also know my roommate before coming to U of G!
Where is your favourite spot to hang out on campus? 
My favourite spot to hangout on campus is the Aggie Lounge in the basement of Johnston Hall.  It's a great spot to relax but also has separate rooms for silent or group study. 
What is an unforgettable university experience you've had?
An unforgettable experience I have had was going on a Midwest Crop Tour with some of my peers that we used as an independent study course. We took a bus of students throughout the American Midwest and were exposed to several forms of agriculture that are not common or don't exist in Southwestern Ontario. 
What is a hobby/activity that makes you happy, or relieves stress?
I like to attend the weekly Aggie Pubs on Wednesday night with my friends. I also spend a lot of time playing card games like Euchre with my housemates.  I am also a part of a square dance set that competes at the College Royal every spring!
What are your plans or goals after graduation?
After graduation I hope to enter the workforce as either an animal nutritionist or a dairy consultant to help farmers improve their farming operations.
What piece of advice would you give to your high school self?
To not worry so much about coming to the U of G. It is a very inviting place to go to university and I have had the privilege to make some of my best friendships during my time here.
What's one fun fact about yourself?
Kent Ribey and I had the fastest team "2L milk chug" during Aggie Week this past fall!
Share this page
News Topics