Meet Joshua, Ecology Student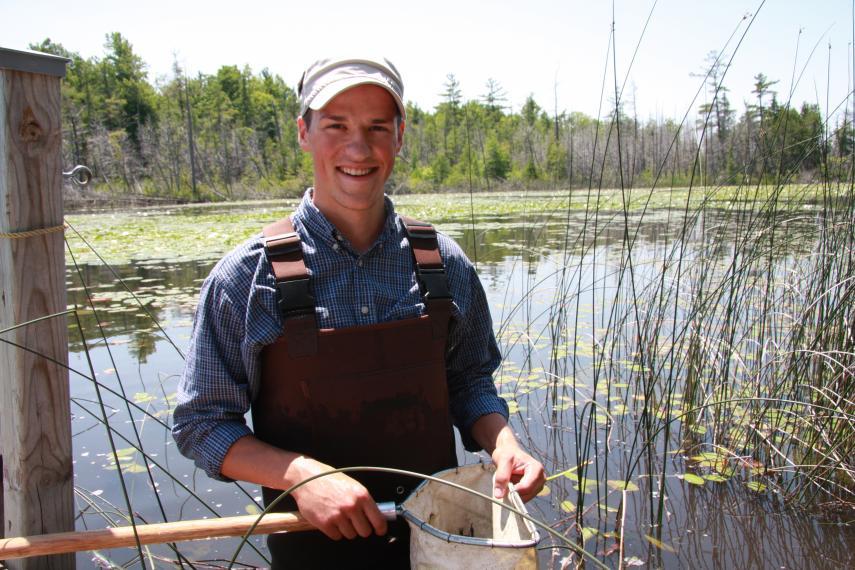 About Joshua Persi
Joshua Persi didn't wait to test the waters before getting involved at the University of Guelph. Now a third-year ecology major, Joshua has been an environmental advocate, a volunteer in on-campus laboratories and an active member of the Environmental Science Student Executive. Inspired by his experiences both in-class and in the field, Joshua plans to further his knowledge of plant ecology in a graduate program before entering the field as a professional ecologist.
Program: Bachelor of Science in Environmental Sciences - Ecology
Year of Study: Third Year
Hometown: Newmarket, Ontario
---
Why did you decide to come the University of Guelph?
I decided to come to the University of Guelph for a couple different reasons; the principal reason being the high quality of its environmental sciences program. Academics aside, I wanted my university experience to leave me with more than just textbook knowledge; I wanted to develop myself both personally and professionally, and I was impressed by the diversity of clubs and volunteer opportunities available on campus. The beautiful campus and tons of green space in town definitely didn't turn me away either.
What do you like best about your program?
It's hard to think of anything I dislike about my program, but I think what I like the most about the environmental sciences degree is the versatility. You don't have to choose your major until second year, so you have tons of time to explore your options and see which major appeals to you. Plus, if you have the inclination, there is the opportunity to apply to the co-op program to supplement your education. It helps that environmental sciences students are a warm bunch of people and older students are always willing to share their experiences and advice with new students.
Do you have a favourite class or professor?
I've enjoyed the vast majority of my classes, and that is in large part due to the great professors I've had. If I had to choose just one, I would say that Plant Functional Ecology taught by Dr. Hafiz Maherali has been my favourite. I'm really interested in plant ecology, so that's obviously a big reason why I chose this course. However, the course is great in its own right. The lab assignments are practical in nature and feel genuinely valuable for future ecologists.
What is your plan after graduation?
If you were to ask me prior to university what I was going to do after graduation, I don't think I would have said go back to school. Nevertheless, that's what I plan to do. I'm hoping to do a master's in some aspect of plant ecology, and after that, I plan to either go back to school one last time or enter the workforce as a professional ecologist.
What are your favourite events and activities on campus?
My favourite event of all time is College Royal's "Super Thursday". It is so much fun to throw pies at your friends, get a little messy and unwind! I also really enjoy the OAC Goodtimes Banquet and the Environmental Sciences Symposium!
How do you get involved on campus or in Guelph?
In high school, I was never involved in any clubs or organizations but when I came to Guelph I wanted to be a part of something, so I jumped at almost every opportunity that came up. Among other commitments, I've been a lab volunteer, environmental advocate and member of the Environmental Sciences Student Executive. The University of Guelph is teeming with opportunities and if you're interested, it is very easy to get involved. 
What is your favourite spot to hang out on campus?
That's a tough question, but I have to give the honour to Williams Fresh Café in the University Centre. It's a great place to go if you're looking to get some work done or have a power nap before your next class. Not to mention the servers are incredibly friendly and serve up some amazing coffee and breakfast sandwiches.
Do you have any favourite spots in Guelph?
I'm a big fan of downtown Guelph. There are some great restaurants and shops on Wyndham Street and there is even free ice skating outside of City Hall during the winter months. On Saturdays the farmers' market is open and nothing beats grabbing some fresh and delicious grub to start the weekend off right. 
Share this page
Find related news by keyword
News Topics