Meet Kelly, Environmental Biology Student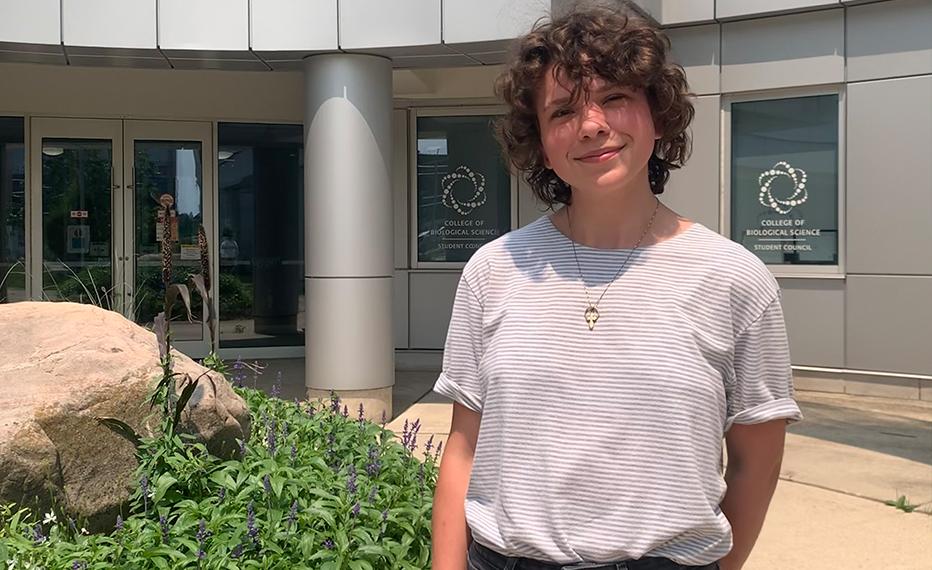 About Kelly Evans
Kelly Evans is a fourth-year environmental sciences student majoring in environmental biology. She was drawn to the University of Guelph by her passion for marine protection. Her primary study focus includes courses that highlight interactons between human activity and the environment. She hopes to pursue a career as a climate change specialist.
Program: Bachelor of Science - Environmental Biology
Year of Study: Fourth year
Hometown: Milton, Ontario
---
Why did you decide to study at the University of Guelph?
I originally came to Guelph for the Marine and Freshwater Biology program driven by my passion for marine protection. However, I felt it was very restrictive when it came to required courses, so I switched to the program of Environmental Biology (best decision ever!). 
What do you like best about your program?
I love how flexible this program is! Whether it be biodiversity, conservation, or ecotoxicology this program allows you to learn it all.
In what ways were/are you involved on campus?
Volunteering with a professor in the Department of Integrative Biology! This opportunity has broadened my understanding behind the purpose of academia and has allowed me to enhance laboratory skills. 
Do you have a favourite class or professor? 
This is a tough one, my favourite class would have to be ZOO*2090 – Vertebrate Structure lectured by Dr. Moira Ferguson and Sara Schorno. However, Dr. Andrew MacDougall (who lectured Conservation Biology) definitely made online synchronous lectures far more enjoyable!
What residence did you live in during first year? 
Maritime in South!
Where is your favourite spot to hang out on campus?
The Arboretum, the picnic tables by ANNU (Animal Science & Nutrition), or the Bullring!
What is an unforgettable university experience you've had?
Convincing staff I was on the University's gymnastics team (which does not exist) so I could study with my friends who were on varsity teams during restricted library hours. 
Do you have favourite spots in Guelph?
The Boathouse for the best ice cream in Guelph!
What is a hobby that makes you happy, or relieves stress?
Hiking and camping, or really anything to do with the outdoors. 
What are your plans or goals after graduation?
The current plan is to continue in academia by pursuing a Master's in Environmental Science, then see where the world takes me after that. 
Knowing what you know now, what piece of advice would you give to your high school self?
(1) Figure out how you learn best, and (2) don't take everything so seriously, have fun and make memories!
What methods have you found to adjust to remote learning during the period of online class delivery? 
Making daily schedules. I found it difficult to sit at my desk for a set period of time, especially being a student that would study in various places on campus. By scheduling my lectures, labs, and readings into my daily routine I found it easier to adjust to online learning. 
What's one fun fact about yourself?
I have a skinny pig named after an Austrian artist, Ziggy Alberts.
Share this page
News Topics