Meet Melissa, M.Sc. Rural Planning & Development Student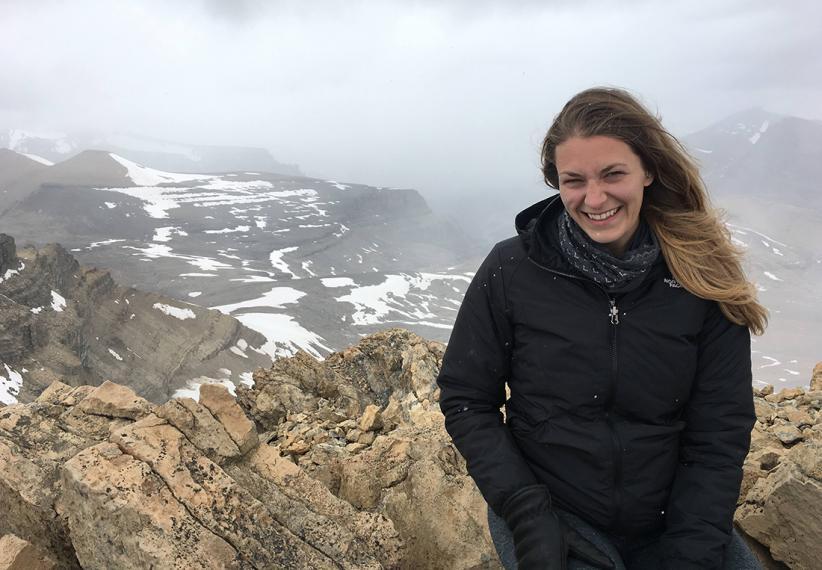 About Melissa
After completing the marine and freshwater biology program here at the University of Guelph (U of G), Melissa was exposed to working on land development projects through post grad job experience. She decided to pursue a career in planning after being inspired by the sight of development projects coming to life in rural and small-town areas. The M.Sc. Rural Planning and Development program at U of G is where she is conducting research on infrastructure innovations in rural communities, and gaining the tools and skills needed for her future as an accredited planner.
Program: M.Sc. (Planning) – Rural Planning & Development
Hometown: Caledon, Ontario
---
What did you study for your undergraduate degree? 
I received a bachelor of science in marine and freshwater biology at U of G.
Why did you decide to pursue graduate studies at the University of Guelph? Did your undergrad experience shape your decision to further your studies?
After my undergraduate degree I completed a post-graduate certificate at Conestoga College in environmental engineering applications. After this certificate I obtained a job as an AutoCAD operator working for a land surveying and engineering firm. Within my work experience I really enjoyed working on land development projects, specifically seeing development occurring in rural and small-town areas. I realized I wanted to pursue a careering in planning and so I investigated graduate programs which would allow me to be an accredited planner. The rural planning and development program at Guelph suited my interests, and knowing what a great school it was based on my undergrad, I decided to pursue my studies at Guelph.
What is your research focus? 
My research examines infrastructure innovations in rural communities. My research goal is to understand how collaboration between municipalities and various actors support infrastructure management in rural Ontario, and to examine the implications of rural infrastructure management for economic development.
How have you found ways to get involved as a grad student? 
I began my program online due to the COVID restrictions. But I was still able to be a part of my school's Grad Student Society where we organized online events. I also was able to obtain a research assistantship which helped me gain research experience and helped me formulate my research focus and goals. 
How has your graduate program experience been different from your undergrad experience? 
I find in my graduate studies there is a large emphasis on applying knowledge. In our program there has been no final exams, but instead term papers. The focus of learning is applying knowledge to real world problems, and I find this extremely exciting about graduate studies!
Where are your favourite spots in Guelph?
Even with the pandemic I am fortunate enough to live in Guelph! My favourite spots to go for a walk or hike are the Arkell Springs trails and Starkey Hill, and my favourite food places are Red Papaya and Cusina Mediterranean Bistro. Campus is also a wonderful place to be – campus in the Fall is extremely beautiful!
What do you find most challenging/ most rewarding about your program/research focus?
The most challenging thing about my program has been balancing a high number of courses with my research assistantship. But this has also been a huge advantage since it has given me the ability to work through my degree efficiently and gain invaluable research experience. This also has led to the establishment of my thesis research project. The most rewarding thing about my program has been the people. The program has been extremely welcoming and well organized, considering we are all working remotely this past year! Working within a program where the students and faculty care immensely about their work and value each other equally has been extremely rewarding.
What are some free-time activities that make you happy, or relieves stress?
Finding activities during the pandemic has been a challenge for me, but I have enjoyed yoga and running this past year. 
What are your plans or goals after graduation?
I have already been offered a position as a planner, which I will be starting during my second year of my degree. I plan to continue this path and work towards becoming a Registered Professional Planner after graduation.
What advice would you give to an undergrad student considering graduate school?
Graduate school is much different than undergrad. I find it to be a lot more close-knit. There are also endless opportunities in graduate school – research assistantships, teaching assistant positions, conferences and travel opportunities, scholarships and more. There are lots of ways to make your graduate experience unique and special, and it also offers you a ton of networking opportunities that could lead you down a new path or to a new job!
What's one fun fact about yourself?
I love anything adventurous!
 
Share this page
News Topics