Meet Pamela, BBRM Equine Student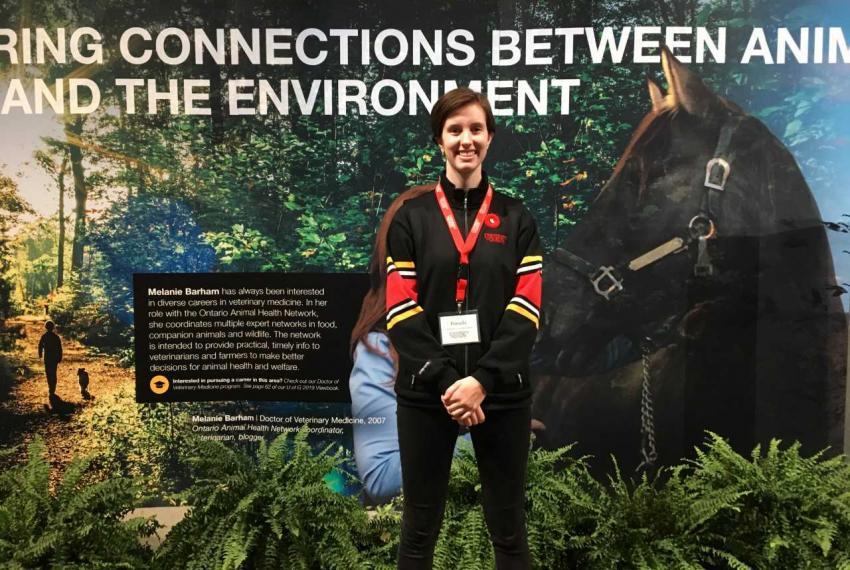 About Pamela Terreberry
Pamela is a student in Bachelor of Bio-Resource Management (BBRM) – Equine Management program. She is preparing to spend her third-year at the Royal Agricultural University in England on exchange. After school, Pamela hopes to travel the world exploring all aspects of the equine industry as she looks to find her place.
Program: Bachelor of Bio-Resource Management (BBRM) – Equine Management
Year of Study: 3rd Year
Hometown: Huntsville, Ontario
---
Why did you decide to study at the University of Guelph?
I decided to study at the University of Guelph (U of G) because it is the only school in Canada that offers an Equine Management degree program. In addition to wanting a degree, all other horse-related courses were out-of-province or country and did not appeal to me.
What do you like best about your program?
I like the science-based aspects of what we are taught in the program. This is standard for U of G; however, from an industry standpoint, its hard to get information that is often explained by science. I like how the U of G, through the equine management program, is supplying young, educated professionals to an everchanging industry.
Do you have a favourite class or professor?
So far, I have enjoyed all my equine courses and professors. One course that stands out is Equine Facility Management, as it's very applicable to the equine industry.
What residence did you live in during first year?
I lived in East Residence in first year. I had a single room in a six-person apartment.
How are you keeping busy this summer?
I am the co-head of horseback riding at Glen Bernard Camp, a summer camp for girls. My work partner at the camp just so happens to also be a U of G student! For my time at Glen Bernard, I will be responsible for twelve horses and running a lesson program. I look forward to the challenges and the opportunity to put my new knowledge of horses and business into practice!
Where is your favourite spot to hang out on campus?
The Bullring! Hands down.
Do you have favourite spots in Guelph?
In first year, I really enjoyed going to the Cat Café. It was mainly an excuse to get off campus and see some cats! Otherwise, I enjoy downtown in general. Downtown has some great restaurants and events! I've been lucky enough to attend the annual Santa Claus parade over the past two years!
What are your post-graduate plans or goals?
My post-graduate plans include working with horses in the UK, Australia, New Zealand, and maybe France, as I explore the equine industry and determine where I fit in. I might also do an internship in Kentucky, which I learned about while I was on the Equine Field Course trip to Kentucky this spring.
What's one fun fact about yourself?
I love British history! If I wasn't going into the equine industry, I'd be going into history.
| | |
| --- | --- |
| | Read more: |
| | Read more: |
Share this page
News Topics