Meet Thomas, Food Science Student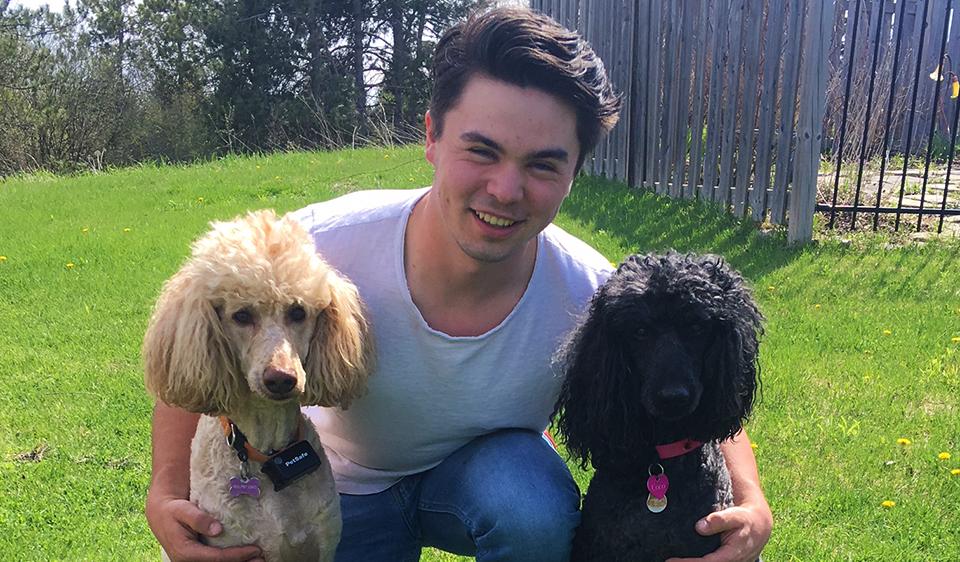 About Thomas Hache
Program: Bachelor of Science - Food Science
Hometown: Port Hope, Ontario
Year of study: Third year
Thomas Hache came to the University of Guelph to study food science because he was interested in the science of food rather than the culinary aspects. Through classes and events he began meeting fellow OAC students commonly known as 'Aggies'. At first, he wasn't sure if a food science student would fit in with the Aggie crowd, but today he even sports a traditional 'OAC Aggies' leather jacket.  
---
Why did you decide to come to the University of Guelph?
I decided to study at the University of Guelph because it has a well-known food science program, and I preferred the science aspect of food rather than food nutrition or cooking/culinary programs. I had read many interesting news articles about food trends, and food technology that originated from the University of Guelph, which made it all the more exciting and clear that this was the place I was meant to study and learn.  My dad also went to U of G for a couple of years and he always talked about the good times he had on campus and around the city.
What do you like best about your program?
What I like best about my program is that it looks at food at more than just a cooking and preparation level.  Food science is about nutrition, biological and non-biological aspects, physical interactions, and the microbiology or components that make up a food.  As much as I enjoy cooking for myself and others, I also enjoy learning about food and gaining a deeper insight as to what goes into putting foods together, as well as creating new foods.
What residence did you live in during first year? 
In my first year I was in the South-Mountain residence.  As soon as my parents dropped me off and unloaded my belongings, I was making friends all over within my tower.  I got together with people quite a lot in that first week and made many great friends that I could go with to grab meals, exercise, study, and explore the campus.
What are your post-graduate plans or goals?
This summer I am working full time at The Big Apple.  I also worked here last summer and had the opportunity to talk to the owner. After telling him I was pursuing a degree in food science, he said he would be interested in hiring me after I finish my degree. He owns and part owns a variety of food related shops, bulk stores, and food making factories so knowing that I have a job opportunity after I finish school is a very comforting feeling. I am still unsure of what field I would like to get into, but with a food science degree, I could work in many different areas such as food technology, product development, quality management or lab research.
Where is your favourite spot to hang out on campus?
On campus my favourite spot to socialize, study, and relax is definitely the Aggie lounge in Johnston Hall.  I also usually grab a coffee or do some work at the Tim Hortons near the Athletic Centre before going to classes during the day. After classes are over or if I'm waiting to go to a meeting, I relax or do some homework in the Aggie lounge before going home. Whether I am there to hang out, meet with friends, or study, the aggie lounge is the perfect place for students to get together and relax.  
Knowing what you know now, what piece of advice would you give to your high school self?
One thing I would tell my past self is to just be myself.  I've been self-conscious about my image and what people have thought about me, but really, I don't care anymore.  I've been happier just being myself and not worrying about anything else.  My attitude, outlook on life, and overall happiness has been great, and I have never looked back.
What's one fun fact about yourself?
One question I get asked a lot is if I am from a farm. The answer is no, but I did work on a horse farm for about five years and I still go back to help whenever the owners or other workers need a hand with anything.  I wish I could experience what life is like living on any type of farm whether it be a cash crop, beef, dairy, chicken, or pig operation. I should add though, when I first started talking to some other Aggies and they said I too was an Aggie, I was nervous to go to any events.  Since I wasn't from a farm, knew any type of farm lingo, or anything about farming really, I figured I'd be the odd one out.  To my surprise my friends kept inviting me out to ag events and I got to know more and more people. Later, some people even convinced me to get a leather jacket, and by that point I was known as Tommy-Hach, the food sci guy.
Share this page
News Topics