My landscape architecture internship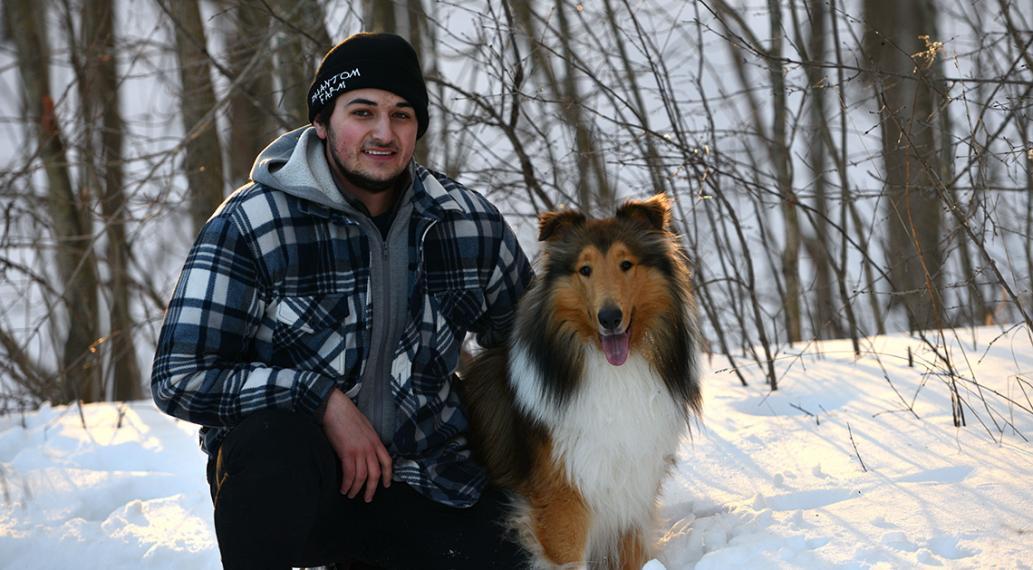 In LARC*4620 (Landscape Architecture Internship), students in the bachelor of landscape architecture (BLA) program can engage in a paid experiential learning opportunity working in a professional office, while receiving mentorship by a registered landscape architect.  
Cameron, third year BLA student, is working at York Region for his internship. In hopes of supporting other students, he wanted to provide a glimpse of his experience so far. 
---
Tell us about yourself.
My name is Cameron Luttikhuis and I am from a small town called Colborne, which is about an hour east of Toronto. If you've ever seen or heard of the Big Apple right by the 401 then you know exactly where it is! 
Graduating high school in 2017, I began my post-secondary career at Brock University, studying sport management, in hopes of being the next Kyle Dubas (just not for the Leafs). After one year of school, I quickly realized this wasn't my true passion and ultimately decided to pursue other avenues. After a lost year and unsure of what I wanted to do, I decided to apply for animal biology at the University of Guelph, to follow my parents' footsteps of becoming a veterinarian. However, another year passed and I still wasn't quite enthralled with this potential career path. It wasn't until the summer of 2019 that I become emersed with the potential of landscape architecture as a career choice, while working a summer landscape construction job. Since I started this new journey into landscape architecture, I haven't looked back. I finally found my true passion and was extremely excited about all the opportunities and potential that this profession has to offer. 
As far as hobbies and interests go, I am a laid-back guy who enjoys the little things in life. You can always catch me spending my days with my collie Murphy and my nights watching the Montreal Canadiens.
Where are you working this semester? 
This semester I am working at the York Region in the Transportation and Infrastructure Planning Department. This position is supported through the Landscape Architecture Internship course, which helped me get the role.
What does your work involve? 
My daily tasks and projects vary from day to day. I have been involved in a wide array of roles so far. Some of the tasks include developing spreadsheets in Excel, rendering and updating existing plans, producing various graphics for presentations, and presenting to the York Region team and local municipality representatives.
I supported the first virtual presentation for the Annual Municipal Workshop, held in February. This event is held each year for the nine local municipalities. The workshop was hosted and led by the Streetscape Program Manager with my support in organizing and executing it. We provided information on the Municipal Streetscape Partnership Program (MSPP) and Pedestrian Cycling Partnership Program (PCPP) offered by York Region. Our main goal was to encourage a proactive approach to advance planning and budgeting for streetscape design and cycling projects. Additionally, it was meant to inspire excellence in the public realm design to create attractive, healthy, and vibrant communities in the York Region while sharing trends from the past year. 
Why did you choose the internship for your sixth semester? 
I'll be honest, an internship wasn't my original choice for my sixth semester. My passion and desire was to explore an exchange program abroad. I was looking forward to expanding my cultural experiences and participating in learning opportunities to help develop new ways of thinking about the profession. Everyone has their own way of doing something, and the potential to learn new and creative ideas from around the world really intrigued me. 
However, due to COVID-19 and the ever-evolving world we live in now, these plans fell through. Nonetheless, I am a firm believer that everything happens for a reason and an educational barrier soon turned into an educational opportunity and led me to the position I am in now. 
The internship provides professional work experience and insight into the opportunities and challenges of the public sector. It's an opportunity to explore a role in upper-tier regional government. As I enter my seventh week of work, I have accomplished a variety of projects and tasks related to landscape architecture and real-world application of the profession. As part of the York Region team, I have found that the atmosphere and learning opportunity provided to me has been substantial to my overall education and professional understanding. 
How did you feel about entering the professional work environment?
While I certainly felt a little nervous walking into my first day of work in a professional environment, I was ultimately more excited than anything. Nerves always come with starting something new; take it from me, this is normal. The landscape architecture program has certainly prepared me well for my initial exposure to a working setting. 
What is the most valuable thing you've learned so far? 
The most valuable thing I have learned is to trust in my abilities and be confident. While the work can be daunting at times, you must trust that you can complete it and have faith that you know what you're doing. Exploring programs such as Microsoft Excel and QGIS (programs I initially wanted to avoid) have significantly helped expand my skill set and made my life easier. Having confidence during presentations and participating in meetings has helped bolster my public speaking skills. Afterall, practice makes perfect. 
Has your internship influenced your post-graduation plans? 
Truthfully, this internship position has influenced my plans after graduation. Originally, I wanted to do something in the private sector, more specifically residential design work. However, being able to talk with my manager while simultaneously being exposed to a new avenue in the public realm and government work, I have had a small change of heart. While I am still very open to residential design, the work I have participated in for my internship has been vital to my understanding of the opportunities within the profession.
When I first started this job I wondered what I would be doing and whether or not I would enjoy it. I think it's safe to say, with the help and encouragement I have received, I wouldn't change anything. Having consistent work hours and weekends to myself without any all-nighters is an important component of work-life balance. Being able to communicate various topics with someone such as my manager, who has been in the profession for years, has been extremely advantageous. Gaining insight to different avenues within the profession has certainly helped broaden my understanding and will undoubtedly have an important effect on my future career path. 
Do you have any advice for students considering an internship? 
I highly recommend pursuing this opportunity if you are unsure of what you want to do in the sixth semester of the program. Being exposed to professional settings is a great way to increase your experience before beginning your career! 
Anything else you'd like to share about your internship? 
If you have any questions or concerns about the internship opportunity, please don't hesitate to send me an email or message cluttikh@uoguelph.ca. I would be happy to help!
Share this page
News Topics