An OAC Grad's Passion for Agriculture: Something to Last a Lifetime
A lot has happened in the past 100 years. From the first electric can opener to the first mobile phone, the human population has continually innovated and improved upon products of the past. However, to have something last 100 years is an uncommon feat.
Cue Murray Mielhausen.
No, Murray is not 100 years old, but the OAC graduate was, until recently, in possession of a collection of seeds that turned 99 years old this July.
The collection of seeds, ranging from pineapple weed to alfalfa, were collected in July, 1916 by his wife's grandmother as part of a summer course offered by what was then the OAC Botanical Department. His wife, Barb, found the seeds while cleaning out their farmhouse in Lion's Head, Ontario where the couple raise Charolais cattle on 1,200 acres.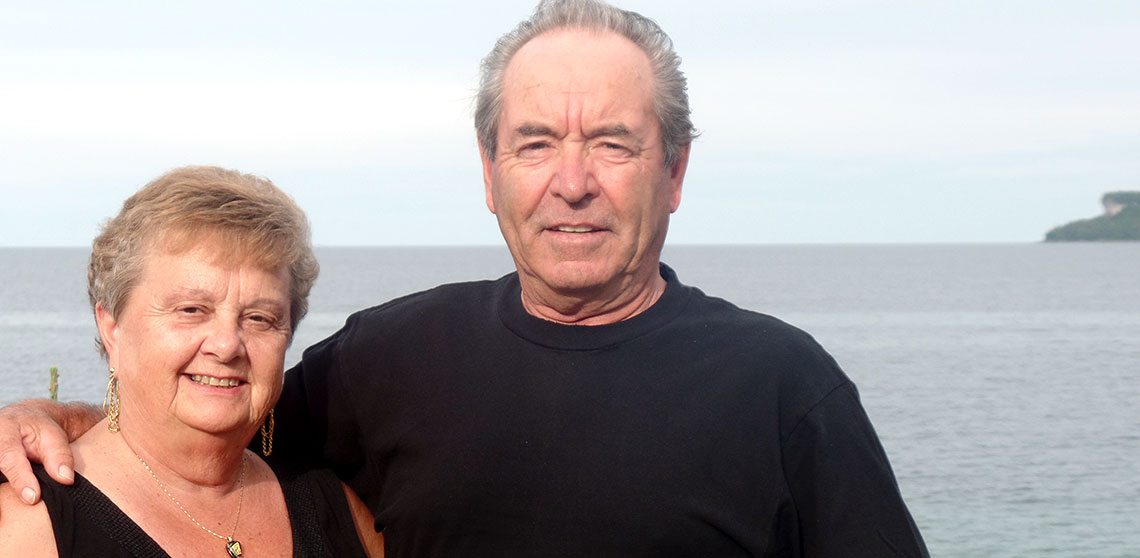 After contacting the Department of Plant Agriculture to see if they would be interested in the collection, Murray and Barb paid visit to the Crop Science building for the first time in over 40 years.
Murray first set foot on campus when he enrolled in the two year agriculture diploma at OAC in 1963. It was during his time at the college that the University of Guelph was formed. "I started at the OAC and graduated from the University of Guelph," he explains.
After graduation Murray was hired by the crop science department as a research technician, where he worked until 1971. Under the supervision of Dr. Jack Wynch, Murray worked on roughland renovation, which involved establishing and improving pastures on land not suitable for growing traditional crops. Using mainly birdsfoot trefoil, a legume well suited for forage, he travelled throughout Ontario seeding the legume and studying its establishment in roughland areas.
One of the areas researched was Manitoulin Island. "We used different types of seeding there," explains Murray, "some of which was aircraft seeding by helicopter." Other research was done in Leeds County near Kingston, and on the Bruce Peninsula where Murray now calls home, and where until this past spring, the collection of seeds were safely stored.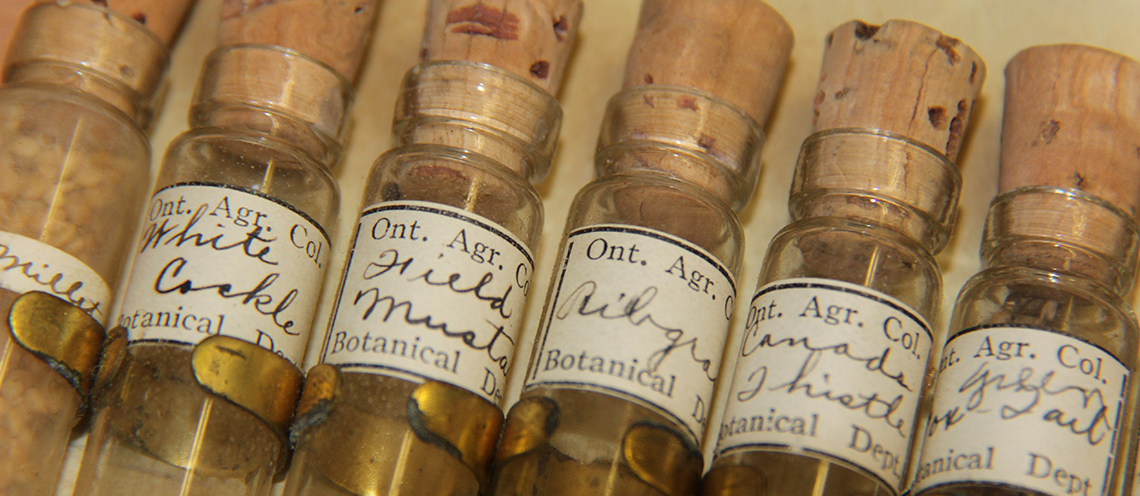 Murray and Barb delivered the 99 year old seeds back to Crop Science this spring, a nostalgic experience for Murray who had not been back to his old stomping grounds in many years. A tour given by Prof. Clarence Swanton highlighted the many changes the department and campus had seen since Murray began full-time farming in 1971.
"The biggest change I noticed, as soon as we pulled in, was the parking," he jokes. "When I worked there, we always just parked behind the Crop Science building… but it was absolutely covered with vehicles. We ended up way over on the other side of the arena just to get parking!"
Though many changes have occurred since Murray attended and worked at the university, there are some things that will never change, he shares, most prominently being his love of agriculture. "My wife says I have three hobbies," he laughs, "Farming, farming and farming. I'm excited to do what I do, every day."
Graduating and working at the OAC gave Murray an advantage when he made the move to full-time farming, something he would recommend to others looking to be involved in the industry. "It's a good program, a good experience," he shares. "If I had to do it over again, there isn't much I would do differently."
Murray has devoted his life to farming and the agricultural industry with unwavering passion and dedication, and much like the seeds he brought back to the university, his passion for agriculture is something that will last a lifetime.
Share this page
Find related news by keyword
News Topics