Q&A with a horticulturalist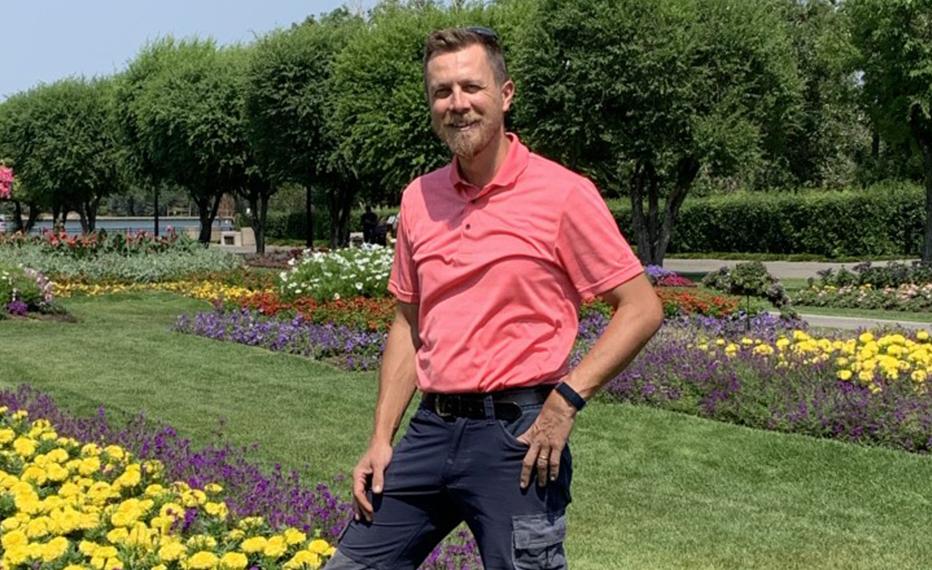 David Gabric (Associate Diploma in Turfgrass Management, 2006) started working at golf courses while studying history at U of G. After completing his undergraduate degree, he returned to U of G as a turfgrass management student to pursue his passion. After working in the golf course industry for several years, he now works as a horticulturalist. We recently chatted with him to learn more about his role and experience working at the Wascana Centre in Saskatchewan.
---
Tell us about your employer.
My employer is the Provincial Capital Commission which provides the operation, management and stewardship of provincial assets that include Government House and Wascana Centre, enhancing quality of life and creating pride in the capital city through educational programming, public events, and celebratory opportunities. The commission acts as a regulator for all land use within Wascana Centre.
What is the Wascana Centre?
Wascana Centre is internationally known as a beautifully landscaped park surrounding a 120-hectare lake located in the heart of Regina. It was established in 1962 to be a place for recreation and beauty. Wascana Centre includes 2,300 acres of urban land and is home to 8.7 kilometres of paved pathways and 5.6 kilometres of natural paths, recreation and play area as well as the Habitat Conservation Area with a marsh ecosystem, promoting healthy active lifestyles for families and community.
Tell us about your role.
I am currently employed as a horticulturalist and this role takes on different aspects as the seasons change.  In the winter and early spring, we are busy seeding, propagating, and growing various annuals, perennials, grasses, and tropical plants that will be used in the park.  After planting is finished, I am involved in the daily maintenance of the plant material including watering, fertilizing, weeding and at times leading small crews in improvement projects from irrigation to planting beds.
What is the most rewarding part of your job?
There are several aspects that are rewarding such as seeing the progression of the plant material from seed to maturity.  Also, I enjoy seeing the pleasure that locals and tourists derive from the various gardens and displays in the park, which makes the efforts of myself and my co-workers worthwhile.
What does a typical day look like for you?
A typical day changes throughout the year, but in the winter and early spring it is mostly seeding, transplanting, and watering new plant material.  In the summer and early fall my day can consist of the maintenance of plants in buildings or in the numerous gardens and planters throughout the park which require watering, fertilizing, and weeding.  I will also work on irrigation including the repair of sprinklers, setting watering schedules, and leading/working in small crews on any landscape improvement projects.
What has had the biggest impact on your career?
I have always been open to taking risks and adapting to any curveballs that life has thrown my way. My career to this point has not followed a linear path and that has been influenced by personal, economic, and even geographical factors.  As these situations arise, I use my acquired skill set and life experience to find a path that keeps me happy and thriving.
Why did you decide to study at the University of Guelph?
The school had a great reputation for my initial program of study, amazing campus and the location was great because I was far enough away from my hometown of Hamilton to feel independent but also close enough to still feel connected to friends and family
What is an unforgettable experience you had while at U of G?
As with most students who went through the turf diploma program I would have to say when we carried on the tradition of sodding the cannon. It was always funny to see the reactions of my fellow students and professors when they'd see it for the first time.
What's a piece of advice you'd like to share with current students?
I think it's important to stay open to all career possibilities. I started at the university thinking I was going to become a history teacher after getting my history degree, but every summer I worked on golf courses and fell in love with the industry and working outdoors and almost 23 years later here I am working as a horticulturalist for the Government of Saskatchewan.
What inspired you to pursue turfgrass management?
As mentioned previously I was working summer jobs on golf courses and connected with a superintendent who told me that if I was serious about the industry then I needed to study at Guelph. The DTM program is considered the best in the country, and I was so excited when I was accepted since the program only accepts a limited number of students each year.
Have your career aspirations evolved over time?
They have definitely evolved since I first graduated the DTM program in 2006.  I had always thought I would spend a few years as an assistant superintendent and then land a superintendent position and work that until retirement. I was willing to keep all options open and I eventually landed a position as a sales rep for a large TORO Equipment distributor in Calgary, but as the economic and employment situation changed in Alberta around 2016, my wife and I made the decision to follow her employment opportunity to Saskatchewan where we have been living for the past five years. I think all the changes in my career have allowed me to become a better, more well-rounded individual and has given me the confidence to excel in my position as a horticulturalist.
Share this page
News Topics