Q&A with a meat inspector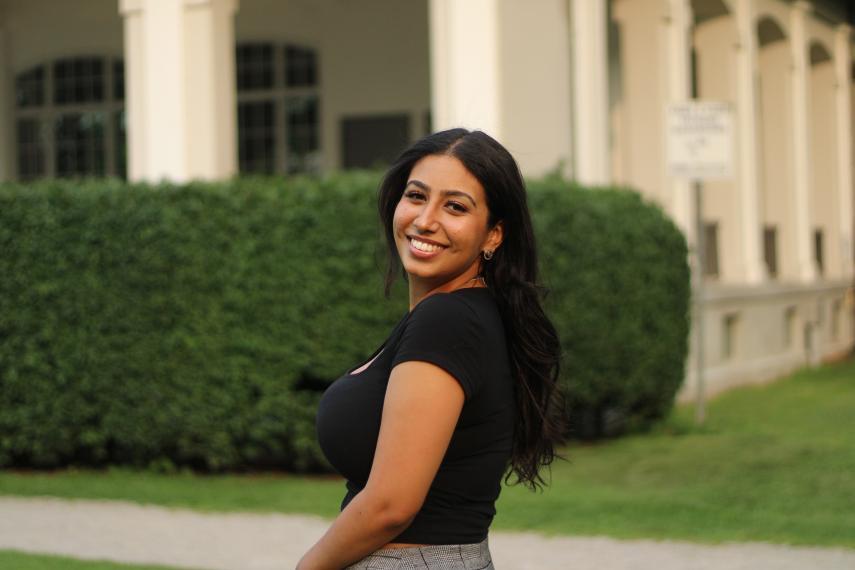 Victoria Awad
Meat inspector
Bachelor of Science, Food Science
Victoria Awad is a recent food science graduate. She landed her dream job right out of university and now works as a meat inspector for the Canadian Food Inspection Agency (CFIA).  We recently chatted with her to learn more about her role and experience at the University of Guelph.
---
Tell us about your employer.
I currently work for the Canadian Food Inspection Agency (CFIA). This is a federal government agency that acts as a science-based regulator with the purpose of safeguarding food, animals, and plants in ensuring the well-being of Canadians, the environment, and the economy.  The agency does this by using written legislation and regulations to enforce compliance on various parties involved in the food industry with the priority of mitigating risks to food safety. The CFIA as a whole has various branches dedicated to protecting consumer health. To name a few, the agency does this through the management of food recalls, ensuring domestic and international imports/ exports follow licenses and certificates, and that food label requirements have accurate claims and follow standards of identity. Through these roles, inspectors can often work at designated establishments, remotely or travel to multiple locations to perform tasks and duties. 
Tell us about your role.
I have the privilege of working as a meat inspector where I am exposed to the avenue of both animal health and general food safety. The great thing about my role is that I get to work with many other inspectors in a community where we are constantly learning and improving together while also interacting with professionals from the private sector. Due to the nature of my role, I work directly with veterinarians to decide on any necessary meat product disposition. It is my responsibility to make sure that the meat I inspect meets the standard of Canadian requirements. I am often the very last step in observing issues before it is packaged for consumers to eat. Therefore, it is incredibly important that I pay close attention to detail. In the event that I see any food safety concerns, I alert employees to rework the matter, or it is looked at further by a veterinarian. I also get to work closely with Quality Assurance (QA) departments to monitor Hazard Analysis Critical Control Point (HACCP) based inspection and compliance verification system (CVS) tasks. I review Standard Operating Procedures (SOPs), Good Manufacturing Practices (GMPs), and written records to follow up on routine inspection and evaluate corrective actions.  
Additionally, I monitor shipping departments and verify that certificate information is accurate before being exported to other countries. This includes making sure that transport conditions for food product is suitable under Canadian food safety standards as well as international export country requirements. In my role, it is important to have a solid understanding of quality standards, spoilage/ storage conditions, and sampling techniques. All of these tasks require my knowledge to interpret and implement legislation and regulation under the Health of Animals Act, Safe Food for Canadians Act, and Food and Drugs Act. Based on issues I may come across during my daily duties, I often investigate the best way to go about resolving issues to meet compliance.
What is the most rewarding part of your job?
Knowing that I am truly making a difference to ensure the safety of consumer health through everything I inspect is extremely rewarding. Food products that I inspect not only get distributed to Canadians, but internationally as well. Knowing that I am an essential worker protecting people globally and representing Canada is a surreal feeling. The process from farm-to-fork is complex with many components. Ultimately, I know how crucial my role is, at a critical control point and stage where regulating what product gets accepted versus what requires corrective action is an honor to be a part of.  
What industry trends are you keeping an eye on?
It's hard to pick just one! The great thing about the food industry is that it's always changing and adapting with new technology and innovation. I would have to say though that, ironically, plant-based alternatives are approaching the market by storm and it's been interesting to observe. Whether it be dairy or meat, these new options are not only seen in grocery stores but fast food as well. The market is now very inclusive and diverse to new dietary preferences, and I'm interested to see how creative this trend will get.
What has had the biggest impact on your career? 
It's difficult to weigh one thing that impacted my career more than others. I believe a combination of factors got me to where I am today, however, my degree would have to be one of the most substantial. The courses within the food science program taught me what I liked and what I didn't like. In fact, the first time I even heard about the CFIA and understood what the agency was about was in a restricted course of mine. After realizing that much of what I was learning in my education could translate to a career in this level of government where I could effect change, it further influenced my passion for the regulatory and compliance side of the food industry. Although I still love other avenues in food science, being responsible for enforcement which is relevant at every stage from farm-to-fork, encouraged me to jump at every opportunity I could. 
Why did you decide to study at the University of Guelph?
I decided to study at U of G because the moment I visited campus for the first time it felt like home. I knew I could see myself living and studying there and enjoying what both the city of Guelph and the campus had to offer. The balance between rustic and modern buildings surrounded by nature captured my heart. I also knew that in wanting to pursue anything related to food, agriculture, or nutrition, attending one of the best agri-food universities in the world was a no-brainer.  
What inspired you to pursue food science at the University of Guelph?
As a high-school student, I had no idea what I wanted to do. I often heard of typical career paths, and I knew those weren't for me. I knew I had a passion for food, its effects on the human body, aspects of microbiology and innovation. I applied to generic programs until I happened to come across food science. I underestimated its potential at first, but after reading into it and learning about what type of work graduates of the program can get into, I knew this program was for me - I could not have been more correct. I knew that having the option to work right after my undergrad or pursuing further education if I wanted was a big selling point for me.
Not only did the food science program offer fundamental knowledge but specializations that you could tailor based on your own interests. I felt like having the option to have so many avenues of learning combined in a broad spectrum would give me endless opportunities to grow and find my passion. Looking back, being a germaphobe and loving food ultimately made a passion for food safety a win-win.  
What advice do you have for those interested in food science?
My advice is if you have a passion for all-things food and even a 'hunger' to make your community a better place, go for it! If there is one thing that has been extremely evident through the COVID pandemic, it's that everyone needs food, so the opportunities that can come from this program are endless. Product development, processing, research and development (R&D), sensory, and food safety are just some of the main avenues that could be focused on, each with their own unique path to a successful career.
I would advise anyone interested in the program to investigate the specialized courses towards third and fourth years. If those courses spark any interest, then sticking it out through the challenges of first and second year becomes so worth it. Ask yourself first if you genuinely have a desire for this kind of learning. Don't hesitate to go out and ask questions, reach out to other students in the program, talk to professors, and if it keeps you at the edge of your seat, then enroll. 
Enjoy the journey, the destination will be worth it, everything happens for a reason and there's always a lesson to be learnt.
Share this page
News Topics