Q&A with a produce sales & operations manager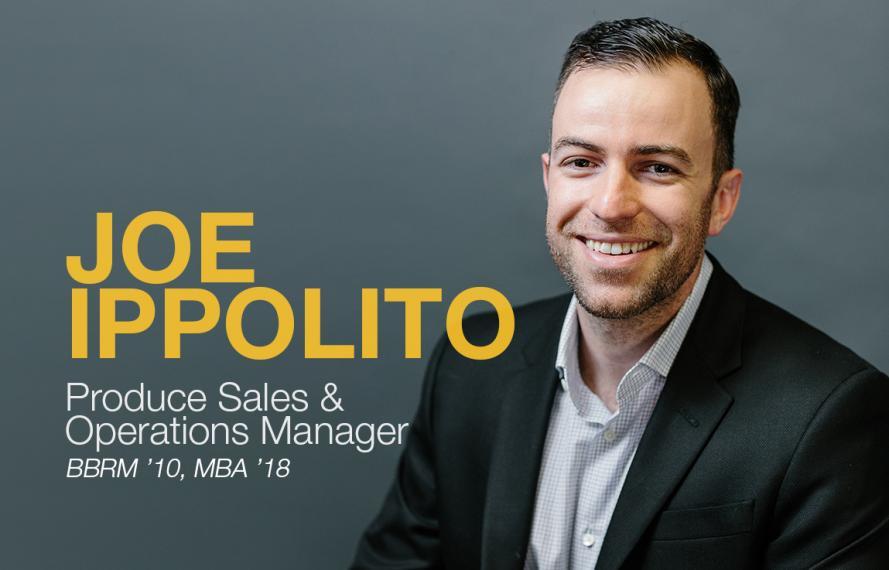 Joe Ippolito
Produce sales and operations manager
BBRM 2010, MBA 2018
Joe Ippolito is a graduate of the Bachelor of Bio-Resource Management program who we recently sat down with to talk about his career with the family business: the Ippolito Group. OAC alumni are probably most familiar with the business, which grows and packages fresh produce throughout North America, through their retail brand Queen Victoria.
---
Tell us about the Ippolito Group.
The Ippolito Group is a vertically integrated grower, packer and shipper of fresh produce. The business was incorporated in 1946. It was started by my great grandparents as a produce wholesaler, buying from farms and selling to food service and retail customers. In 2001, we got into the growing produce to vertically integrate our business. Now we grow about 25,000 crop acres of product. We specialize in leafy greens: iceberg lettuce, romaine lettuce, broccoli, cauliflower and Brussel sprouts. It's still a family business. My father is the CEO and I work closely with my two brothers and cousin. 
What is one of your differentiators in the market?
Brussel sprouts is a major commodity of ours. It's our specialty. We supply 40-45 percent of the North American market. Spinach was our original specialty. We were the first in the game to wash and package spinach. This was a good way to market our product and differentiate ourselves at the time. Although it's common now, we were the first to offer this sort of value-added product. 
What is your role in the business?
Being a family business, I do a little bit of everything. Primarily I do sales. I handle some food service but mainly retail accounts. I also do grower relations. Ippolito doesn't grow any produce in Canada, but there are growers here that we've been working with for several generations. I work with them to coordinate packaging and getting product in from the field to our facility. Another element that makes Ippolito unique is that we still deal with small family farms.
I've been working with the company since I was about 15. I graduated with my undergraduate degree in 2010 and joined the business officially. At that time, I actually moved out to California to work in our office there and went back and forth between California and Arizona to learn the trade. I moved back to Canada in 2012.
You interact with a lot of people in your role. How did you build your networking skills?
I was a very shy kid. It's certainly not the easiest thing to do. I think I just forced myself to get out there and do it. The agriculture industry, as much as it is large, is actually a fairly small group of people. In that way, any networking opportunity is never wasted. Everyone knows everyone.
Like anything networking can seem daunting until you get into it. You work at it and then it becomes more natural. 
What's a challenge you've faced joining the family business?
One of the more difficult challenges with a family business is proving your own value to the organization. When it's not a family business, it's clear that you've gotten where you are based on merit. In a family business people blur that line. Going to the University of Guelph (U of G), learning the skills I learned, really helped me prove my merit and advance my career. There's a lot of people I don't work with on an everyday basis and they don't know me on a personal level. Tackling their assumptions on my value can be the most difficult. 
Why did you choose to study at U of G?
For my undergraduate degree, there were a couple of schools I was interested in. U of G was the primary one because it was known for its agricultural focus. I originally applied to the Bachelor of Bio-Resource Management degree because there was a horticulture management major, but not enough people signed up for it. I ended up in the environmental management major because it still sounded like a pretty interesting program. My first two years were at Ridgetown Campus. I thought going to an agricultural campus would be an interesting experience where I could learn more hands-on in a smaller program. The program was a nice mix of agriculture, business and environment. 
I also just finished my MBA in food and agri-business in May. Ippolito is a family business, but it has grown to be a substantial organization. We have offices in Burlington, California, Toronto and Montreal. It's no longer a 'Mom and Pop' shop. Through the MBA I wanted to understand how large organizations function, and get a real understanding of corporate governance and more high level strategy. Everything just gets more complicated at a large scale and I wanted to have a broader understanding for the benefit of my organization. 
How do you want to make an impact at Ippolito?
Really my goal is two-fold. I want to provide the best possible product to my customers and I want to increase volume and drive sales. I also deal with most of our growers in Canada and I want to be able to do the best job I can to help them grow their operations. 
What's next for you? 
Over the last two years, my MBA took up a lot of my time. I'm certainly looking forward to being more involved in Canadian Produce Marketing Association, Ontario Produce Marketing Association and the Ontario Fruits and Vegetable Growers' Association. 
Share this page
News Topics