Students improving life: Using technology to examine food structure and extend the shelf life of food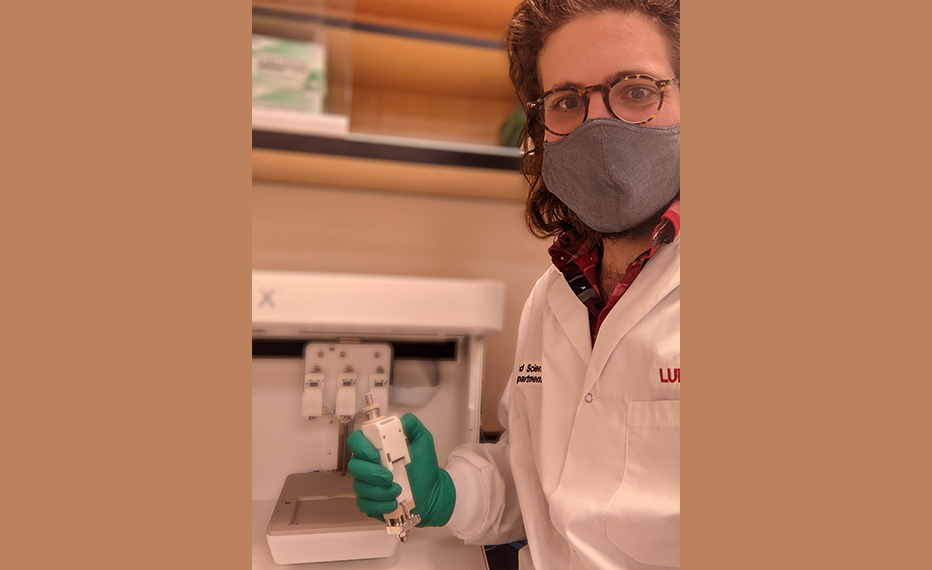 Originally hailing from New York, Louis Colaruotolo accepted a PhD opportunity in food science with Dr. Maria Corradini, associate professor in the Department of Food Science and Arrell Chair in Food Quality.
Louis discovered food science through a unique pathway. His post-secondary education started in trade school, where he completed a culinary arts program. After graduating, he came across the opportunity to study food science and has been pursuing higher education ever since.
His fundamental research is taking a closer look at how structure may play a role in the shelf life of food.
"Food goes bad eventually, however we don't know everything about that process", says Louis. "One thing that is tough for us to tell is how the structure of the food itself contributes to it going bad."
He uses bread as a great comparison to emphasize the concept behind his research.
"If you compare Wonder Bread to a nice artisanal bread that you get at an expensive bakery, the Wonder Bread has tiny micro holes; you can barely see them. The artisanal bread has large, crunchy air holes. If the two breads were made from the same exact ingredients , we don't know if one of those airhole structures extends the shelf life or not."
Louis explains that we know how to store, handle and create ingredients with certain properties, but it is unknown if the structure itself can be changed in order to delay the deterioration. 
Through his research he is creating a model system that aims to examine what role food structure plays in deterioration.
"I'm using three matrices to establish a model system," says Louis. "Right now, I'm trying to make corn protein into different types of structures, looking at the structure itself, and if it will become shelf stable if it is organized in different ways."
His hope is to inspire future research in academia, industry, and government.
"If it is proven that we can organize food in different structures to improve the shelf life. This could blow open the door in such a large field of different foods."
In addition to being a full-time PhD student, Louis hosts and produces a science communication show on CFRU 93.3 FM radio called, "We Know Some Stuff."
"The tagline is 'we are graduate students, we don't know everything but that's why you are listening to an episode of we know some stuff,' " says Louis. "It's built around the concept that as graduate students we know a lot of things. You don't have to be an absolute expert in your field to speak about your field."
He believes that graduate students have valuable knowledge and expertise in their fields and may be underutilized by the public.
"Often, the public has to wait to see or hear from experts in the field and in my opinion, it creates a bottleneck of communication," says Louis. "In turn, we are ignoring a large base of people who are passionate about what they are doing and still have a lot of anectodical knowledge."
He hopes to continue to work in food research or make a career out of scientific communication once he completes his PhD. 
You can learn more about Louis's research by listening to the Why & How podcast.
---
Interested in tuning into "We Know Some Stuff."
Have a listen on CFRU 93.3 FM, Wednesdays at noon or listen to the archives here.
Share this page
News Topics