Dear Inuvik, I love you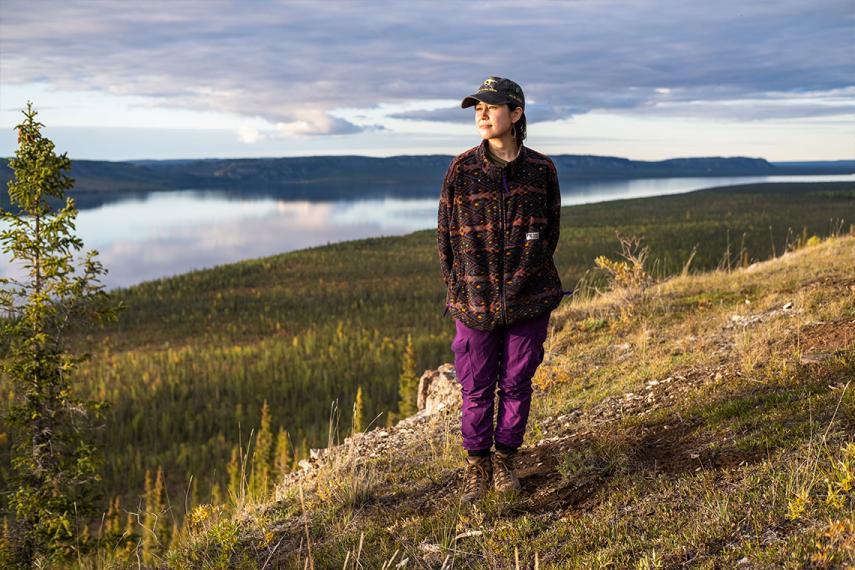 Featuring Kelly Kamo McHugh, Bachelor of Science in Environmental Sciences 2014
---
Falling in love can happen at any speed. For Kelly Kamo McHugh, the fall was fast. She arrived in Inuvik, Northwest Territories, in 2014, just a few months after graduating with her bachelor of science in environmental sciences degree.
"As a kid, I was always very interested in the Arctic and northern Canada, so when I was searching for jobs, I looked everywhere in Canada but focused on the North," Kelly explains.
She landed a job as an environmental technician working on the Inuvik-Tuktoyaktuk Highway.
Her timing was good. Long days of spring sunshine and a bustling community were her introduction to Inuvik.
"My first weekend in Inuvik, it was the Muskrat Jamboree, which is an annual community event," she says. "I moved up at a good time of year and that really set the scene for things. I think if you move up when it's 24 hours darkness in December, that would be more of a challenge."
As a STEM outreach technician for the Aurora Research Institute (ARI), she combines geographic information system (GIS) mapping with community outreach, including meeting with schoolchildren.
A geographic information system is a database of geographic location data that helps environmental scientists and community members make decisions.
"We do a lot of drone flying. As we build our internal geoscience and GIS capacity, we're also training and working with local community organizations to build up their geoscience, GIS and remotely piloted aircraft systems training," says Kelly.
Drone surveys and field work are already being conducted by Inuvialuit and Gwich'in community members who were part of ARI's training program.
"We want to continue to build up the capacity so that they can run their own programs for their own land, for their own cultural sites, infrastructure and cabins."
These drone surveys are used to map and monitor the local effects of climate change, such as landslides and permafrost thaw slumps.
"We are all on permafrost," says Kelly. "The permafrost is thawing and that really affects infrastructure. It affects the land. It affects people's way of life. So much of what northerners do is often on the land. It could affect their camps."
Her love of Inuvik and the land is partly intrinsic and partly due to the generosity of her friends and colleagues.
"The people that I've met here, especially my Inuvialuit and Gwich'in friends and co-workers, have been very generous sharing their knowledge, their stories and their traditions with me. I'm very grateful for that."
It was a co-worker – now a friend – who taught Kelly about the Arctic plants she now collects.
"There's just such a huge diversity of plants in the Arctic, which I never would have expected."
"We spent a lot of time in the field together, so every time we came across a plant, she would tell me about them. Before that, I didn't really have an interest in plants. She really sparked my interest in it, and that led to me wanting to preserve plants and preserve a special part of this area."
Now Kelly picks common plants from the ditch or the roadside and presses them into beautiful artworks. She's led workshops to show others in the community how to do the same.
Botanical art is just one expression of her love of Inuvik. She's also made several videos for her family and friends back in Elmira, Ont.
"This is such a beautiful location and I really wanted to share that with my friends and my family and also to have something for myself to remember," Kelly says.
 The videos reflect Kelly's love for her new home and the land.
"I love living here. I love the community. I am very grateful for my time here."
Her advice for those thinking of visiting the Northwest Territories?
"If you get the opportunity to go north, I highly recommend it. Be prepared for any kind of weather because it can change so quickly. And I think people would be surprised that Inuvik is a very busy community.
"We're in a very remote location, but there is still a lot going on. There are so many community events to attend and community festivals. We have similar infrastructure that you would find in southern Canada. And listen to the community members. Don't think that you know everything because you don't. I've learned so much since being here."
---
This article was originally published in the LIBRANNI 2023 / Vol. 5
Read more LIBRANNI articles: 
Share this page
News Topics