Meet Amy, Honours Agriculture Student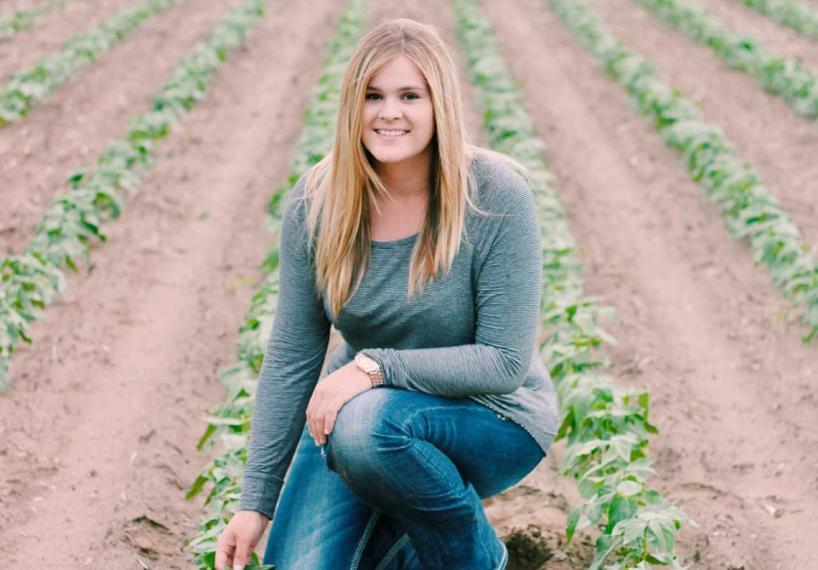 About Amy Reymer
Amy is a proud U of G student and shows it with her extensive involvement on campus. She volunteers her time through a variety of clubs including the Soil and Crop Club and the Student Federation of the Ontario Agricultural College. After university Amy hopes to continue her passion for agriculture and stay involved on her family farm.
Program: Bachelor of Science in Agriculture - Honours
Year of study: Fourth year
Hometown: Aylmer, Ontario
---
Why did you decide to come to the University of Guelph?
Originally, I decided to come to U of G because of the agricultural program, but once I moved here I realized just how much I love the city and campus. It is such a welcoming, and friendly community. And the university, especially the Ontario Agricultural College (OAC) is full of opportunities.
What do you like best about your program?
Being a student in the Honours Agriculture program is a great way to diversify the courses you take. I chose this program because I had an interest in crop science and agricultural business. This program has given me the opportunity to take business courses during my science degree.
Do you have a favourite class or professor?
That's a tough one because the University has a lot of great professors, but nobody gets more excited about soil than Prof. John Lauzon. He is extremely passionate during lectures, which is one of the many reasons I would classify him as my favourite.
Knowing what you know now, what piece of advice would you give to your highschool self?
I would tell my high school self that university will be the most challenging, but rewarding years of your life. There is so much to learn. Live on campus in first year, study with friends and make the most of it. It goes by too fast.
What are your current post-graduate plans or goals?
I would love to stay in the agriculture production and input industry, and I plan on staying involved in my family's farm. I love seeing crops grow, from seed to harvest, while trying to overcome and solve challenges that we are faced with every season. Every year varies, and that's how we learn!
How do you get involved on campus or in Guelph?
I am involved on campus with the Soil and Crop Club, U of G Junior Farmers, and I am on the executive for the Student Federation of the Ontario Agricultural College (SFOAC) as the Bachelor of Science in Agriculture representative, where I attend program committee meetings and SFOAC meetings. I am also the student risk management representative, where I review event submissions within OAC.
Where is your favourite spot to hang out on campus?
It's a toss up between Brass Taps (awesome food), and the Aggie Lounge. Both are great places to catch up with friends and to get some work done.
Do you have favourite spots in Guelph?
I would have to say anywhere there are trails. I love going for hikes and walks and there are so many places in and outside of Guelph that I can't just pick one.
What's one fun fact about yourself?
I can make a perfect grilled cheese.
| | |
| --- | --- |
| | Read more: |
| | Read more: |
Share this page
News Topics