Meet Lauren, Agriculture Student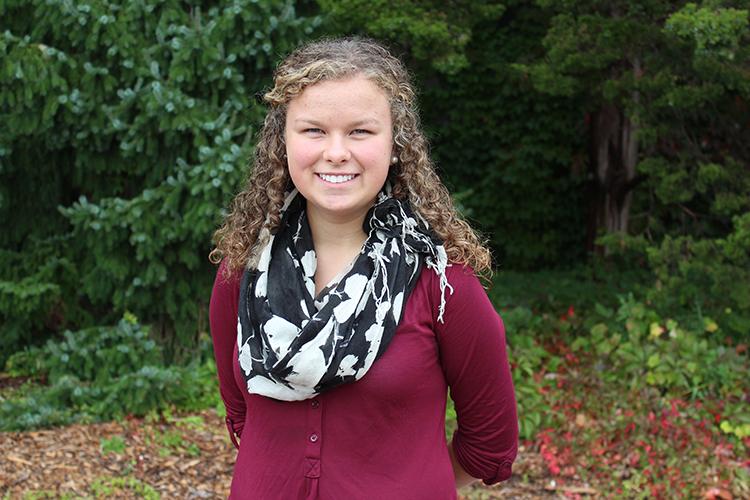 About Lauren Benoit
Lauren Benoit is active in almost "everything OAC". She enthusiastically volunteers her time with various clubs and associations on campus and still has time to explore the sights of Guelph. Lauren's summer job as a field researcher assistant expanded her passion for agriculture, and she hopes to continue her education in the area of plant agriculture.
Program: Bachelor of Science in Agriculture, Honours Agriculture
Hometown: Kirkton, Ontario
Year of study: Third year
---
Why did you decide to study at OAC and the U of G?
When it came time to choose schools during grade 12, the OAC was an easy pick. Apart from being the number one agricultural school in Canada, there is an incredible sense of pride that you can feel as soon as you step on campus. My Dad also graduated from the OAC in the Class of '85A, which may have persuaded my decision even further.
What do you like best about your program?
The very best part of my program would be the people that I am surrounded by. The Aggie community is like a second family and I couldn't ask for a better group of people to spend my time with.
Do you have a favourite class? A favourite professor?
I can honestly say I think that the OAC has the best faculty on campus. All of my profs have been personable, knowledgeable and passionate about the subjects they teach. Picking a favourite course is tough, personally I enjoy the courses that are the most hands-on. Soils in Agroecosystems (AGR*2320) and Crop Physiology (PBIO*3110) have been favourites so far.
What residence did you live in during first year?
During my first year I lived in the Aggie cluster in Lambton Hall. Living in the cluster is an experience I would recommend to anyone. The opportunity to live with a group of people with the same interests that I have was invaluable. There was always someone there to help with homework or just shoot the breeze with and many of the people I met in the cluster have become my best friends.
What are your plans for after graduation?
After graduation I hope to pursue a master's degree in plant agriculture.
Did you have a summer job?
This past summer I worked as a field research assistant at E.I. DuPont Canada, Crop Protection. My team was responsible for researching the efficiency of new herbicides, fungicides and insecticides to provide better pest control to farmers. Being able to work in a job that is so closely related to the concepts and ideas that I learn about in class was very beneficial and reinforced my love of agriculture.
What are your favourite events and activities on campus?
My favourite event of the year is Goodtimes, an awards banquet in January. Students, alumni and faculty all attend to celebrate the accomplishments of the OAC in the past year. Another event I look forward to on a weekly basis is Aggie pub on Wednesday nights.
How do you get involved on campus or in Guelph?
There is so much to get involved with on campus it's tough to choose. I'm involved with the Student Federation of the OAC as VP Internal and also put some of my time toward Tractor Tug For Tots, a charity event in November that raises money for kids. In the past I've been involved with the Soil and Crop Club, College Royal™, intramural sports and the OAC 2016's square dancing set.
What is your favourite way to procrastinate from studying?
I usually end up starting a conversation with someone and chat when I should be working. I've also fallen victim to the game of euchre more then once, spending hours playing 'one last game'.
Where is your favourite spot to hang out on campus?
You can usually find me hanging around the Aggie lounge in Johnston Hall where there's always a good conversation or a table to get some homework done between classes. On Wednesday nights Peter Clark Hall is the place to be for Aggie Pub. My favourite place to eat would have to be The Brass Taps where the great atmosphere is a nice break from the hustle and bustle of campus.
Do you have favourite spots in Guelph?
I love doing anything that gets me outside; the dog park beside Kortright is a gorgeous place to go for a run. The Arboretum on campus is also stunning.
Share this page
Find related news by keyword
News Topics