Meet Carl, Turfgrass Management Student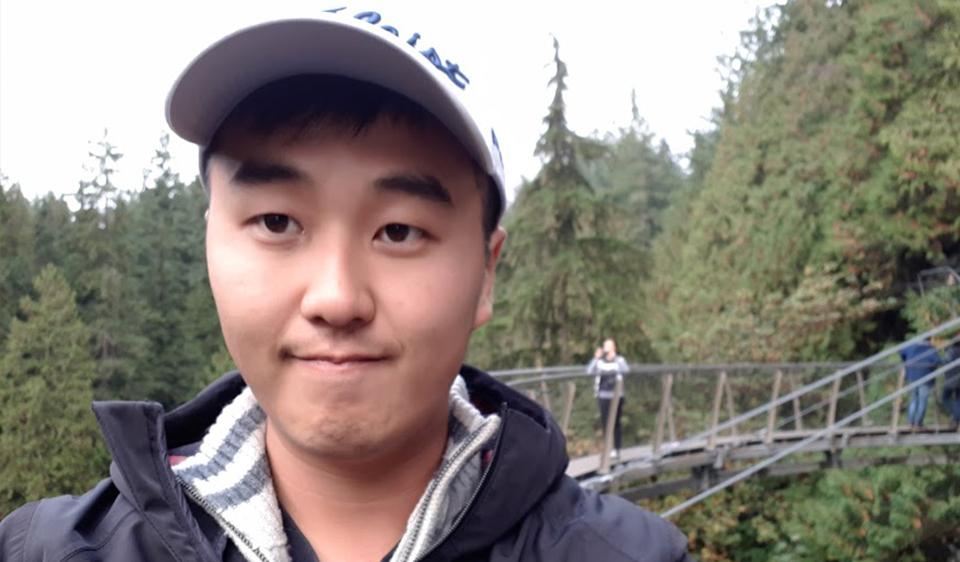 About Carl Shin
A passion for golf and learning led Carl to the Turfgrass Management program at the University of Guelph. Carl is involved with various organizations across campus including the Korean Student Association and Guelph Turf Club, in addition he works at the Gryphon Centre Arena. Carl plans to travel to Western Canada to complete his internship at a golf course in British Columbia.
Program: Associate Diploma in Turfgrass Management (ATDM)
Hometown: Toronto, Ontario
Year of Study: First Year
---
Why did you decide to study at the University of Guelph?
I decided to study at the University of Guelph due to the outstanding reputation of the turfgrass management program. It is one of two programs in Canada, and I've met people that went through the program and had nothing but great things to say.
What do you like best about your program?
The small class sizes are by far my favourite part. My class is a tight-knit group already, and we get to know our instructors well. The program also blends in hands-on learning coupled with turfgrass management theories, so we understand both sides.
In what ways were/are you involved on campus?
I am currently working at the Gryphon Centre Arena as an arena attendant. I learned how to drive the Zamboni, and it's interesting to see what it takes to maintain a top-quality ice surface. Being part of the Gryphon's Centre staff also allowed me to work a couple of men's and women's varsity hockey games, which was a good experience. I am also part of the University of Guelph's Korean Student Association, where I've met several international students from Korea. Lastly, I attended several meetings for the Guelph Turf Club, and although it was virtually, I enjoyed hearing from leaders in the industry.  
Do you have a favourite class or professor? 
I have enjoyed all my classes so far, and all the instructors are very knowledgeable and helpful. Turf Soil Principles with Mike Van Beek and The Turf Industry with Cam Shaw have been my favourite so far. For turf industry class, we went on field trips every week, and we got to visit incredible sites, such as the BMO Field where Toronto FC plays and some phenomenal golf courses.
What residence did you live in during first year? 
I am currently living off campus.
Where is your favourite spot to hang out on campus?
The University Centre food court and Brass Taps with my classmates. The Bullring or the Greenhouse Café at the Bovey building when I'm by myself. 
What is an unforgettable university experience you've had?
The Turfgrass Management program has a tradition where the first-year students sod the Old Jeremiah cannon every year. Being part of that experience with my classmates has been my favourite experience so far.  
Do you have favourite spots in Guelph?
The Arboretum and Victoria East Golf Course… great value for a round of golf. But my favourite is TPC Gordon, great hangout spot. 
What is a hobby that makes you happy, or relieves stress?
Golf during summer and playing basketball during winter. I also recently got into playing pickleball and I've really been enjoying it. Lastly, watching the Toronto Raptors. 
What are your plans or goals after graduation?
It's hard to say now because I'm only in my first year, but working in the golf industry is my plan, but I am open to other opportunities like sports fields. After graduation, I am interested in moving out to Western Canada or even working overseas, but nothing is set in stone right now. However, I am doing my internship in British Columbia this upcoming summer, and that should be a great experience and will give me a snapshot of what it's like to live in Western Canada.  
Knowing what you know now, what piece of advice would you give to your high school self?
Be open minded and don't shy away from trying new things.
What's one fun fact about yourself?
I went backpacking trip to Europe by myself back in 2018. The countries I visited were Austria, Poland, Czech Republic, Hungary, Slovenia and Italy. It was a great experience. 
Share this page
News Topics