Meet Clarissa, Food and Agricultural Business Student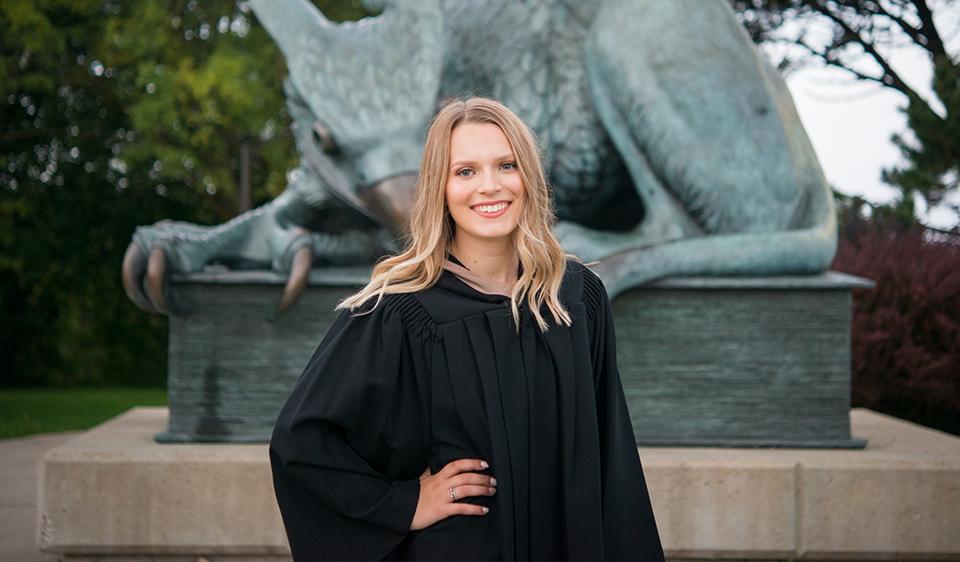 About Clarissa McCallum
Clarissa, a food and agricultural business student, jumped right into all the University of Guelph and OAC has to offer. During her time on campus, Clarissa has been a part of the cheerleading team, held various roles on the College Royal executive team, and been actively involved in OAC events. Clarissa still finds time to balance school work and activities with fun and relaxation. She plans to pursue a career in agri-marketing and communications after graduation.
Program: Bachelor of Commerce - Food and Agricultural Business
Hometown: Sydenham, Ontario
Year of Study: Fourth year
---
Why did you decide to come to the University of Guelph?
Agriculture has been my passion for as long as I can remember, so the University of Guelph (U of G) was the obvious choice for me. The history of the Ontario Agricultural College (OAC) and how tight knit the college is played a major role in my decision. I also attended a 4-H camp in high school where we stayed in residence and explored the U of G campus, and that's when I fell in love with the campus. At that camp, I was able to experience the food, which is reason enough to choose U of G.
What do you like best about your program?
Being a food and agricultural business student is the best of both worlds! The program offers a lot of structure in the first couple years, which gives a broad understanding of all aspects of business and how they apply to agriculture. In upper years, there's flexibility that allows you to choose courses that spark your interests. This program allows you to get a glimpse of the different career paths available, and then focus your learning towards the career of your choice.
In what ways were/are you involved on campus? 
I have been fortunate enough to be quite involved on campus throughout my years here. I have been the OAC Class of 2022 Communications Director from first year all the way through fourth year. I am the College Royal Vice President and have held various roles on the executive team since second year. In my first year, I was a part of the University cheerleading team, have participated in intramurals each year and attended other OAC events such as tournaments, food drives, and tractor tugs. Being involved on campus is the absolute best way to build connections while also making friends for a lifetime.
Do you have a favourite class or professor? 
My favourite classes thus far have been Intro to business (MGMT*1000) with the Great Ethical Dilemma, Strategic Management (MGMT*4000), and Consumer Behaviour (MCS*2600). I've been lucky to have great experiences with all of my professors, but the ones that have stood out to me are Thomas Sasso and Michael Lever. They both made class incredibly interactive and the course fun- you could tell they were excited to be there which makes learning so much more enjoyable.
What residence did you live in during the first year? 
Addington! I loved how accessible food was in the LA Café, especially in the winter.
Where is your favourite spot to hang out on campus?
The Aggie Lounge is the perfect hangout spot! With a group study room, quiet study room, as well as the lounge; it's a place I can go when I'm in between classes or trying to study.
What is an unforgettable university experience you've had?
Being a part of the cheerleading team on the sidelines at homecoming was such a surreal experience! The crowd was pumped and the halftime show with the Reklaws was amazing.
Do you have favourite spots in Guelph?
Blaze Pizza has to be the best pizza around, and you can't go wrong with ice cream from The Boathouse.
What is a hobby that makes you happy, or relieves stress?
I love baking, or going for a round of golf! 
What are your plans or goals after graduation?
I hope to find a job in agri-marketing and communications, something I have found through my time at U of G that I am really passionate about and love to do. 
Knowing what you know now, what piece of advice would you give to your high school self?
Get involved in everything and anything! Your best memories most likely won't come from inside a classroom. Finding the balance between school and having fun is key.
What methods have you found to adjust to remote learning during the period of online class delivery? 
Learn how you study best! For me that meant finding a space outside of my house, setting aside time to study, and making sure I was taking breaks! 
What's one fun fact about yourself?
I love Jerseys (a British breed of dairy cattle)!
Share this page
News Topics