Meet Devon: An Animal Biology Student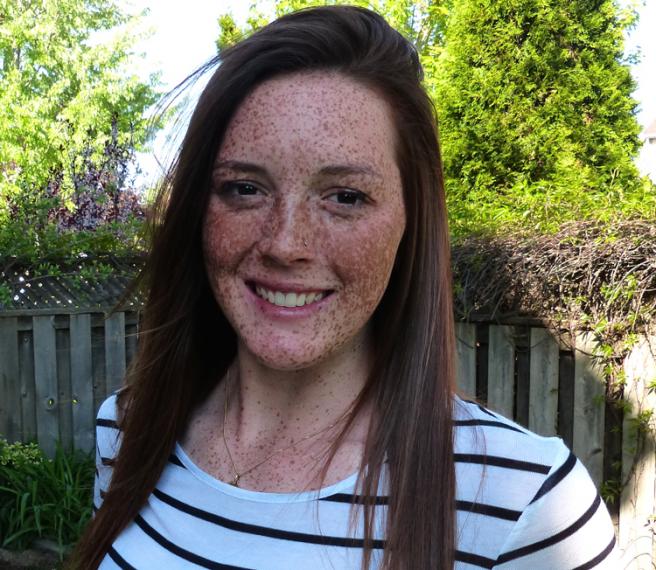 About Devon Stober
Devon Stober has just completed the second year of her undergraduate degree in the Bachelor of Science - Animal Biology program. Devon is an animal lover, like most animal biology students, and has fallen in love with the University of Guelph campus. Devon has aspirations of continuing her time on the Guelph campus by pursuing a career in veterinary medicine, and took some time to share her experiences.
Program: Bachelor of Science - Animal Biology
Year of Study: Going into third year
Hometown: Mississauga, Ontario
---
Why did you decide to come to the OAC/Guelph?
I had to decide between the Animal Behaviour program at Western University and the Animal Biology program at Guelph. At first it was a bit of a tough decision, but after visiting both universities I knew that Guelph was where I wanted to be. I fell in love with the campus immediately and after walking around with my parents I couldn't picture myself pursing my dream of becoming a veterinarian anywhere else. To this day I couldn't be happier about my decision.
What do you like best about your program?
I love how much my program is teaching me about what I'm interested in. Every semester brings something new to the table and I'm always so eager to learn more about animals. It's just so much easier to sit through lectures when you enjoy what is being taught.
Do you have a favourite class or professor?
My favourite class so far has been Animal Care and Welfare (ANSC 1210) with Dr. Ian Duncan in my first year. This was the first course I took that really focused on animals so it was right down my alley. It was a very interesting course, and it was fascinating to see how much Dr. Duncan cares about his work. My favourite professor has to be Dr. Jeremy Balka who taught me Statistics I (STAT 2040) in second year. He's one of those really well rounded professors, and he provides his students with tons of extra study tools to help you succeed. It just makes the semester a little bit easier when you have a professor who is very passionate about what they're teaching and who wants to help you do well.
What residence did you live in during first year?
I lived in South Residence in Prairie Hall. I was all the way in Tundra so the walk to my room everyday was painful, but I made some of my best memories that year.
What are you planning to do after graduation?
I want to become a veterinarian so I'm planning on going to the Ontario Veterinary College after I finish my undergraduate degree, but all I know right now is that my plan after graduation is going to involve animals in one way or another!
Do you have a summer job?
I've been working at a small animal clinic for about two and a half years. I'm a kennel tenant so I do a lot of cleaning, but I usually spend most of my time taking care of animals and assisting the vet technicians or veterinarians.
What are your favourite events/activities on campus?
I love how frequently I find bake sales around campus. I have a sweet tooth so it's hard to resist donating some money and getting myself something to snack on when I'm between classes.
How do you get involved on campus or in Guelph?
I'm on the women's varsity rugby team, and I love being able to represent my school with such an amazing group of women.
What is your favourite way to procrastinate from studying?
Either watching shows or going to Menchie's for frozen yogurt with my roommates. Somehow we always decide it's a good idea to go out and get treats when we have the most work to do.
Where is your favourite spot to hang out on campus?
I spend a lot of time in the library when I'm on campus. Usually it's because I need to get some work done, but I also find a lot of my friends on the group study floors so it's also kind of a nice place to hang out with friends and try to be productive. I also love going on walks around the Arboretum when the weather is nice or, if I'm feeling a bit lazy, I'll hang out on the benches in the garden donated by OAC alumni. My favourite place on campus to eat is definitely The Bullring and it's hard to decide what I enjoy more: the food or the atmosphere.
Do you have favourite spots in Guelph?
Honestly it's hard to decide because I love everything about Guelph, but if I had to narrow it down I'd have to say some of my favourite places are W Sushi (you can never go wrong with all you can eat sushi) and Frankenstein's downtown.
Share this page
Find related news by keyword
News Topics