Meet Jordan, OAC Student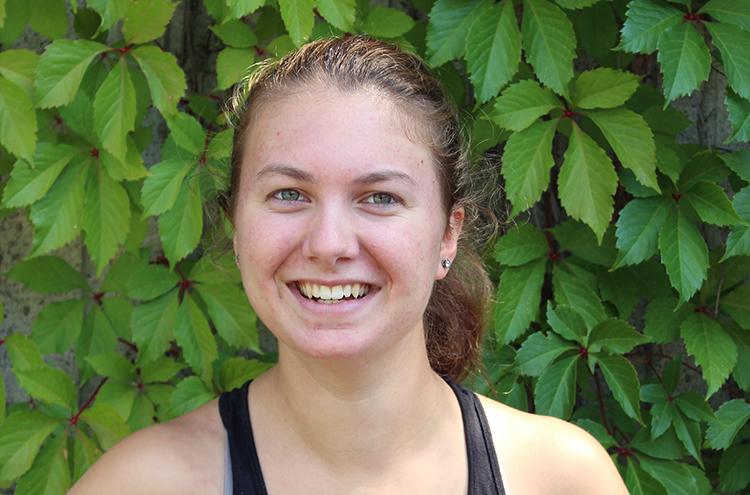 About Jordan Eyamie
Jordan Eyamie came to OAC to expand her knowledge about fruit crops and agriculture. Since then, she has become an active member of the greater OAC and University of Guelph student community.

Program: BSc.(Agr) - Crop, Horticulture, & Turfgrass Science major
Year of Study: Fourth year
Hometown: Carleton Place, Ontario
---
Why did you decide to come study at Guelph?
I decided to become a part of the OAC because of my love for agriculture. I grew up on a strawberry farm, and I loved learning from my parents about how to manage a business as well as grow food locally. I wanted to learn more and expand my knowledge on berry crops; therefore, a program in agriculture is where I wanted to be. Guelph was the obvious choice for me since I heard it had an excellent agriculture program and is one of the top comprehensive universities in Canada. Plus, the food here is #1, which is definitely a deciding factor.
What do you like best about your program?
I am focusing on crops and horticulture and there are so many things I like about my program! I love the fact that the people I study with are also my very close friends, so it's easy to ask questions and learn while having fun at the same time. I have learned so much in my past three years at Guelph, and I know I will be learning even more in my fourth year.
What are you planning to do after graduation?
A potential career I'd like to have would be an agricultural consultant for berry growers in Ontario. Running my own berry farm is also a possible future goal that I have.
How have you been keeping busy in the summer?
For my current summer job I am working for the berry crop specialist of Ontario under the Ontario Ministry of Agriculture and Food and the Ministry of Rural Affairs. Our main focus has been tracking and monitoring an invasive vinegar fly species known as the spotted wing drosophila (SWD). We also monitor other pests, viruses and diseases for berry growers such as aphids and angular leaf spot. My job consists of both in-lab and field work. In the lab I count aphids or sort through trap contents, and in the field I collect leaf samples and change SWD traps. I am also conducting a trial on runners in strawberries and making comments on different strawberry varieties.
What are your favourite events and activities on campus?
Aggie Pub has always been one of my favourite after-school activities. It's a great way to meet people on campus especially for first years since it is an all-ages event. The College Royal™ Ball and Open House are also really fun ways of experiencing what the campus and students at the University have to offer.
How are involved on campus?
Throughout my years at Guelph I have always enjoyed being a part of the College Royal™ Society. This year I will be a part of the Officer team as the Vice President of Events, and I am hoping to celebrate the 90th year of College Royal™ by being involved in making it the best one yet! I am also part of the University of Guelph Junior Farmers, part of the 2014 Rams Class Executive and this past summer I was a member of the University of Guelph's Weeds Team. The Weeds Team is a great way to learn about herbicides, different weeds and weed management, while having a lot of fun and meeting a ton of people in the agricultural industry. This year we competed in the North Eastern division in Illinois and our team came first! Being involved in clubs keeps me busy, but is also a great way to meet professors and network within the university and is, of course, a lot of fun.
What has been your favourite class so far?
My favourite course so far has been the berry crop science course. Maybe I am biased, but it was also a lot of fun! For the first half of the course, the class took a field trip to a fruit farm every Thursday during the lab time. Each lab period was informative, hands-on and very interesting and the professors were knowledgeable and very eager to teach us.
What is your favourite way to procrastinate?
My favourite way to procrastinate is definitely by going for walks and adventures in the Arboretum with my friends. It is so beautiful there in the fall and spring months, and after sitting all day studying, it is nice to move around and clear my head a bit.
Where is your favourite spot to hang out on campus?
There are a couple places on campus I like to hangout; the first being the College Royal™office on the 5th floor of the University Centre. It can get quite crowded up there sometimes, but the couches are really comfy and if you are a part of the College Royal™ Society it is a great place to ask questions. The second is the Aggie Lounge located in Johnston Hall. It can also be a busy spot but also a great study area alternative.
In your opinion, what's one of the best places to hangout in the city of Guelph?
The Stampede Ranch and The Works restaurant are probably my two favourite places in Guelph. The food at The Works is amazing! And the Ranch is a great place to go out if you like country music!
Share this page
Find related news by keyword
News Topics