Meet Lola, M.Sc. Animal Biosciences Student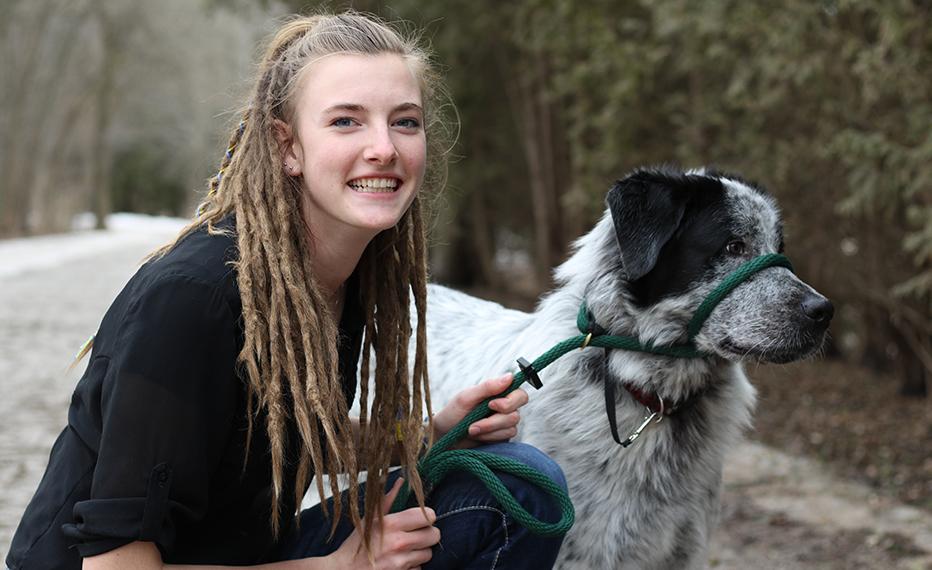 About Lola Jung
Master's student Lola Jung is passionate about working with animals. She's an equine enthusiast and is interested in equine physiology, the pathology of osteoarthritis, and feed efficiency in the production animals. When she isn't pursuing research in the lab, she can be found biking around Guelph, spending time on her family farm or gardening.
Program: M.Sc. Animal Biosciences
Hometown: Neustadt, Ontario
---
What did you study for your undergraduate degree? 
In the spring of 2021, I completed the Bachelor of Science in Agriculture program, with a major in Animal Science, here at the University of Guelph. 
Why did you decide to pursue graduate studies at the University of Guelph? Did your undergrad experience shape your decision to further your studies?
The main reason I pursued graduate studies was the desire to continue learning. Fortunately, the Department of Animal Biosciences offers a one-year M.Sc. by coursework. I figured "what's one more year of school in the grand scheme of things?" 
Around the end of the third year of my degree I started considering a M.Sc., as I thoroughly enjoyed Equine Exercise Physiology (EQN*3250) taught by Dr. Wendy Pearson. To confirm if I enjoy research, I took a course called Research Project in Agriculture I & II (AGR*4450/4460) in my final year. During this course, I helped a graduate student characterize the effects of wheatgrass in a cartilage explant model. This included a lot of hands-on work in the lab, and I would say this experience was fundamental in realizing what research entails. 
What is your research focus? 
My research focuses on determining the anti-inflammatory effects of a nutraceutical in horses with induced sub-clinical articular inflammation. My scientific interests are geared towards equine physiology, the pathology of osteoarthritis, and feed efficiency in production animals.
How have you found ways to get involved as a grad student? 
There's a great deal of ways to get involved as a grad student at U of G! Personally, I started working the occasional weekend at the Ontario Poultry Research Centre at the Arkell Research Station and Arkell Equine Research Facility. Through this job I've met so many great undergrad and graduate students within the department who work with different labs and/or advisors. As well, I've been able to learn about all the cool research going on in poultry and equine. Growing up on a farm, this job has been a lot of fun as I'm still getting my farm-fix while living in Guelph.
I've also been fortunate to volunteer with a couple different research trials, both from my lab and other labs in the department. Everyone is always looking for helping hands, allowing for great casual learning experiences. Through interactions more experienced students to interacting with different species and performing new laboratory techniques – volunteering has been an amazing personal/professional development opportunity. 
How has your graduate program experience been different from your undergrad experience? 
The two are not comparable! Personally, I've enjoyed graduate school more than my undergraduate experience. Yes, it has been academically challenging, but I really feel like my professors are more like mentors, and the amount of effort I put into my courses is what I will get out of them.
Where are your favourite spots in Guelph?
Not necessarily a favourite spot, but there are so many well-kept trails throughout Guelph. I love how green this city is and the many trails are the best place to go for a study break!
What do you find most challenging/ most rewarding about your program/research focus?
The most challenging part has been dealing with the volatility of scientific research. Personally, my research has been delayed numerous times, but you must learn to take these challenges in stride and realize that the silver-lining has been the improvement of my time management skills! The most rewarding part of my graduate program has been the feelings of accomplishment and self-improvement. I've truly learned so much and made some terrific friendships in the last year. 
What are some free-time activities that make you happy, or relieves stress?
During all the COVID-19 lockdowns I started doing yoga daily, however, my favourite stress-reliever is biking! All the bike-lanes and trails in Guelph make it super easy to stay physically active while in school. When I have a free weekend, you can find me at our home farm, usually riding my horse and helping with farm duties. 
What are your plans or goals after graduation?
I currently do not have any exact plans for after graduation; however, I feel a lot more confident entering the workforce than I felt after completing my undergraduate degree. My present goals are to jump into industry and gain some more hands-on experience before potentially furthering my education. Yet, if there's one thing my graduate degree has taught me, it's that you never know which opportunities lie ahead, and to keep an open mind when it comes to life goals.
What advice would you give to an undergrad student considering graduate school?
My biggest advice would be to crunch the numbers and avidly apply to scholarships. I was under the impression that graduate school would cost a lot of money, but it is very manageable straight out of an undergraduate degree. I'd also recommend not being scared of the challenge: it's not going to be easy but the opportunities you will experience in graduate school will be worth it!
What or who is your greatest inspiration? Why?
My parents are my greatest inspiration. We immigrated from the Netherlands, where they were both police officers. They came to Canada and became dairy goat producers! I've been told they didn't even know the difference between straw and hay before they started farming. They sacrificed a lot for my sister and I, and are the most supportive parents, especially when it comes to my scientific endeavors!
What's one fun fact about yourself?
I am an avid landscaper! I love gardening; however, I detested the plant-related courses I had to take in undergrad. That's why I study animals and keep plants as my hobby!
Share this page
News Topics