Meet Stephen, Animal Biology Student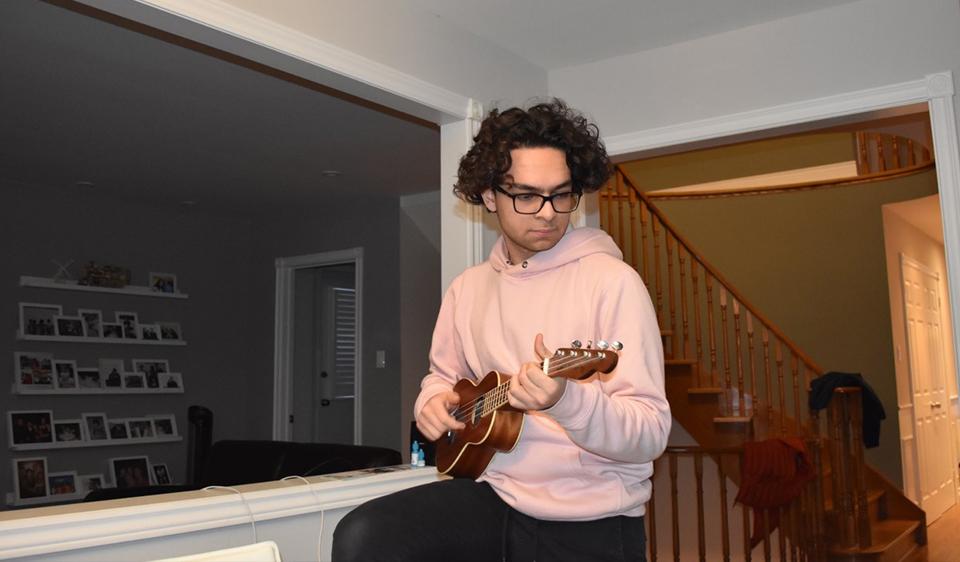 About Stephen Dawoud
Stephen Dawoud, an animal biology student, is passionate about studying and working with animals. In his free time, Stephen is involved with the Animal Biology Student Association (ABSA) and enjoys playing musical instruments. After graduation Stephen hopes to continue his education in veterinary medicine.
Program: Bachelor of Science - Animal Biology
Hometown: Toronto, Ontario
Year of Study: Second year
---
Why did you decide to come to the University of Guelph?
I chose to study at the University of Guelph (U of G) because ever since I was about 6 years old, I wanted to be a veterinarian, and obviously, U of G is the place to be for any aspiring veterinarian.
What do you like best about your program?
What I like best about my program is that I have already started learning about animals, especially how that starts in first year! In first year, students are already introduced to animal-related courses which was amazing! Many programs are not as course specific or specialized until later years, so it was really nice to already start experiencing these courses in first year.
In what ways were/are you involved on campus? 
During first year, I was elected for the Animal Biology Class of 2024 Representative. This year, I'm the Student Federation of the Ontario Agricultural College (SFOAC) Representative for the Animal Biology Student Association (ABSA) Executive Team. Just like from high school and being involved in student government, I knew I had to run and try to be a part of the ABSA Executive Team, and I'm incredibly happy for the opportunity!
Do you have a favourite class or professor? 
I do not have a favourite class, but I really enjoyed Principles of Animal Care and Welfare (ANSC*1210) in first year. It was incredibly interesting to learn and study about welfare and ethics towards animals. For my favourite professor, hands down it's Dr. Francois Tardif. I had him for Biology II (BIOL*1050) in first year, and I know he teaches many upper year courses as well. To anyone who ever has the chance to enroll in a course he teaches, definitely take it!
What residence did you live in during the first year? 
In first year, I lived in the East Village Townhouses.
Where is your favourite spot to hang out on campus?
There's a hill near the east fields, and I love to walk in the area and up the hill, especially at nighttime. It's not a massive hill, but the view is quite nice. There's also places to sit at the top of it, and it's just always a relaxing, and a good vibe!
What is an unforgettable university experience you've had?
An unforgettable U of G experience was homecoming this year. The amount of people dressed in yellow, black, or red, filled with school passion. I've never experienced anything like it before. 
Do you have favourite spots in Guelph?
My favourite spots in Guelph include the hill I mentioned near East Residence, any thrift store, The Arboretum, and the many spots in Guelph where there is water, whether it be a lake, a stream, etc. I find water, especially in nature, so relaxing and calming.
What is a hobby that makes you happy, or relieves stress?
A hobby that makes me happy, which if need be, would also help relieve stress, is walking, either with or without music depending on how I'm feeling. Walking and just being with yourself is so important and beneficial. Another hobby that I must mention is also playing instruments. I absolutely adore music, but when I can have that music be created from my fingertips, it's an even better feeling.
What are your plans or goals after graduation?
My goal after undergrad is to pursue veterinarian school. The Ontario Veterinary College (OVC) is my top choice, but I'd be more than happy to attend anywhere.
Knowing what you know now, what piece of advice would you give to your high school self?
I would tell my younger self to take everything one day at a time, and to always put everything in perspective through the scope of your whole life.
What methods have you found to adjust to remote learning during the period of online class delivery? 
The methods I use to adjust to remote learning is to still attend lectures regardless of them being recorded and posted. Through myself and my peers, it seems like falling behind may be common hardship for everyone. By consistently attending lectures, it's a lot harder to fall behind!
What's one fun fact about yourself?
One fun fact about myself is that I have led stuck in my pinky!
Share this page
News Topics