Q&A with an Indigenous community planner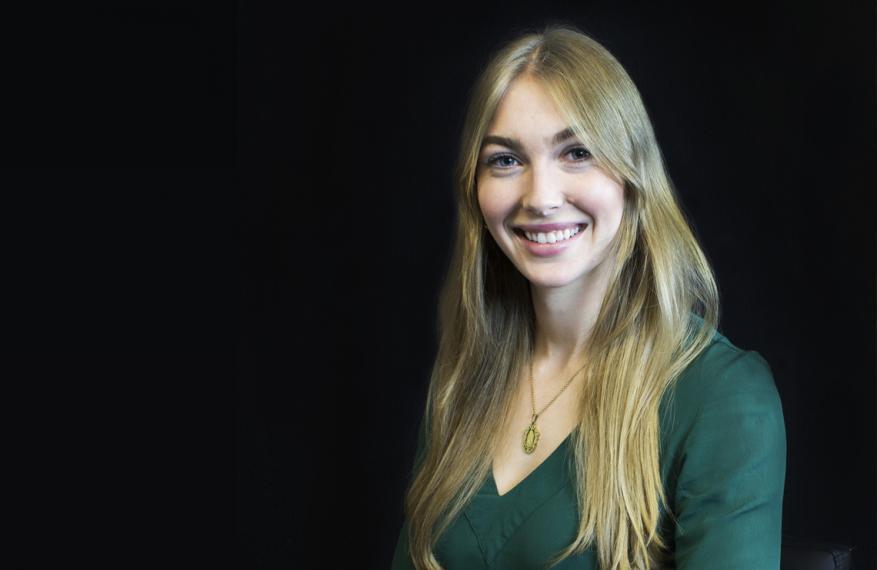 Shannon Labelle recently graduated in October 2019 with an M.Sc. in Rural Planning and Development, but she landed her dream job four months before graduation! She recently sat down with us to chat about her role, Indigenous planning and her transition into the workplace.
Tell us about your role.
NADF, Nishnawbe Aski Development Fund, is a not-for-profit organization. I am part of a small team that services 89 First Nations communities across Northern Ontario; all of Treaty 3, Treaty 5, Nishnawbe Aski Nation (NAN), and the Robinson Superior Treaty of 1850. We are primarily involved with assisting First Nations in developing their own comprehensive community plans (CCP) and community planning in general.
Communities reach out to us if they wish to embark on the CCP process and develop a plan that reflects the community and their values. The CCP process is community-driven and 100 per cent created by that First Nation. NADF acts as a support, providing information, resources and tools when necessary. We also host workshops and information sessions centered around community planning and the CCP process for community members to attend and gain skills related to the overall process.
How do you go about creating the community plans?
We do not create the plans. The community does. What we do is offer support, guidance and assistance throughout the CCP process and answer any questions they may have. The community planning team at NADF is a team of about five, including myself. We do a lot with a little. We might offer support to a community going through this process by reviewing their plans and offering suggestions or, upon request, travelling to these communities and assist with community engagement activities that gather information for their CCP.
It's really grassroots planning. We get to travel to these communities, talk to people, help with community engagement and whatever else the CCP Coordinator and their team request of us. It is solely community driven and we work for them.
How did you get connected to NADF?
In the course Indigenous Community Planning, Prof. Sheri Longboat gave us a booklet produced by NADF: the CCP Handbook for Ontario. We were supposed to give the books back to Sheri but I thought it would be a great resource for the students in this course to use as a reference tool permanently. I contacted NADF to inquire about sending us some copies and while I was on the phone with them I learned about a job posting for a community planner. From there I applied, and the rest is history.
With all the information I had recently learnt in my two Indigenous-focused courses, I really felt I had to do something. I feel like if I am not working with or on behalf of First Nations, I'm not doing what I am supposed to do. There is a quote from one of the books we were assigned to read, called Price Paid: The Fight for First Nations Survival by Bev Sellars, where she responds to a reader's apology in response to her first book, They Called Me Number One:
"I know you are not personally responsible for these laws and policies, but now that you are aware, you have a responsibility to help change the situation. You cannot turn a blind eye to this, because, if you do, you will be doing the same thing as your ancestors."
This deeply resonated with me, and I have not been able to stop thinking about that statement since.
What sparked your interest Indigenous affairs and planning?
I've always been interested in First Nations traditions and culture. In my graduate studies, I learned so many things that I should have learned in elementary and high school. I was pretty embarrassed that I knew so little of the colonial impacts on First Nations considering it is such a big part of our Canadian history.
I took both of the Indigenous related courses offered in the rural planning and development program; Indigenous Experiences and Relations, and Indigenous Community Planning with Prof. Sheri Longboat. They really heightened my interests. I feel that a lot of injustices have been done to First Nations, and I feel that being an active part of the solution is my calling.
Tell us about your major research paper topic.
I focused on the opioid epidemic and related substance abuse and its impact on rural, remote communities in Northern Ontario with a particular focus on First Nations communities. I looked at how these remote communities, which often have a relatively small population, deal with issues surrounding substance abuse and treatment. Prof. Ryan Gibson was my adviser and Prof. Sheri Longboat was my second reader.
Communities in Sioux Lookout, Cat Lake and North Caribou Lake, have implemented their own community-based intervention and treatment programs to help resolve problems associated with prescription opioid abuse in remote areas. Many of these models have reported great success. They often combine western medical practices -- prescribing of buprenorphine, suboxone, and methadone -- with traditional healing methods. In many instances these remote communities are too far from treatment centres, do not have access to transportation, and the population is too small to support health related infrastructure. A number of First Nations came up with community-based models to overcome these barriers.
What did you find?
I wanted to see if their planning approach could be applied to beyond First Nations communities to rural and remote communities, and to the broader context of planning.
Of the First Nations communities that have implemented these community-based treatment approaches, many have also identified indicators which have been used to measure the success of these programs, which I found to be very interesting. These include a higher rate of attendance in school, a drop in criminal drug charges and an increase in employment rates.
How does these communities differ in their treatment of opioid addiction?
Typically, when people try to overcome their opioid addiction, they need to go to a clinic, which is more often than not located far away. There, they are prescribed certain medications, i.e. buprenorphine, methadone, and/or suboxone. However, only some physicians are permitted to prescribe methadone, while all physicians can prescribe suboxone and buprenorphine. To overcome the barriers associated with having to go to these clinics and lack of access to medication, these communities have amalgamated modern medicine with traditional belief systems, including traditional methods of healing and teaching. It's a combination of spirit, mind and body healing, which is beautiful. An example would be the incorporation of land-based activities or "bush" healing camps where members use nature as a therapeutic intervention, as well as the inclusion of sweat lodges, cedar baths, smudging and other spiritual ceremonies that aim to reduce anxiety, build trust and a sense of belonging. These are all used in conjunction with western medical practices, including prescribing of methadone, buprenorphine and/or suboxone, as well as counselling.
Was it easy to gather this information?
One of the greatest challenges with my research was the lack of and inconsistent information on First Nations and respective communities. Often, what I did come across was outdated. As part of my major research paper, I aimed to identify gaps in the literature regarding information on First Nations. There are lots.
How did you pick this topic to study?
I had a hard time picking what I wanted to do. In one of my policy classes with Prof. Nic Burnet we had to do a policy paper on a current issue. I've always had an interest in how the built form can impact people's health and well-being, and I came across a news article on safe injection sites. From a planning perspective, where to put these sites and the policies that surround them is an important topic of conversation. From there, I realized that a lot of our rural communities are struggling to overcome this growing epidemic of prescription drug abuse, particularly opiates.
There are many remote and rural First Nations communities in Northern Ontario. While not all communities are impacted by substance abuse and addiction, a number report having such issues, largely resulting from the impacts of colonization and intergenerational trauma. I decided I wanted to see how these remote and rural communities, with limited resources, are responding to this crisis.
You recently moved from Burlington to Thunder Bay for your role with NADF. That's a pretty big move. Were you nervous?
I wasn't nervous about moving, just really excited about this amazing opportunity. There is nervousness around wanting to perform to the best of my abilities and not let people down. But I knew this is what I wanted to be doing.
Any final thoughts?
I wish that at least one of the Indigenous courses offered in the Rural Planning and Development program was a core course requirement. Many of the students in my cohort agree. The program is a professional program recognized by the Canadian Institute of Planners (CIP). However, those that are doing planning work on reserves or in communities have a much harder time getting their Registered Professional Planner designation, as many planning activities being done on reserves or in other Indigenous contexts are not recognized as "planning" by the CIP. This is very unfortunate; however, I know steps are being taken to rectify this.
This article was originally published in the LIBRANNI 2020 / Vol. 2
| | |
| --- | --- |
| | Read more: |
| | Learn more about OAC research: |
Share this page
News Topics