Showing RESPECT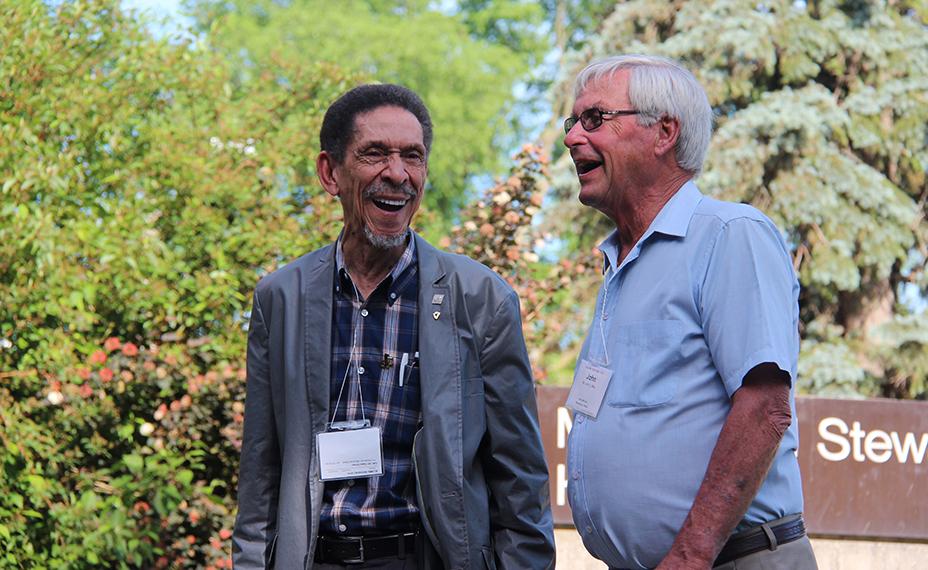 Desmond (Des) Doran has been a student, husband, father, teacher, researcher, economist, world traveller, equity and diversity champion and activist. At 82, he is also a man of many stories, experiences and reflections.
Here are a few of those stories about a life best summarized by the Jamaican greeting: "Respect."
Finding RESPECT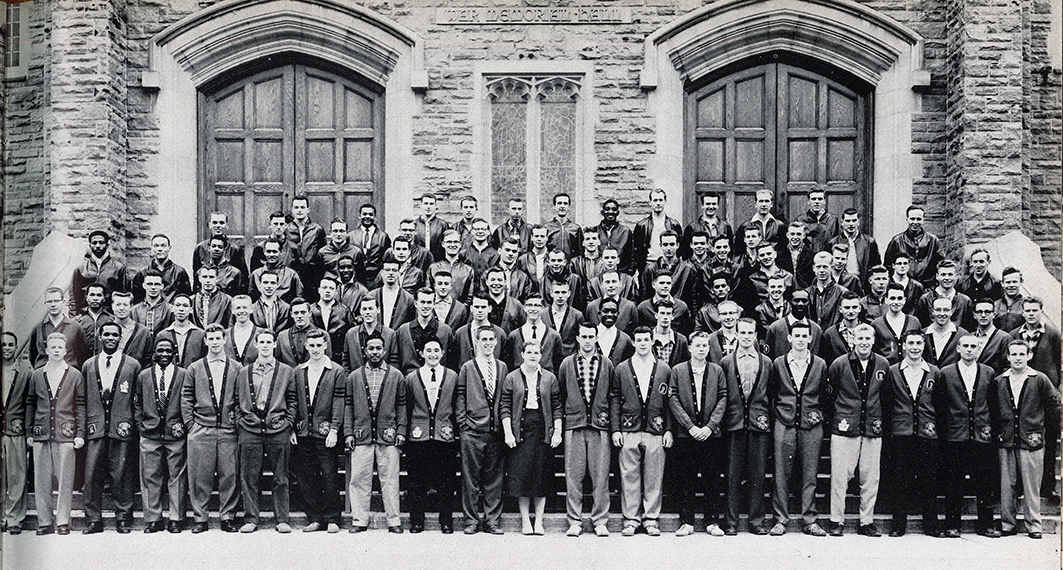 In 1956, Des left Jamaica to pursue studies at the Ontario Agricultural College (OAC).
Working at the United Fruit Company as an accounting clerk and paymaster, he had planned on studying in the United States when a friend advised him on an alternative.
"I happened to meet a high school classmate on his way to Guelph," he recalls. "I wrote to Guelph, obtained the college calendar, and a year later I was there."
His prior years spent at Jamaica College, the island's best secondary school for boys, had nurtured his academic abilities and instilled strong study practices. At OAC he was a focused student.
Like most OAC alumni, the memories that stand out most are focused on the "social life" on campus. But for Des, there is a thread of racial prejudice.
"There were about 100 African Caribbean students out of a student body of 1,100-1,200," he says. "Racial prejudice was an underlying theme. The early 1950s represents an Ontario and Canada that was vastly different from the multicultural Canada that we have today."
He shares the example of older women asking to touch his hair on the bus. "They had never been in contact with African Caribbean people at all," he says. "Several of my classmates had never associated with, or perhaps even seen, black people until they came to Guelph.
"When we [Jamaicans] came up to Guelph, we were proud students. We were not ashamed of our heritage; we showed it at every instance."
Although race impacted his social life at times, he did make many dear friends at OAC. Of note was the friendship he built with classmate Bill Arkinstall.
"We are now brothers. His home became my home, and today when I speak to multicultural groups, I frequently refer to the Arkinstall family as an example of what Canadian citizenship is all about, what Canadian openness is all about," says Des.
Bill's family welcomed Des into their home on weekends and for holidays, and Bill introduced Des to Junior Farmers and square dancing. "I can now honour my partner with a do-si-do," Des says.
Through Arkinstall's friends, he met the love of his life Joan, a schoolteacher whom he would later marry. Together Joan and Des raised three daughters.
Showing RESPECT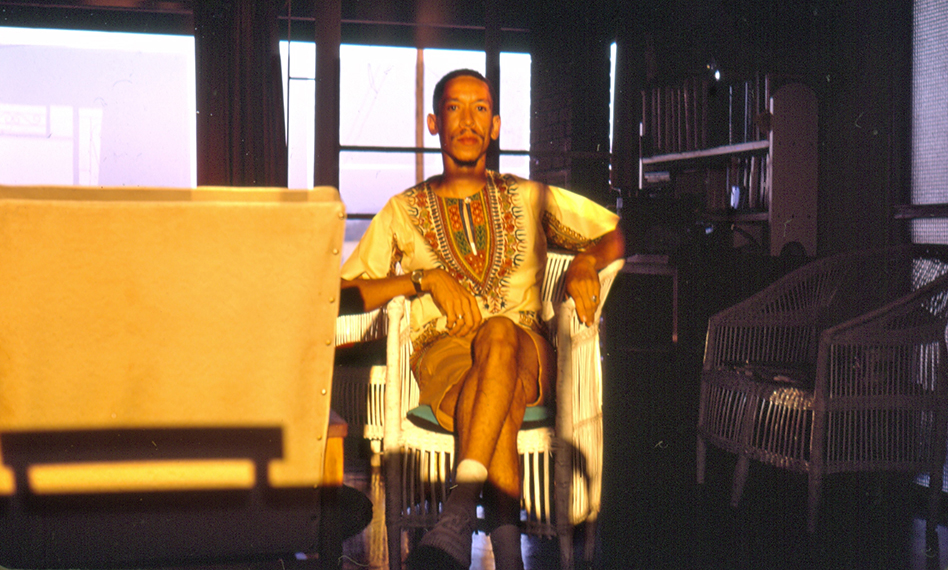 During his time at OAC, Des also fell in love with agricultural economic development. Following his master's, he decided to pursue his PhD at Berkeley in California, but he didn't stay long.
"This was the turbulent 1960s of student unrest, and I found that I wasn't completely happy with my selection, but more critically I was missing Joan."
Back in Canada, he studied and taught throughout the country before interviewing for a contract with the United Nations Development Program.
"We really didn't know exactly where Malawi was, but off we went – my wife, myself, our three young daughters and our dog."
From 1967 to 1970, he was the economist on an interdisciplinary team designing a major irrigation development. He returned to teach in Truro, N.S., until another inter-national opportunity knocked on his door. He joined a Canadian economic development planning team working in Uganda.
"We timed it badly," he says. "It was the time of political unrest under Idi Amin, so instead of three years, we spent three weeks."
The family needed to leave quickly.
"For a while it was uncertain how we would get out. The airports were closed, roads were blocked. It was a traumatic time with tanks in the streets and guns being pushed in our faces."
But the Dorans eventually made it safely out of the country, and Des had to decide what to do next. He ultimately became an economist with Agriculture and Agri-Food Canada in Ottawa, surprising himself in the process.
He had told himself years before he would never be a "grey-haired man sitting behind a huge oak desk with tons of paper stacked every-where." But government was the perfect place to pursue his interests.
"I tried very hard and was successful at getting into a group called the International Liaison Service, which was responsible for international affairs with respect to world food and agriculture," he explains.
He looked at food production and potential shortages in various parts of the world and developed Canadian responses, working with other federal departments and agencies.
He helped lead Canadian participation in a 1974 conference held by the UN Food and Agriculture Organization to address the world food crisis. He also worked on portfolios such as the World Food Programme, the principles affecting the use of food aid, and the role of women in economic development.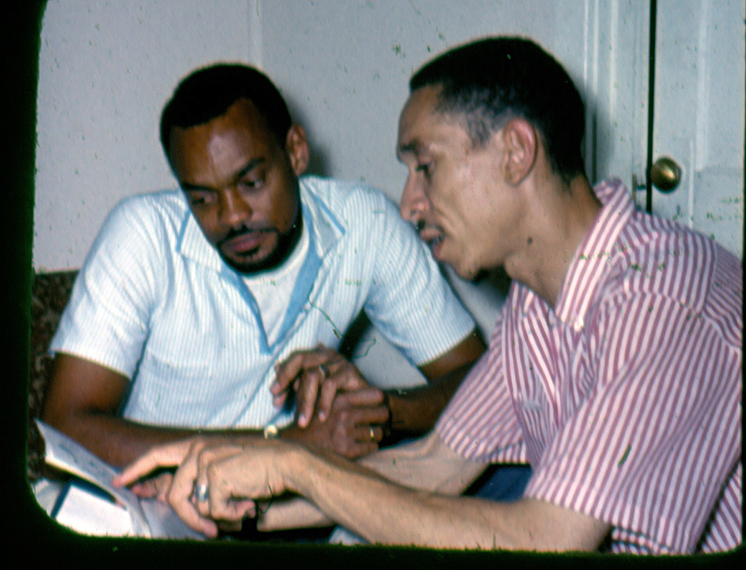 Advocating for RESPECT
"In 1991 or '92, I recall going up the elevator of my federal office building with a group of people, including a couple of Afro-Caribbean people, and not even exchanging greetings with them," he says. "It struck me at the time how unacceptable that we should be in this building, a limited number of black people that don't even speak to each other."
As a result, he concocted an idea for promoting career development for black professionals and other visible minorities.
"The reality is that often you were either actively discriminated against or circumstances worked against you," he explains. "When a visible minority person was not promoted for a management position, the usual statement was that they had no management experience. Our finding at the time was that we were generally overqualified for the jobs we were doing."
So, he called a group together.
"When I started, people were afraid to be seen as a group of blacks assembling, even on their lunch hour, in fear that they were to be deemed as concocting mischief or just in fear of the unknown."
Eventually, people began coming to share advice on career progression and promotion.
"It really took strength when the federal government brought in a policy of assessing assistant deputy ministers and department officials on their work on equity and diversity affairs," says Des. "Suddenly my little group became a respectable little group, and it grew to be the official visible minority group of the department."
The group inspired funding for a conference in Ottawa that brought black employees from across Canada together to talk about career development and equity and diversity within Agriculture and Agri-Food Canada and the federal government. That led to federal funding for a national visible minority association.
"My group really preceded a much bigger movement; it showed what could be accomplished by sometimes small effort. [As a society] we have absolutely made considerable strides since then. We have come a very long way, but obviously there is still a lot of work to be done."
He points to the need for better representation of minorities in the education system, politics and policing.
Des has pushed for equity and diversity while volunteering for numerous organizations over the last 30 years. He says he's pushing for a better Canada. He's served on the City of Ottawa's Advisory Committee on Equity and Diversity, the Community Council for Ethnocultural Equity of the Ottawa-Carleton District School Board, the Jamaican Community Association, the Ottawa Community Immigrant Services Organization, the Ottawa Police Services Board, and the Regional Ethnocultural Advisory Committee to Correctional Service Canada to name a few.
"I have travelled in Europe, Africa, the U.S.A. and the Caribbean, and Canada is a most remarkable country. But it is not that way by accident. People have made it great, and I am personally committed to contributing to making it remain great and greater in the future."
Among his honours, Des has received a Black History Ottawa Community Builder Award, the 2012 Queen Elizabeth II Diamond Jubilee Medal and the 2018 Jamaican Prime Minister's Medal of Appreciation. All represent the respect Des has gained through a lifetime of contribution.
This article was originally published in the LIBRANNI 2019 / Vol. 1
| | |
| --- | --- |
| | Read more: |
| | Read more: |
Share this page
News Topics