Students Improving Life: Inventors of Wapples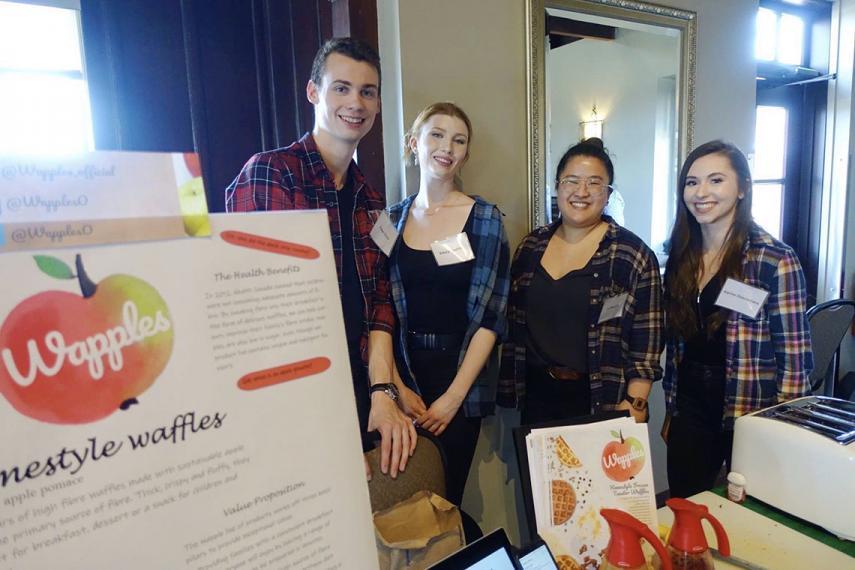 These students are improving life through teamwork and a resilient work ethic.
Food science students, Karine Desrochers, Ellery Geddes and Loritta Lin alongside business student Peter Cline, were grouped together in their fourth-year capstone course, Food Product Development, where they were tasked to utilize pomace, an apple by-product, to create a consumer ready product.
8 months is all it took for these students to take the nutrient-filled pomace and create a marketable product they called Wapples. Not only was this frozen toaster waffle delicious and sustainable, but it was also worthy of the first place prize at the product development presentation at the end of the school year.
Food Product Development is a two-semester course that brings together food science and business students. Student groups are comprised of various majors who are introduced to a very real-world working environment.
From market research to prototype development, students gain insight into the marketing and food chemistry sides of product development. They had to work closely with industry mentors, course instructors and these students had the opportunity to work with exchange student Lovisa Nilsson for the first semester of the project.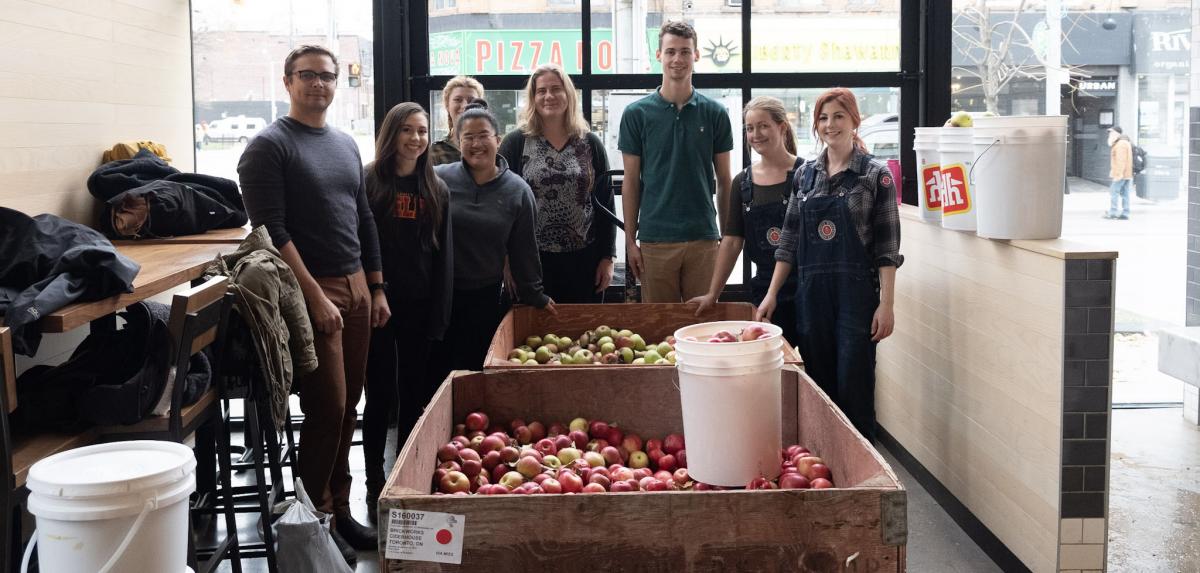 From waste to waffle
At the beginning of the year, the students in this course had to pick from a list of potential projects. Karine, Ellery, Loritta and Peter were essentially told to use apple pomace to make any food product. The sky was the limit. They were ready for the challenge ahead and were excited at the opportunity to get creative.
"I didn't want to be confined to a specific product idea, so I chose a project that was to take an ingredient and do what you want with it," says Ellery.
Apple pomace is a waste product from cideries and juice-making facilities that is typically used in animal feed. Through this course, these students learned the importance of creating more sustainable food products and that by-products can be turned from 'trash to treasure'.
"I think it's important for students to learn about waste products because it is the reality," says Loritta. "If we bring awareness to it early on in our careers then that is something that we will carry on with us. It is something that we can try to solve when we are working in the industry."
As the saying goes, 'the third time's the charm', but that wasn't the case for these students. It wasn't until their eighth attempt at their base formulation that they felt their product was perfect. Because of their determination and ability to troubleshoot these students were able to develop a product they were proud of.
Creating the perfect base formula was a unanimous highlight for the students. And winning first place was the cherry on top. The students were overwhelmed with pride and excitement when they received this honour.
"We worked so hard and even if we hadn't won, we would have been proud regardless," says Karine. "We had a successful product and had fun throughout the process."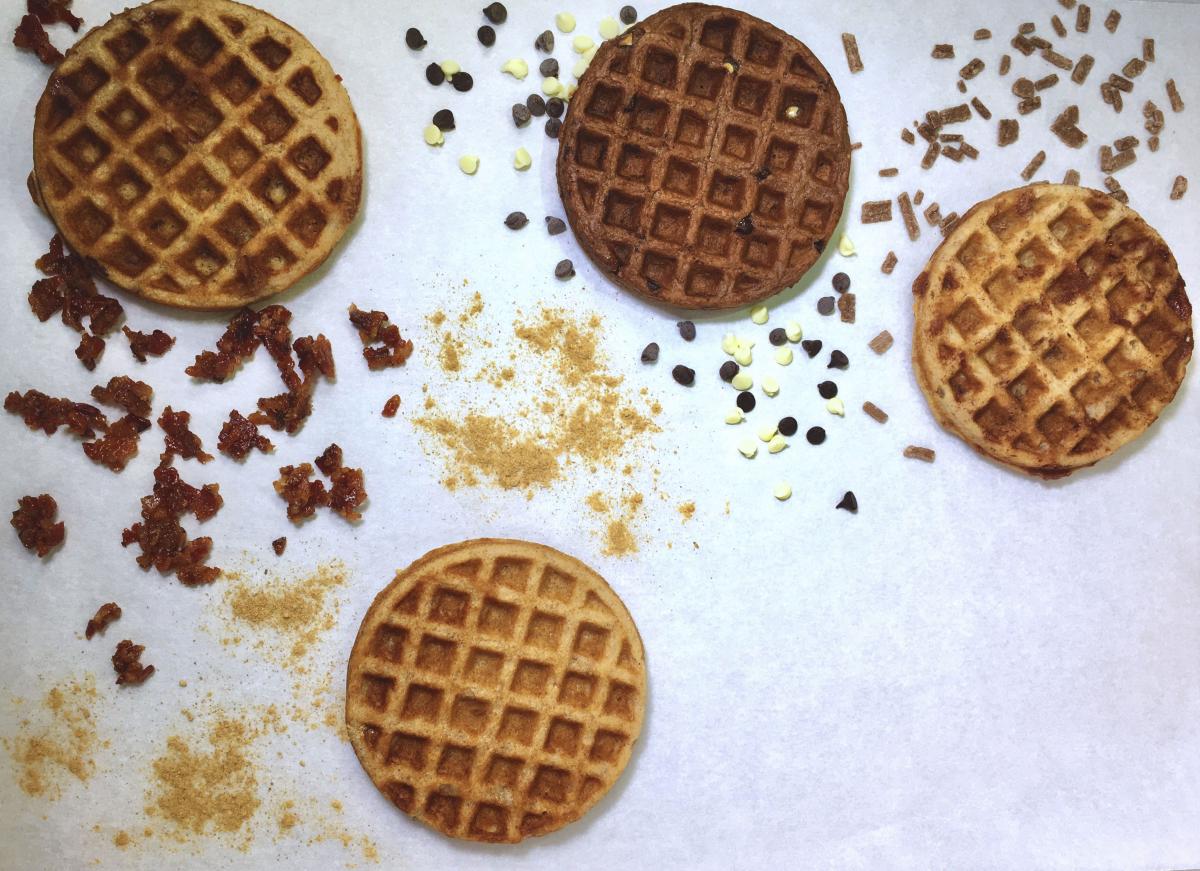 Teamwork makes the dream work
Karine, Ellery, Loritta and Peter learned early on that strong teamwork would be the key to success for this project.
"I think interdisciplinary collaboration is one of the most important things we could do," says Peter. "By working with students in other programs it helps broaden our own skillset."
These students attribute their success to their ability to work together efficiently. They highly valued each member's contributions to the project and developed a greater appreciation for the skill sets each individual had. This project provided these students great insight as they begin their transition from students to young professionals.
"You are never going to stop working with teams," says Ellery. "When you begin your career you are going to be working with teams, so you have to learn how to do it effectively."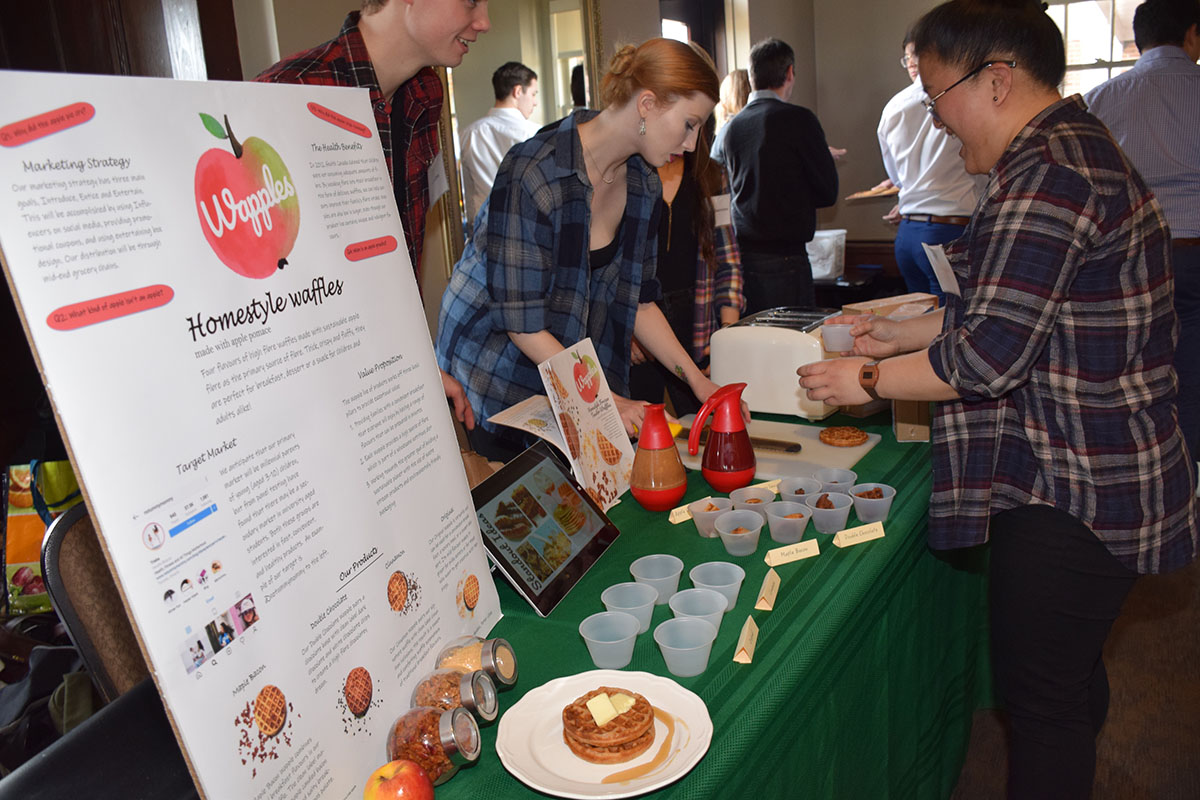 What's next for Wapples
You won't be seeing Wapples in the grocery stores any time soon. These graduating students are all going their separate ways and decided not to take this project any further.
Karine is currently working at a school tutoring elementary students. She hopes to return to U of G in the fall to continue her studies in food science.
Ellery is currently works for Kenna, where she advises farmers in Western Canada on their chemical use for their crops.
Loritta is currently working at Buckets Ice Cream, a family run ice cream shop, in Vancouver and will attend culinary school in the fall at the Culinary Institute of America in Napa Valley.
Peter is currently working at Verve Senior Living doing business analysis. In the future he hopes to continue working in business analytics and operations.
| | |
| --- | --- |
| | Read more: |
| | Read more: |
Share this page
News Topics