Students Improving Life: Using research to understand sustainable agricultural practices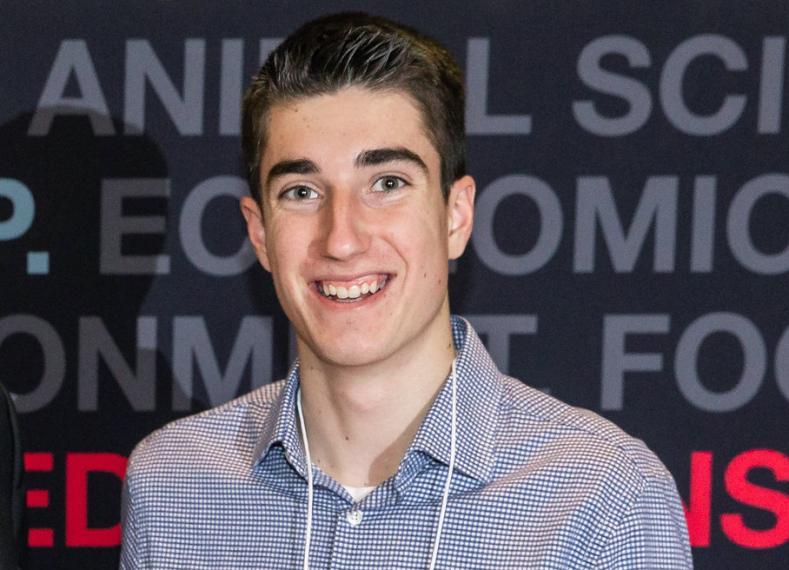 Precision agriculture is a broad term used by many, but its everyday applicability is less broadly understood. 
Third year food, agricultural and resource economics student Nicolas Bannon wants to change that.
Bannon recently won one of three Farms.com Precision Agriculture Scholarships, worth $2000 US, for his video entry under the theme of "environmental benefits of precision agriculture to protecting the planet."
His entry on Twitter speaks to undergraduate research he conducted with Prof. Alfons Weersink in the Department of Food, Agricultural and Resource Economics.
In his video, Bannon tells viewers about the results of a nation-wide survey of crop input suppliers and farmers. The focus of the survey was on current level of precision agriculture technology adoption and barriers to adoption.
He says the survey found the two main barriers are pressures on farm income and unsureness on the actual value of precision agriculture.
Bannon began working with Prof. Weersink as part of his University of Guelph President's Scholarship in the summer following his first year. He continued his work with Prof. Weersink and focused on summarizing the results of the large precision agriculture survey last summer.
As he describes in his video, Bannon believes the best way to increase adoption of precision agriculture is to develop a nation-wide program that educates crop input suppliers and farmers on the economic and environmental benefits of precision agriculture technology. He also believes the program should teach them how exactly to use the new tech.
"While the term encompasses a broad range of technologies, many of these technologies have the potential to lessen the environmental impact of the agricultural industry, something very important to me," he explains. "Discovering the barriers that hinder adoption and how we can overcome these barriers is not only interesting from a research perspective but also critical from an environmental standpoint."
Bannon originally enrolled in the food and agriculture business program at U of G to pursue these interests but switched programs after taking a few economics courses.
"I realized that I had a passion for the field of economics, a field that focuses on how to allocate scarce resources, something very important when it comes to agriculture and sustainability," he shares.
"I wanted to merge my interest in business with my interest in sustainability and the environment. Agriculture has a large impact on the environment, and I think that business decisions can help lessen this impact."
Bannon says the scholarship will alleviate some of the financial stress of university and allow him to concentrate on his studies and extracurricular activities, which include the Gryphons Cross Country Running and Track and Field Teams, as well as the Student-Athlete Mental Health Initiative.
He also encourages other students to pursue undergraduate research.
"They are a great opportunity to challenge yourself and apply what you have learned in the classroom to help answer important research questions," he says. "Students would be amazed at how much they can learn in a summer or semester working as a research assistant."
Share this page
News Topics