Students improving life: Using technology to explore the adoption of climate mitigation strategies in Canadian agriculture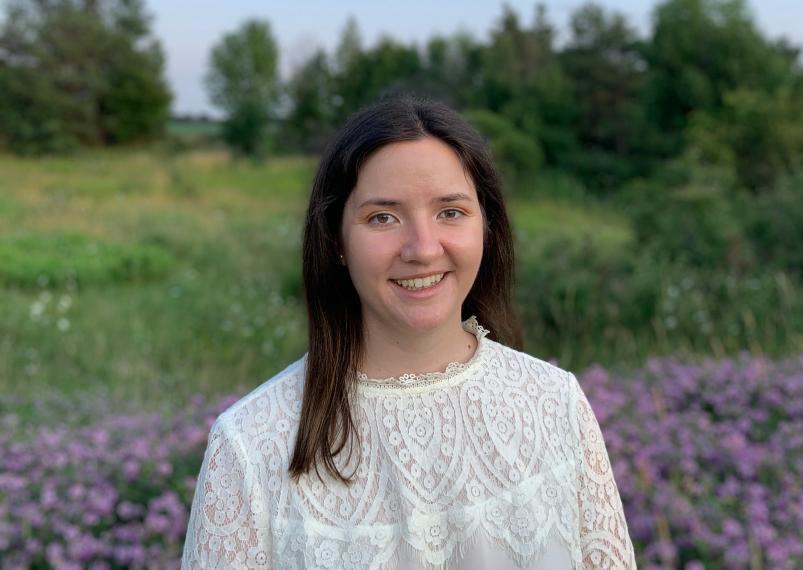 Livia Sente, a graduate student in the Department of Food, Agriculture and Resource Economics (FARE), brings a unique perspective to her academic life, which stems from her interdisciplinary approach to looking at the 'big picture'.
"I enjoy seeing the whole picture, asking the bigger questions, and getting involved with multiple areas instead of specialization," she shares. "Specialization is undeniably valuable, but so is a better understanding of the bigger puzzle that we are looking at and how everything is interconnected."
Livia's current research is in agricultural economics. She explains that her research moves away from the major tradition of causal research in the discipline.
"My research uses artificial intelligence (AI) and neural networks to estimate future crop yields to 2084 and the associated crop insurance premiums," says Livia. "A neural network essentially calculates the probability of some outcome through an iterative process of trial and error, weighing the importance of various input data features in accurately predicting the outcome in each trial and improving the weights each time." 
Livia explains that this research explores whether farmers are adapting to climate change given our current cost management systems and business risk management systems.
"The focus is whether the systems we have in place today, encourage or at least do not dissuade the adoption of climate mitigation strategies by farmers. In theory, if crop insurance premiums increase it suggests that farmers are not adapting, encouraged, or incentivized to adapt to climate change. "
Most of the published research in this discipline is from the United States so her research is determining how agriculture in Canada will be impacted in the future. The research captures an interdisciplinary outlook which includes climate change, yield resilience, technological change and a new methodology for crop insurance. 
"I think we have reached a point in time where the application of knowledge and a lot of the causal relationships that are so embedded in this discipline are really important for making future decisions," says Livia. "Although we can't have a definitive answer. It's good to paint a few pictures of what could possibly happen." 
Livia is determined to make AI, machine learning, neural networks, and other buzzwords surrounding this topic extremely understandable and simple.
"At its core artificial intelligence is simple. In agricultural economics, it's used as a form of statistics which may pose a deficit," says Livia. "It could be a very useful tool from a methodological standpoint, once you sift through all of the terminology, it's easy to understand and could be used for other applications."
During early 2021, Livia co-founded The Impact Case Competition, which aims to help bridge the gap between the fields of business and science.
"A few peers and I saw the application for the OAC Learning Trust (Richards Trust) for graduate students and decided to apply. We thought it would be neat to put something together, landed on a case competition, and were fortunate to receive funding from the Richards Trust."
The OAC Learning Trust supports students in hands-on learning experiences to enhance and supplement classroom knowledge.  OAC supports students' self-identified and self-directed learning opportunities to ensure excellence in educational programming at the Guelph and Ridgetown campuses.
"The mission of the competition was to provide a bridge between business acumen knowledge and basic financial knowledge for people in the sciences," says Livia. "The other aspect of the case competition was to focus on sustainability. The overarching theme was addressing sustainability by bridging business and science backgrounds."
This wasn't the first time Livia was involved in a competition. In January 2021, she placed first in Policy Brief competition at the 11th Annual Canadian Agri-Food Policy Conference.
 
"I submitted a policy brief, and the question was improving supply chains and building resilience in agri-food supply chains on the midst of a pandemic."
She will receive a four-month paid internship at Agricultural and Agri-Food Canada. She plans to start the role after she defends her master's thesis towards the end of the summer or early fall this year.
Share this page
News Topics