Students improving life: Volunteering and building community to make positive change in agriculture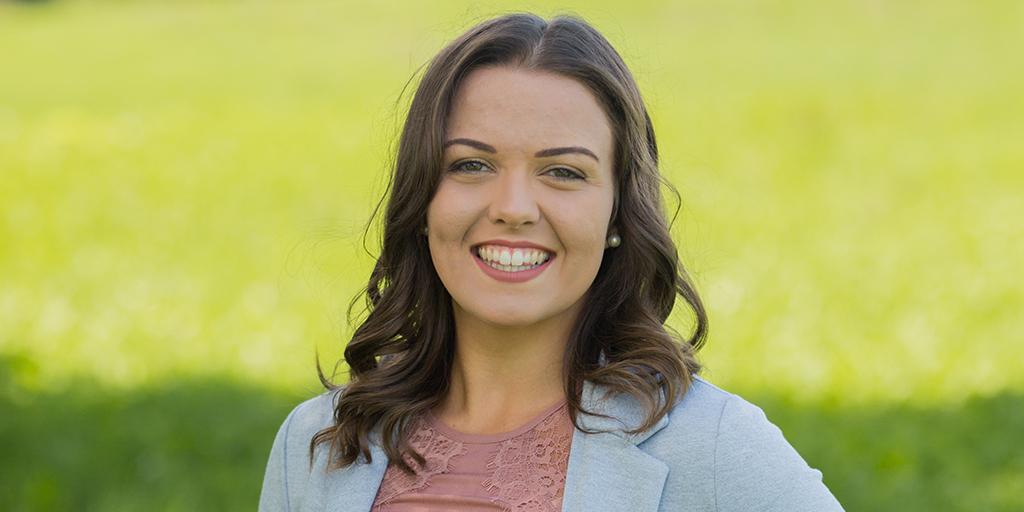 From growing up on a rural dairy farm, pursuing education in animal science, and giving back to the community, Vicki Brisson, a graduate student in the Department of Animal Biosciences, continues to improve life by creating connections and positive changes at local, regional and national levels.
In her last semester of undergrad at the University of Guelph (U of G), Vicki enrolled in the course Animal Metabolism (ANSC*4470). Course instructor, Dr. John Cant, reignited her passion for learning and understanding animal mechanisms. In the summer of 2019, Vicki accepted a Dairy Sales Internship with Cargill Animal Nutrition. These experiences led her to pursue her master's with Dr. Jennifer Ellis and discover what research is all about.
Her current research focuses on mathematical modelling of factors affecting B-vitamin availability in dairy cows. 
"Through our research, we aim to improve our understanding of the impact of diet composition and apparent ruminal synthesis on B vitamins available for absorption by dairy cows to improve their production efficiency and ensure the sustainability of farming practices," says Vicki.
In addition to her passion for research, Vicki is very active in extracurricular activities. She was the Sponsorship Director for the OAC Leadership Conference from 2017 to 2019, and she is a charter member of the U of G Toastmasters Club.
"Guelph became my home away from home," says Vicki. "They say what you learn inside the classroom is important but what you learn outside the classroom is equally important. To me that's what really made Guelph feel like a second home to me. It presented many opportunities to get involved on campus."
Her contributions to the community extends beyond U of G. Since the COVID-19 pandemic began, Vicki has returned home to Eastern Ontario to continue her master's and community involvements remotely.
In July 2020, Vicki Brisson was selected as an Ontario representative for the inaugural Canadian Agricultural Youth Council (CAYC). The 25 council members are individuals who are passionate about the agriculture and agri-food sector. The group collectively advises the Government of Canada about challenges, opportunities, and best practices as the voice of young Canadians in the sector. 
"We are the first iteration of the CAYC," explains Vicki. "It's important for today's youth to understand where their food is coming from and how agriculture ties into our everyday lives."
Vicki shares that most of the CAYC's work to date has been focused on strategic planning and getting to know other representatives virtually.
Three working groups were recently established within the council, focusing on careers in agriculture, agri-awareness and climate change. As part of the Agri-Education Alliance Working Group, Vicki supports the council's work to increase agri-awareness through education, promotion and outreach.
"A lot of great organizations are promoting agri-education in the classroom, including the OAC Liaison Team," says Vicki. "Our goal in creating the Agri-Education Alliance includes finding ways to support their incorporation into high school curriculums. We are looking at how we encourage prospective students to consider careers in the agriculture and agri-food industry. Even if they decide not to pursue careers in agriculture, it's important for youth to understand where their food in coming from so they can make healthy choices, both for themselves and for the environment."
Youth involvement in agriculture is critical and there is a need for diverse representation, voices, perspectives and experiences in order to expand the sector.
"There is room for everyone in agriculture," Vicki shares. "Usually, when people think about agriculture, they think about family farming, and while that's great, we also need to be inclusive and promote diversity and inclusion. I am really hoping that we can do a better job at making everyone feel welcomed in our industry, but we are certainly moving forward in a positive direction."
Vicki's experience and reflection from the CAYC led her to establish the Eastern Ontario Women in Agriculture Network /Réseau des femmes en agriculture de l'EO, a bilingual network for people who identify as women in Eastern Ontario.
"We're stronger together, that's really what it is," says Vicki. "The network discusses diverse topics such as mental health, women in agri-business, and finding some sort of balance between our professional and personal lives. As women, we often tend to focus on people issues, and while that is extremely important, we also need to create spaces where we can focus our skills and our technical knowledge."
Vicki shares her experiences at U of G has given her the confidence to take the leap and try new things.
"My biggest drive home message is to not be afraid to get involved, it is so rewarding to know that you're strengthening your community and having an impact on other people's lives."
Share this page
News Topics