Behind the brew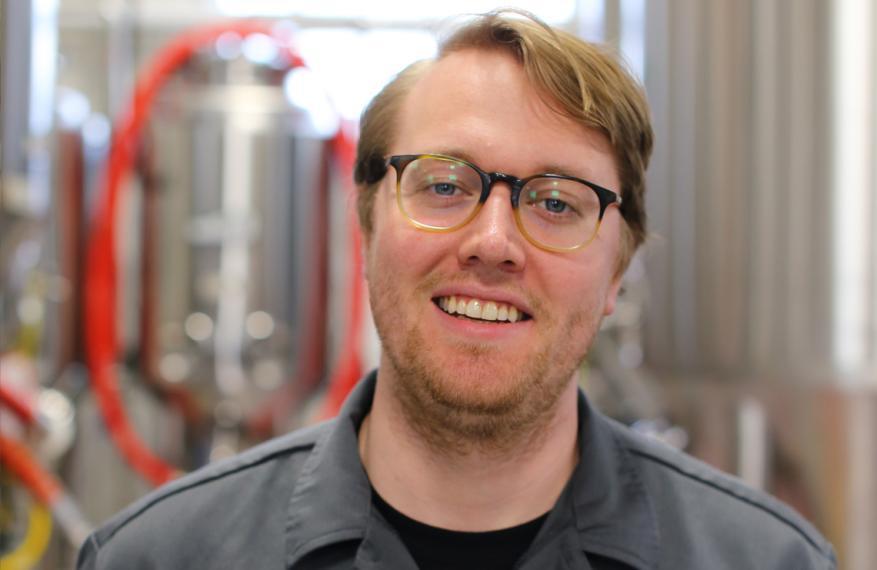 Brewing craft beer isn't just trendy and full of cheers says Patrick Wynn-Williams, B.Sc. '12. He knows first-hand the dedication and stamina it takes to work in this industry.
"As fun as it might be, and it is definitely fun, it is also a lot of hard work," says the packaging and shipping technician at Escarpment Laboratories in Guelph.
Escarpment Labs is a yeast manufacturing facility that serves the craft brewing industry. Their team of brewers and scientists grow yeast for commercial use and provide services in yeast strain banking, beer quality control and quality control education.
As a packaging and shipping technician Patrick distributes the lab's products all over Canada and worldwide.
Before joining Escarpment Labs, Patrick worked as a brewer for several craft breweries in Toronto.
"One of the biggest misconceptions I have seen from this industry is that it is all fun, all the time. Production brewing is a very labour-intensive profession."
Lifting and transporting 25-kilogram bags of grain for milling; disassembling and reassembling equipment for cleaning; processing hundreds of pounds of fruit by hand: these are just a few of the varied tasks involved in brewing craft beer.
"Because the craft brewing industry is new, there are some growing pains in terms of financing for equipment and a lot of the work gets done by hand. All those things add up in a day."
Patrick's passion for beer has brewed for more than 20 years, beginning with a childhood trip to Ireland where his family toured the Guinness brewery, and something sparked in Patrick.
"Ever since that trip, I had a fascination with beer," he says. "At the time, you got to see the facility and experience what the beer culture was like in Ireland. Compared to Canada, the beer looked so different and that sparked an interest in me at a young age."
That fascination led Patrick to the University of Guelph where he studied food science. He studied in the co-op program, which gave him further exposure into the world of brewing beer.
Patrick has seen some drastic changes since starting work in the industry, and the recent popularity of craft beer in Ontario has truly changed the landscape.
"The consumer demand is a lot different now. Ontario and Canadian beer drinkers used to be pretty conservative in what they drank – mostly lagers and English ales. Now, there is a lot more influence from the United States, Belgium and other parts of the world."
He also believes the influences from brewing small scale beer at home really changed how people thought about beer, and pushed the boundaries of what beer could taste like.
"Now we see a lot more beers that are highly hopped or are fermented with wild yeasts and bacteria and are a lot more unique, like sour and wild ales."
Pushing boundaries is what makes the craft beer industry dynamic and fresh, which is exactly what Patrick loves about it.
"I'm enjoying what I'm doing. With an increase in sour and wild beers, working with different yeast and bacteria is an area where there is still a lot to explore. It's a particularly good place to be."
The innovative work being done by Escarpment Labs is what really excites Patrick about the future.
"One thing that we do at Escarpment is wild capture, a project we originally started in collaboration with the University of Guelph's microbiology department. We will take yeast from the environment, whether it is from the skin of fruit, or yeast from the air and isolate it. We then use the yeast to bring unique flavours to brewing."
Unique approaches like wild capture are part of the charm consumers have come to expect from the craft brewing industry. People are invested in the stories and local connections that come with every sip.
"Our products are very Ontariocentric," says Patrick. "We have yeasts that have been captured locally and then have breweries in Europe asking about these products."
And for those who think craft beer is just a fad, Patrick disagrees. "As an industry, I don't think it is a fad. As consumers become more aware and knowledgeable about beer, the demand for quality will only increase."
This article was originally published in the LIBRANNI 2020 / Vol. 2
| | |
| --- | --- |
| | Read more: |
| | Learn more about OAC research: |
Share this page
News Topics