Bringing rice to Canadian fields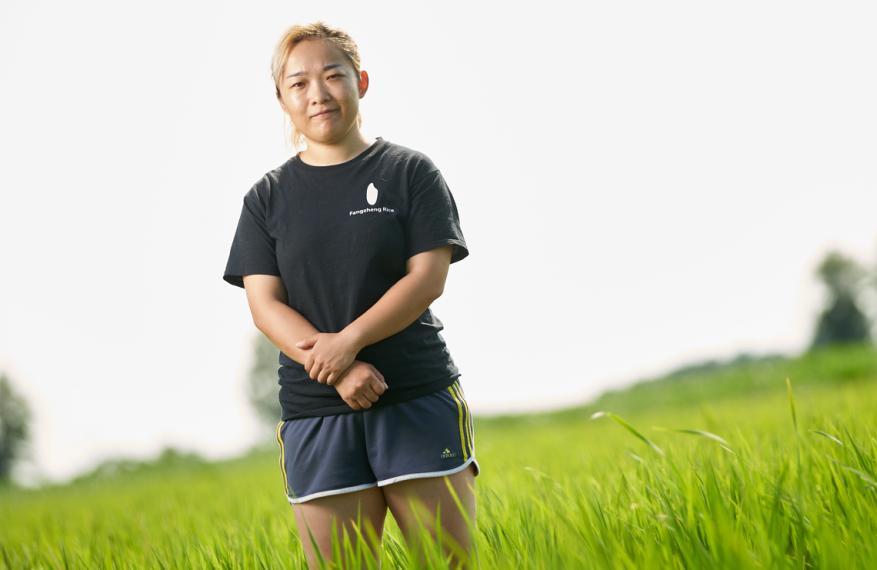 In Grade 10, Wendy Zhang, B.Sc. (Agr.) 2016, M.Sc. 2018, set a goal for herself. She would grow rice in Canada.
Last fall, Wendy harvested her first Canadian rice crop from a 2.5-acre test plot in Chatham Kent, Ont. The pilot project of Ontario FangZheng Agriculture Enterprise Inc. was a terrific success, with an average yield of 6,920 lbs. per acre (or 154 bushels per acre).
Wendy came to Canada from China nine years ago to pursue her bachelor's degree.
She completed her organic agriculture major at the Guelph campus, before moving to Ridgetown Campus for her master's in plant agriculture.
Although she didn't study rice production and had actually forgotten about her goal to grow the crop in Canada, fate soon put her back on track.   
Ontario FangZheng Agriculture Enterprise Inc. had been working with John Zandstra, Ridgetown Campus instructor and researcher, on a greenhouse study on rice crops.
"It all started when the company needed a translator," Wendy says. "When they came to Canada, their translator did not understand agriculture and couldn't translate the terms."
John connected them with Wendy. After beginning as a translator, she was put in charge of the Chatham Kent pilot project.
The first rice crop planted was a short, medium grain variety with a higher protein content. 
Wendy says she can't share the actual variety name, but it is a north eastern variety with a long growth stage. If it can grow in the area, then so can most other rice varieties. 
John continues to consult on research trial design, as well as sourcing equipment that can be modified for the crop.
The rice benefited from a cool, wet spring. But when it comes to harvest, rice is just like wheat. The moisture levels needed to be low enough for combines to work the fields and for the crop to be easily dried post-harvest.
Wendy hopes local farmers will note the similarities between rice and crops currently grown in the area and consider growing rice for her in 2020.  
"The company invested a lot to start the project, and they want to expand as much as possible," she explains. "I see the potential. I want to help it expand even bigger."
Wendy is developing resources to help local farmers learn how to grow rice, find a market and locate the right integrated pest managment and equipment suppliers.
"I know that if farmers don't think there is a market, they won't grow it," she says.
Wendy is confident that a local rice market will blossom. In the meantime, the company will export their crop to China, where it sold as a premium product.
"One of the major reasons we are growing rice in Canada is because of Canadian food's reputation for high quality and safety. Chinese customers love Canadian food. For whatever reason, people just love it."
This article was originally published in the LIBRANNI 2020 / Vol. 2
Read more:

 

Read more:
Share this page
News Topics