Learning the Art of Adaptability
Seven years after receiving her undergraduate degree, Ashley Honsberger decided it was time to return to school. Her career focus on farm business management was missing the international development link she longed for. To reset her career path, she pursued a Master's of Science in Capacity Development and Extension (CDE) at the School of Environmental Design and Rural Development.
Ashley had a clear research plan from the start. She would focus on small farm business management in developing countries with sights set on Nepal. The country, north of India and south of China, is agrarian based with 70% of rural dwellers depending on agriculture for their livelihood.

"Nepal came across my radar before I came to Guelph as it has a vibrant development community. Due to government turmoil, development agencies have stepped in to help farmers gain access to markets and with extension," she explains.
As she began her literature review and speaking with professors, professionals and fellow students, her research project developed and changed. "As a researcher you are a part of a community of ideas and like minded people who help develop your ideas," Ashley explains.
"I decided to focus more on the commercialization process in small farms, and I also didn't have a gender component to my research. Prof. Helen Hambly Odame influenced me to take a broader look at the issues facing Nepali farmers and my research focus evolved into women's empowerment and markets," she shares.
Her research evolved into two main objectives: determine the skillset of smallholder farmers engaging in more commercialized markets; and distinguishing the extent to which being engaged in a commercialized market contributes to an individual's empowerment. For her field research she focused on the farmers serving the vegetable market in Kathmandu, Pokhara and Palpa/Tansen.
In October 2014, Ashley set out for eight weeks of research in Nepal.
"In our CDE classes we are taught about the notion of community entry and building trust. Without this you are essentially a foreigner walking into a party you're not invited to," explains Ashley, "but when you actually experience the concepts, that's when you fully understand their significance."
Thankfully Ashley had "ins" with the Nepali farming community through a fellow CDE student Rajan Chhatkuli from Nepal with extension work experience. He was open to sharing his connections, which enabled her to work with four NGO's to set up farmer interviews and attend trainings targeted at female farmers wanting to commercialize.
"Its always surprising how people who don't know you, but have common interest, are willing to let you in, trust you and support you," shares Ashley.

Stationed in Kathmandu, she ventured out with a translator to conduct 69 semi-structured interviews with mostly female farmers who are or intending to be more commercially focused in their vegetable business. She also spoke with key informants such as NGOs, government extension workers, micro credit employees, as well as restaurateurs to gain end user input.
All of this took time and Ashley needed to be flexible with her expectations and timelines. "I found a connection through an NGO that supports women through learning more about off-season vegetable farming and I picked a date to go based on these training dates. When I arrived they told me that the training would happen in next couple of weeks. Things just always take longer than you think," she laughs.
Ashley also needed to use her adaption skills when researching in the field. "In your research proposal you set out a certain amount of ideas and create a framework to execute in the field, but things change in the field," she says.
"I thought certain things were going to be very important to the women. I asked questions like, 'Are there things you aren't allowed to do or find hard to do because of your gender?' They all said, 'No'," she explains.

When her notions of gender relations weren't presenting themselves as planned she adapted her research focus. She changed questions to discover more about the benefits women experience from commercial enterprises.
After returning to Canada in December, Ashley is now hard at work finishing her thesis.
"Going in you are making a lot of assumptions, but objectively you need to comb through the data and look for themes and clusters of ideas. You have to illuminate their story based on a new framework."
Beyond submitting her thesis and walking away with a degree, Ashley has bigger plans for her research.
"I hope to turn my findings into several shorter reports that I can give back to the NGOs I worked with in Nepal to give them a new perspective on their program planning and development."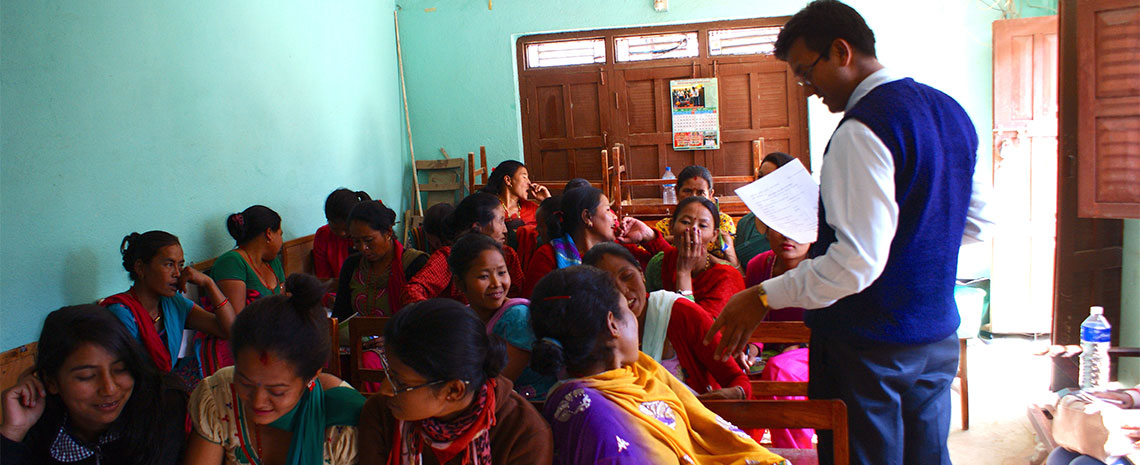 Hesitant to label her findings before the official submission of her thesis, she just says, "I won't give it a title until I hand the final product into my prof." She knows her honed adaption skills may be called upon again.
Across OAC, there are 700 graduate students like Ashley, in 26 different graduate level programs, coming direct from undergraduate studies or returning to enhance their careers. And just like Ashley, they are honing the art of adaptability.
Share this page
Find related news by keyword
News Topics