Meet Claire, PhD Student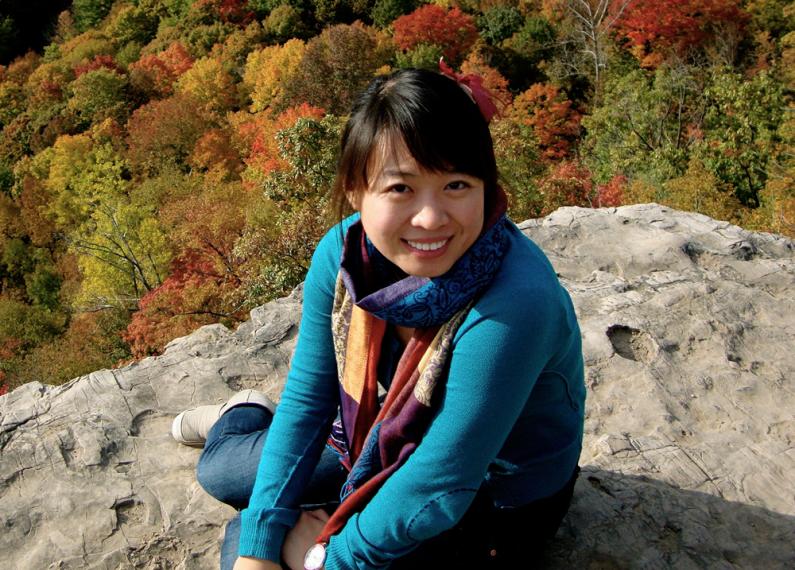 About Claire P. Zhang
Claire Zhang is a self-proclaimed "foodie", which led her to complete a M.Sc. in Human Health and Nutritional Science at the University of Guelph, followed by a PhD in Food Science. Now in the third year of her PhD, Claire has found a family of "foodies", who all share the same passion for food and food research, in the Department of Food Science. Claire's current research focuses on improving consumption of healthy fruits and vegetables among the general public.
Program: PhD in Food Science
Year of Study: Almost three years
Hometown: Changchun, China
---
What did you complete your undergraduate in?
My undergraduate degree was in biology and psychology at McMaster University. I later came to University of Guelph for a M.Sc. in Human Health and Nutritional Science.
Why did you choose Guelph / OAC for your graduate studies?
I chose to come to the University of Guelph to complete my PhD as the university has a well-known food science program. The entire university is very food orientated in its research, which provides the opportunity to collaborate with people in various other departments.
Tell us about the research you are working on and why it is important.
My research project is focused on developing consumer driven strategies to improve fruit and vegetable consumption among the general public. Fruit and vegetables are an essential part of a healthy diet, however more than 70 percent of Canadians are not meeting their daily recommendation. Many programs have been developed to improve fruit and vegetable consumption, however the results tend to be moderate, and sustained improvements remain challenging. The focus of my research is on how food environment and food skills impact personal consumption. The goal is to understand urban Ontarians' current food environments and food skill levels, and develop targeted strategies to reach different consumer groups.
What do you like best about your program?
The people in the Department of Food Science are all very friendly. They share a passion for food and most are very good cooks. As a self-proclaimed "foodie" myself, it is really nice to be surrounded by people who also love and care about food.
What tips would you share to undergraduate students who are thinking about graduate studies?
I would encourage undergraduates to think about what their research interests are before going into graduate study. During graduate studies, you get the chance to spend a lot of time on one particular topic. So if it is a topic that you are passionate about, your graduate studies will be very enjoyable.
What do you enjoy about the City of Guelph?
People in the City of Guelph are very friendly and it is a very safe city. Driving around the city is easy and public transit is very convenient, so everything is accessible for those without a car. I also really enjoy the natural scenery in the city; the Arboretum and Guelph Lake are beautiful. The food environment in Guelph is excellent, with different grocery and food stores throughout the city. You can always find something exciting to eat!
What are your plans for the future?
I would like to continue working on healthy eating promotion in an NGO or government organization. The outcomes of this PhD project will deliver recommendations to develop effective fruit and vegetable promotional programs. It would be nice to develop a program based on the findings of the study and to implement the program in a real life setting.
Share this page
Find related news by keyword
News Topics