Meet Gabrielle, BBRM Student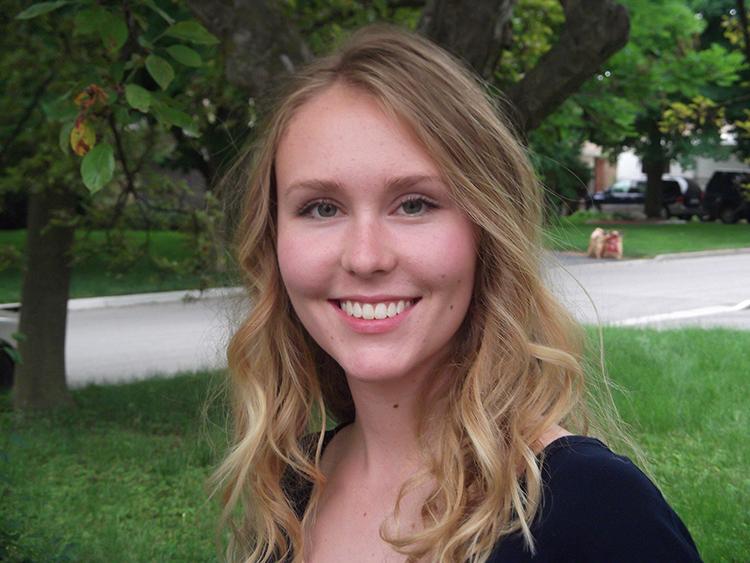 About Gabrielle Nichols
Gabrielle Nichols is going into her fourth year of study in Bachelor of Bio-resource Management program in the Environmental Management major. She immersed herself into the University of Guelph community this year after spending her first two years of study at Ridgetown Campus. In addition to volunteering for a sustainability project on campus, Gabrielle was the B.B.R.M. representative for SFOAC and the SFOAC representative on the B.B.R.M. student council. Gabrielle is determined to get the most out of her university experience.
Program: Bachelor of Bio-Resource Management - Environmental Management
Year of study: Going into fourth year
Hometown: London, Ontario
---
Why did you decide to come to Guelph?
I wanted to have an environmentally focused career and Guelph provides several great programs within this field of study. I also saw Guelph as an innovator in this field, which made me think that this would be the best school/community to learn from to build my career.
What do you like best about your program?
I love that my program mixes hands-on, practical skills with an understanding of business, which allows me to have a very broad range of career choices that are not strictly within the environmental field.
Do you have a favourite class? A favourite professor?
My favourite class was probably microbiology, which I took at Ridgetown Campus. I loved the hands-on lab work and the content was great too! My favourite teacher at Guelph so far has probably been Prof. Brady Deaton for economics. He is so enthusiastic about the topic, which made it more interesting for me.
What residence did you live in during first year?
I was at Ridgetown Campus for my first year, and I lived off campus in the town of Ridgetown.
What are your plans for after graduation?
I haven't quite figured out my career plan yet, but my plan after graduation is to explore different work areas, and if I can travel to different areas simultaneously, that would be ideal. I just want to know more and more about this field because I feel like there are so many interesting career options; I'm not ready to settle on one yet.
Do you have a summer job?
I work for Ontario Parks, as a natural heritage educator or an "interpreter". It involves a lot of research on the various aspects about my park, Rondeau Provincial Park in the Chatham-Kent area, including the species, ecosystems and habitats, ecological and anthropocentric history, etc. and then using this knowledge to develop educational programs for the park visitors. In addition to programming, my job also involves working in and maintaining the visitor center, as well as assisting with environmental monitoring within the park. I love being able to apply my knowledge from my studies to this job, while still learning and expanding on my skills within the environmental field!
What are your favourite events and activities on campus?
I did not get the chance to participate last year, but I am excited to go to College Royal. My favourite activity in Ridgetown was by far Spring Expo which is a smaller version of College Royal, and I enjoyed the occasional themed pub night.
How do you get involved on campus or in Guelph?
I decided to make a big change when I arrived at the Guelph campus last fall. I really wanted to embrace being on a larger campus and try new things and meet new people. I joined the Student Federation of the Ontario Agricultural College (SFOAC) and became the B.B.R.M. program representative on that council, as well as the SFOAC rep on my own B.B.R.M. student council. In my second semester I wanted to get more involved so I volunteered for the Sustainability Office collecting coffee grounds each week for the "Coffee to Compost" project. I hope to join new organizations on campus this coming year too. Being involved really made my third year a memorable one.
What is your favourite way to procrastinate from studying?
My favourite way to procrastinate during the school year is usually cooking or baking, however, to procrastinate from my current summer course, it's spending as much time being outside as possible and being as active as I possibly can!
Where is your favourite spot to hang out on campus?
I like to sit in Branion Plaza while the weather is still nice. I don't often eat on campus, but if I do it's the Tim Hortons in the MacNaughton building, where there is a nice and cozy lounge area.
Do you have favourite spots in Guelph?
Having only been in Guelph for eight months, so I haven't been to too many places, but my favourite restaurant would probably be the Cornerstone or Fuji Sushi downtown.
Share this page
Find related news by keyword
News Topics