Meet Mehrdad, CHATS student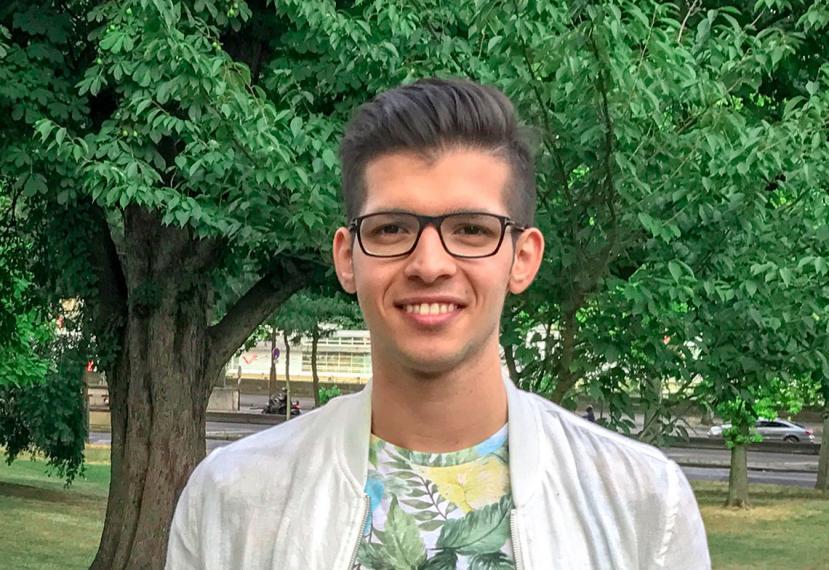 About Mehrdad Behzadian
Mehrdad chose to travel far from his home in Mashhad, Iran to pursue his studies and interests in agriculture. Now studying crop, horticulture and turfgrass science at U of G, he enjoys spending his time outdoors and studying in Bovey Greenhouse. He plans to return to his father's farm after graduation to put his new knowledge and skills to work for the betterment of the family business as well as his the local farming community.
Program: Bachelor of Science in Agriculture - Crop, Horticulture and Turfgrass Sciences (CHATS)
Year of study: Third year
Hometown: Mashhad, Iran
---
Why did you decide to come to the University of Guelph?
I was studying abroad with a Canadian high school, when my program counsellor told me if I was interested in agricultural programs the University of Guelph would be my best option. After that conversation, I did my own research and I really loved the different program options that I could pursue at U of G.
What do you like best about your program?
I enjoy the opportunities I've had to meet and collaborate with a diverse group of people. I have gained valuable experience and made connections with professors and their colleagues. I also love the fact that my program tackles various areas of agriculture, so that I have a better understanding of the sector that allows me to discover what specific area I want to pursue. 
Do you have a favourite class or professor?
My favorite classes so far have been AGR*2320 Soils in Agroecosystem, AGR*2470 Introduction to Plant Agriculture and BOT*2100 Life Strategies of Plants. They provided useful and essential knowledge that I needed to gain a better understanding of the crop and horticulture sectors.
My favorite professor is Prof. Barry Micallef who taught AGR*2470. His course was well structured and he was helpful one-on-one; not only did he assist me with course material he taught me valuable life lessons regarding my career.
Knowing what you know now, what piece of advice would you give to your highschool self?
I would tell my younger self to be more open to the opportunities that come your way. Also, try to make more connection in the workplace.
What are your current post-graduate plans or goals?
My post-graduate goal is to return home to Iran and start working at my father's farm. His farm is located in Fariman, Iran and specializes in dealing with crops like tomato, potato, wheat, barley and saffron. He also has a small dairy section. I hope to use technologies to innovate our growing process and help the farming community in the province. I will be focusing on lengthening the growing seasons and minimizing water use by implementing greenhouse productions.
How are you keeping busy this summer?
So far I've been busy travelling the world. I am traveling through Europe, currently in France and have plans to visit Spain, Belgium and if time permits other European countries. I will be returning home to Iran for a while and will keep busy by working at my father's farm. I would also like to explore and travel Iran further.
Where is your favourite spot to hang out on campus?
My favorite spot on campus for eating and hanging out with friends is Creelman Hall, but for studying I really like the Bovey Greenhouse. It is really quiet and relaxing which helps me complete my work.
Do you have favourite spots in Guelph?
My favourite spot in Guelph is the Hanlon Creek Conservation area. It is a really beautiful place for both walking and biking during the spring and summer time.
What's one fun fact about yourself?
I love playing tennis. In fact, I participated in the provincial tennis tournament that took place in Iran when I was nine years old. My brother and I were the runner up in the doubles category.
Share this page
News Topics