Meet Sonia, Master of Landscape Architecture (MLA) Student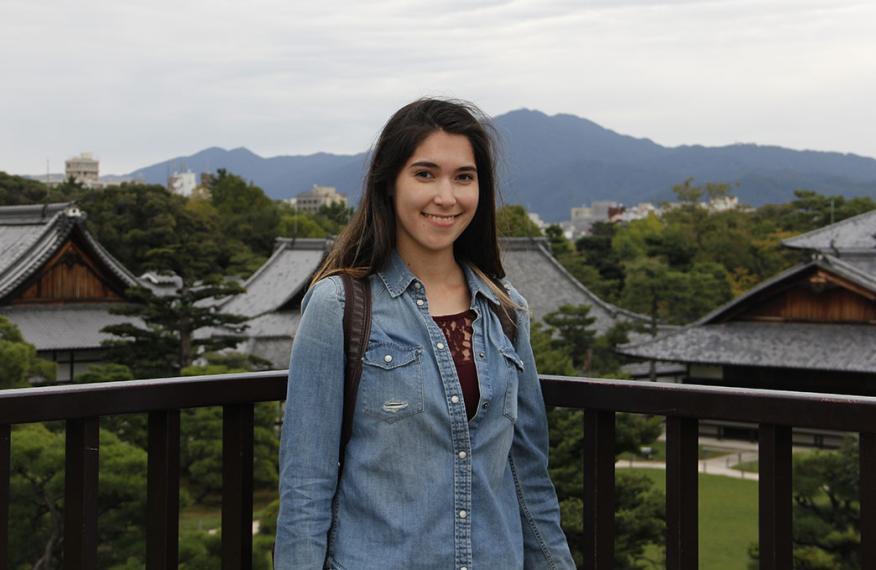 About Sonia
Sonia grew up in Vancouver and completed her bachelor's degree in environmental design at the University of British Columbia. Here at the University of Guelph (U of G), she is continuing to pour her passion for design into her research which focuses on landscape design for wildfire management in the Master of Landscape Architecture (MLA) program. Sonia looks forward to a career as an accredited landscape architect where she will contribute to communities in meaningful ways, designing landscapes for people to enjoy and where nature can flourish.
Program: Master of Landscape Architecture (MLA)
Hometown/City: Vancouver, BC, Canada
---
What did you study for your undergraduate degree?
I was in the Bachelor of Environmental Design (B.Ends.Hon) program at the University of British Columbia (UBC).
Why did you decide to pursue graduate studies at the University of Guelph? Did your undergrad experience shape your decision to further your studies?
I grew up in Vancouver and completed my undergraduate degree there too, so I knew that I wanted to travel outside of the province for grad school. At my previous office, I had two intelligent and talented co-workers who I admired a lot, and both of them had graduated from the University of Guelph. Both the MLA and bachelor of landscape architecture (BLA) programs at U of G came highly recommended by my peers. Furthermore, the promise of abundant snow every winter was a very appealing prospect to me.
What is your research focus? 
I want to explore landscape design for wildfire management. My research thesis is centered around the design of a scenario-based app to help city planners, landscape designers and policy makers to develop a robust wildfire management strategy for a community within the Southern Interior of British Columbia, which is an arid and fire-prone landscape, plagued by wildfires during the summers.
How have you found ways to get involved as a grad student? 
When I moved to Guelph two years ago, I didn't know a soul in the city. In the beginning, I spent most of my free time in the grad student studio in the Landscape Architecture building. Spending time with your classmates is a great way to make friends and to get involved in student organizations. Through my peers I heard about opportunities like professional events and lectures, competitions, and research projects. Here, I was introduced to our student-run journal, Studio V, and a number of events and competitions by word of mouth. Additionally, teaching assitant jobs, which I have been doing for two years, has been a great way to get to know the undergraduate students.     
How has your graduate program experience been different from your undergrad experience? 
Guelph is a much smaller school than my previous university, and the MLA program accepts roughly 17 students per year. I love the intimate setting, and I'm grateful for the close bonds I was able to build with my classmates and professors.
Where are your favourite spots in Guelph?
The Bullring, a student-run café/bar, is a great place to take a coffee/snack break in between classes. The food is amazing and there is also live music on Wednesdays. The Arboretum is one of my favourite places to stroll through on campus. The arboretum houses a wide variety of native Ontario plants species. For plant and wildlife enthusiasts, every season has something special to offer!
What do you find most challenging/ most rewarding about your program/research focus?
I think that the most challenging part of my studies here in Guelph has been staying motivated in the face of virtual learning. This, I could not have achieved without the friendship and support of my classmates, who have become like a second family. And one of the most rewarding aspects of the program has been the opportunity to join a community of like-minded individuals who share my passion for designing landscapes for people to enjoy and where nature can flourish. I have been introduced to so many new ideas and different perspectives by my classmates, who inspire me to keep pushing the boundaries of what landscape architecture means to me every day.
What are some free-time activities that make you happy, or relieves stress?
Every Friday after class I would get together with my roommates and friends from class, combine all the scraps from our fridges and attempt convert them into something edible. We had a lot of fun cooking everything from bibimbap to kaiserschmarrn. In addition to cooking supper together, we'd play some boardgames, watch movies and de-compress after a challenging week of classes.
What are your plans or goals after graduation?
I plan to return to BC to find work in the public sector, designing parks and trails. I hope to design accessible spaces for people of all walks of life to experience and enjoy. Additionally, I plan to write my Landscape Architect Registration Examination (L.A.R.E.) exams so I can become a fully accredited landscape architect.
What advice would you give to an undergrad student considering graduate school?
Take a couple of years off to work in your field of interest. Find out what interests you most. Many graduate programs (including the MLA) are research-focused and it's good to come into the program knowing what you want to explore in your research thesis. Don't come back until you find something that you are passionate about enough to research for upwards of one year.
What or who is your greatest inspiration? Why?
I'm inspired by the professors and faculty at the university who have worked tirelessly to support online learning this year. I'm inspired by Dr. Karen Landman, a professor in the School of Environmental Design and Rural Development (SEDRD), who has been so generous with her time, answering emails at all odd hours of the day and making time for one-on-one Zoom calls to help her grad students craft strong research proposals. I'm also inspired by Prof. Brendan Stewart who has made it his personal mission to master Miro, Teams, Loom and all aspects of virtual learning.
What's one fun fact about yourself?
I am passionate about Victorian-era English literature and period BBC dramas. My mum was born in England, and introduced me to Jane Austen, the Brontë sisters, and Charles Dickens at an early age. Since then, I have read all of Charles Dickens published works and watched Downton Abbey three times.  
Share this page
News Topics