Meet Danielle, M.Sc. FARE Student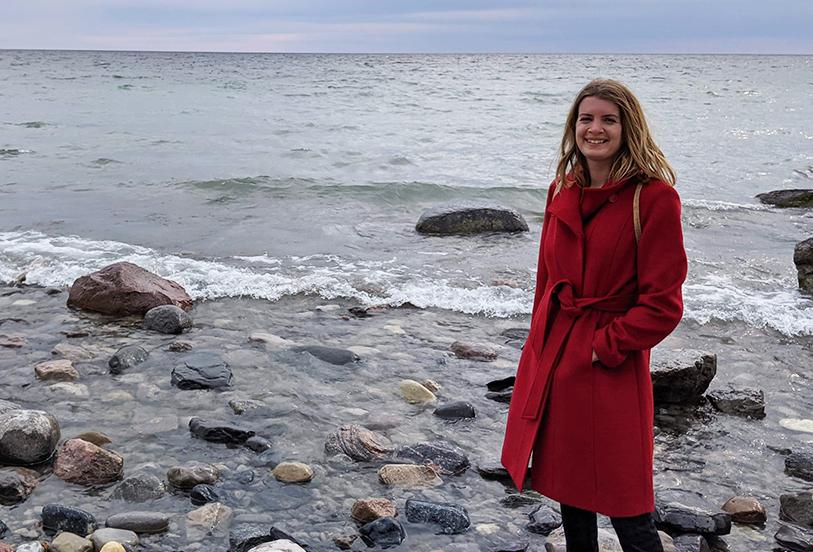 About Danielle
Having grown up in Guelph, Danielle Roy is no stranger to the city, and she loves everything it has to offer. She completed her undergraduate degree in environmental economics and policy, here at the University of Guelph (U of G), and is working toward completing a master of science in food, agricultural and resource economics. With her primary interests being natural resource economics, she has been able to explore her passion through behavioral and experimental economics research in her M.Sc. program.
Program: M.Sc. Food, Agricultural & Resource Economics
Hometown: Guelph, ON
---
What did you study for your undergraduate degree?
I completed the bachelor of science in environmental sciences, majoring in environmental economics and policy at U of G. 
Why did you decide to pursue graduate studies at the University of Guelph? Did your undergrad experience shape your decision to further your studies?
I had excellent experiences during my undergrad. When I talk to friends from other universities it always makes me realize how much U of G has to offer – personable and engaging professors, opportunities for involvement, and both a school and city with a real community focus. Pursuing graduate studies at U of G was an easy decision for me.
What is your research focus? 
My primary focus and field of interest is natural resource economics. During my M.Sc. I have been able to pursue research in the field of behavioral and experimental economics as well, which has really complimented my background in environmental economics.
How have you found ways to get involved as a grad student? 
During my M.Sc. degree I became involved with the FARE Laboratory for Experimental and Applied Economics as a graduate researcher. There have also been many opportunities to volunteer. During the pandemic I was able to volunteer as an outreach person for incoming students to the program. This was a great chance to get to know the new graduate students and help them become more connected – especially in the online-learning environment. I also had the chance to create and co-organize the OAC Impact Case Competition during the W21 semester! This competition gave both undergraduate and graduate students a chance to work in teams to develop and pitch a solution for an environmental-focused issue to industry experts.
How has your graduate program experience been different from your undergrad experience? 
Graduate studies have allowed me to really challenge myself and to also explore new and interesting fields. The small class sizes have made it easy to connect with other students as well as the faculty and professors. The M.Sc. program has provided many opportunities for me to engage in new research and learn from other members of the department. 
Where are your favourite spots in Guelph?
Guelph has the best food – some of my favourite places in the city are Crafty Ramen, The Bread Bar, and Lucky Belly. Fortunately, the University is also home to great food! I also love swimming and mountain biking at Guelph Lake, as well as visiting Rockwood Park, just outside the city.
What do you find most challenging/ most rewarding about your program/research focus?
In my M.Sc. I have had the chance to conduct my own research by designing and running an experiment with the FARELab. This experience has certainly been challenging to navigate but with the support of my advisor and lab members it has been an excellent opportunity and has allowed me to develop my research skills immensely.
What are some free-time activities that make you happy, or relieves stress?
Exercise is always a good stress-reliever. I prefer to exercise outdoors – biking at Guelph Lake or walking the Arboretum are some of my go-to activities. I also like playing disc golf at Riverside Park.
What are your plans or goals after graduation?
I hope to continue working with the University's FARELab for some time. In the further future I may consider working as an environmental/natural resource policy analyst, with an non-governmental organization (NGO), or maybe pursuing a PhD.
What advice would you give to an undergrad student considering graduate school?
It is helpful to have an idea of what you would like your research focus to be, but it is also good to be flexible. Hopefully, you will continue to develop your interests once you enter a graduate program, and it is great if you can orient your research towards these new interests. Don't forget that your advisor is just as, if not more important to your success than the thesis topic/project itself. Finally, be sure to look into what funding and scholarships are available and if there are guaranteed teaching assistant (TA) positions for your chosen graduate program.
What's one fun fact about yourself?
I went on a student exchange to Osaka, Japan in high school.
Share this page
News Topics