Meet Laura, OAC Student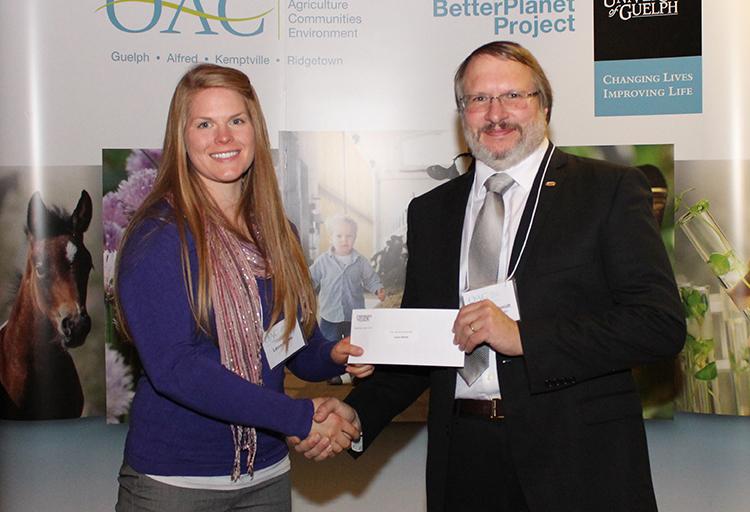 About Laura Nanne
After high school Laura Nanne headed to Australia to live and work. After returning to Canada, she attended Olds College and worked in canola seed production before deciding to come back to Ontario to start her degree at OAC. Laura keeps busy with a long list of extracurriculars that involve everything from agri-marketing to dance!
Program: B.Sc. (Agr.) Honours major
Year of Study: Third year
Hometown: Pakenham, Ontario (near Ottawa)
---
Why did you decide to study at the University of Guelph?
The Ontario Agricultural College at Guelph is highly recognized and respected. Located in southern Ontario, Guelph is ideally situated to lead research and provide a doorway for agricultural grads from post secondary into the workplace. Everything that I had heard about the campus, the people, and the program was positive.
What do you like best about your program?
I am completing the Honours major of the B.Sc. (Agr.) program. I considered the Bachelor of Commerce Food and Agriculture Business program, but prefer the flexibility offered by my degree and the Honours major.
The options available to students are vast in the B.Sc. (Agr.) program. There are the declared majors for those who want to follow a given course schedule, accompanied by the Honours major that I refer to as a 'build your own' program. While the vast course options give students as much say as they would like in their selection, they can also have as little say as they want.
What residence did you live in during first year?
As a mature student, I chose not to live in residence during my first year. That being said, I would highly recommend the choice for students leaving home for the first time. The friendships built in res are those that last a lifetime and sharing that sometimes daunting experience with peers could make the transition easier. For students like myself that chose not to live in res, it's extra important to get involved elsewhere on campus.
What do you see yourself doing after graduation?
I've been able to take summer courses and participated in some extracurriculars that earned me credits, allowing me to graduate a semester early. I plan to work in an agricultural communications or marketing position upon graduation. It is there where I believe that my skills and interests would most benefit a company or organisation.
What have you been up to during summer semester, besides taking classes?
This summer, I enrolled in the J'Explore French program and I'm currently in the French town of Trois-Pistoles, QC. Before the program started, I chose to work for a grain elevator and crop input supplier during their busy planting season. I worked with the fertilizer department and provided office support. I also started a communications project for the company that I will complete over the rest of the summer, culminating in a report and an experiential learning credit for my degree.
What are your favourite events and activities on campus?
Well, Aggie Pub each Wednesday night is a classic, though there is a multitude of events in the OAC and beyond. The list is diverse: Capture the Aggie (this event occurs on campus, throughout Guelph and in homes), OAC Leadership Conference, Goodtimes, Tractor Tug for Tots and dance classes in the Athletic Centre.
How do you get involved on campus or in the community?
Each year I have been involved in a slightly different array of extracurriculars, depending on my schedule. The options are vast and there are numerous clubs that I would like to be a part of if I had more time, such as CanACT, livestock and FARE clubs. I've enjoyed my opportunities with Class Exec, College Royal™, the OAC Leadership Committee, and other teams including square dancing, Habitat for Humanity, and the Canadian Agri-Marketing Association Student Chapter. This coming year, I'm excited to be the Student Co-ordinator for the Project SOY Competition.
What is your favourite way to procrastinate, when you are supposed to be studying?
I think, like many, I end up spending some time on YouTube, watching a "win compilation" video every now and then. I also like baking; chocolate chip cookies are always well received! Though perhaps the best procrastinating happens by cleaning, catching up with friends, and watching a movie.
Where is your favourite spot to hang out on campus?
I usually spend my time on campus either in the library or in the Aggie Lounge. The Aggie Lounge is a great place for a nap if you are lucky enough to be there alone! I usually eat in the UC. I like the array of food options and prefer to use the convenient reusable take-away containers available there.
In your opinion, what's one of the best places to hangout in the city of Guelph?
While I have much more to discover in Guelph, I would highly recommend renting a canoe or kayak by the Boathouse in the summer or at least exploring the parks surrounding the Speed and Eramosa rivers on foot. When it comes to food, I am a fan of Bob's Dogs on campus, Shakespeare's and the Symposium.
Share this page
Find related news by keyword
News Topics