Andrew Vowles's blog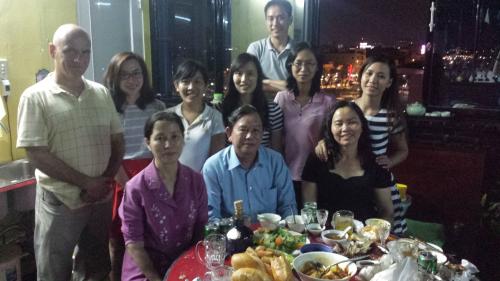 Here are Vietnamese work colleagues and acquaintances at a farewell dinner at a colleague's home in Ho Chi Minh City given for me and Uniterra volunteer Jeff Winch from Humber College. They used three tabletop stoves and piles of fresh ingredients -- the basis for any meal here -- to concoct a multi-course dinner including pork- and shrimp-stuffed crepes, crab legs, leaf-wrapped shrimp and more.
In my Guelph Mercury column (From the Second Storey) written in my final week on Uniterra assignment in Vietnam, I reflect on lessons learned in this country. From learning how to cross a road (no small feat in Saigon's scooter-clogged streets) to gaining empathy, humility and respect, I've gotten a few things from this experience. 
Here's a view from the top floor of the house, located in a more affluent part of Ho Chi Minh City. Located not in one of the city's warren of alleys but erected on a main street, the house -- like its neighbours -- is a tall narrow building block that houses several generations up and down its five storeys. Top floor is home to a glassed-in dining space, rooftop garden and religious shrine. The last two items are common in many homes here.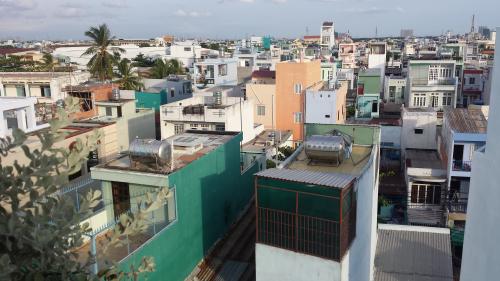 I've written here already about the huge numbers of young people here in Vietnam. Today in my Guelph Mercury column (From the Second Storey), I invite a few young voices to share their thoughts about their studies, their city, their goals and their pet peeves. No surprise: the latter include traffic and attendant pollution in this scooter-obsessed city of nine million souls.
I spoke to three students at Ho Chi Minh City College of Economics, where I'm completing my Leave for Change assignment. From left with me here are Yi Nguyen, Nyugen Trong Tuan and Quhyn Nguyen.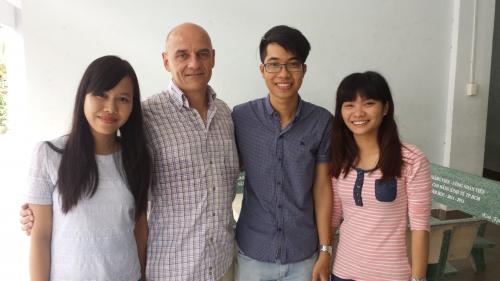 And I talked to Tran Min Tam, below, a university grad and accountant whom we met at the local cafe near our college. Like many Vietnamese we have encountered during the past four weeks here, he smiled and began conversing. An opportunity for him to practise his English -- and a chance for me to learn something of this place through younger eyes.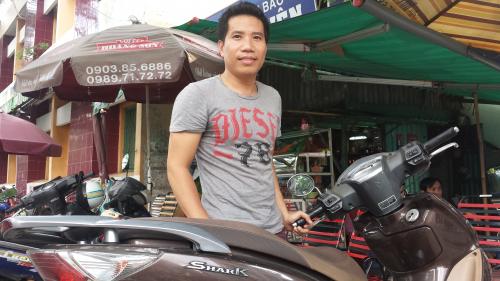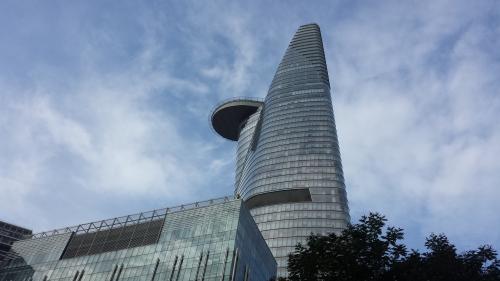 It was the tallest building in Vietnam. The Bitexco Financial Tower stands in downtown Ho Chi Minh City (HCMC) near the Saigon River. 262 metres tall. 68 stories. You can see it from all over the city, especially at night with its array of lights like a beacon.
It's a lotus bud made of steel and glass. Curving to its peak, it's designed to resemble the unopened bud of a lotus flower, Vietnam's national flower.
The Vietnamese view the tower as a symbol of progress and ambition. A sign about the tower reads: "It's ambitious and in your face, much like its host city."
It takes only seconds for the elevator to whoosh you up to the observation deck on the 49th floor. A couple of ear pops on the way, both up and down.
Up on the deck, you get a full 360 view of this city of some nine million people, a Lego-land sprawling out to the horizon. Smog haze: all those vehicles and buildings down below burning carbon.
Vietnam's Bitexco Group owns the skyscraper, built between 2007 and 2010. For a time, the Bitexco tower was this country's tallest building. It's still the big daddy here in Ho Chi Minh City, the nation's financial capital.
In 2011 it was surpassed by the 336-metre-tall Keangnam Landmark 72 in the country's capital Hanoi. Slightly taller than Bitexco is the Lotte Centre (272 metres) also in Hanoi.
Just this week another project began here in Ho Chi Minh City, also on the Saigon River. That's the planned Vincom Landmark 81, which will soar 81 stories high. At its planned 460 metres, it will be the tallest building in the country when it's finished in 2017.
Down on the ground, among the hotels and office towers here in the city's District 1, they're also building a new subway-monorail. The 20-kilometre stretch to District 9 -- scheduled for completion by 2020, but who knows -- will be the first leg of a planned transit network for this city.
That inaugural leg will run through a vast stretch of cleared land directly across the Saigon River from downtown (photo below). From the Bitexco skyscraper observation deck, that open space in District 2 is a bare island in this city's Lego-land. But not for much longer.
Look closely and you can see a few construction cranes and other signs of activity down there on that blank slate. They plan to develop about 650 hectares there into the Thu Thiem New Urban Area -- basically a brand-new downtown. Up in the Bitexco tower, they describe the planned area as HCMC's answer to London's Docklands urban centre.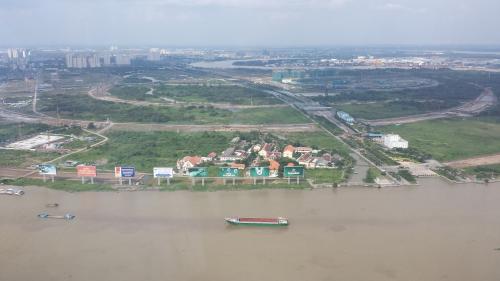 Vu Quang Hoi is the developer who bankrolled much of the Bitexco tower. He's quoted as saying, "Vietnam is not an isolated war-torn country anymore, it is an integrated part of the global economy."
As usual, that development doesn't come without concerns. Look past the hoardings into most construction sites here and you see appalling health and safety conditions. Guys without hard hats and wearing sandals churn in the muck, carrying rebar over their shoulders in pairs as though they're back in the early 20th century.
Vietnam is recreating itself as a developed nation but with developing country conditions.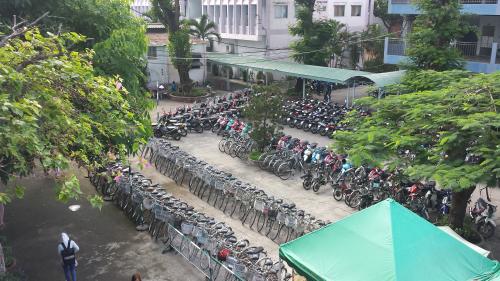 Scooters and bicycles lined up in the courtyard means back to school here, Monday August 3. A new term has begun today for some 3,500 students enrolled at Ho Chi Minh City College of Economics (HCE).
Entering my fourth and final week in Vietnam. I'm working on a Leave for Change assignment for Uniterra, an international development organization in Canada. You use vacation time to volunteer to work in a developing country.
I'm helping with marketing communications here at HCE and at Saigontourist Hospitality College here in town. Presenting workshops about interviewing, writing, content management to college teachers and admins in both places. Also helping with writing of text and scripts for school promo videos being shot here by Jeff Winch, another Uniterra volunteer and a media and photography instructor at Humber College.
We're working with a core of about four teachers and admins here on these projects. Workshop participants involve some 20 people. Working through a translator, so sessions require more time and flexibility. Also need to exercise personal flexibility and patience: turns out schoolteachers themselves -- here at least, maybe also in Canada -- dislike doing homework assignments.
Just returned to Ho Chi Minh City early this morning from a weekend train trek to Nha Trang on the east coast of Vietnam. Didn't take my laptop on that journey. Some posts to share here from the weekend: will do soon.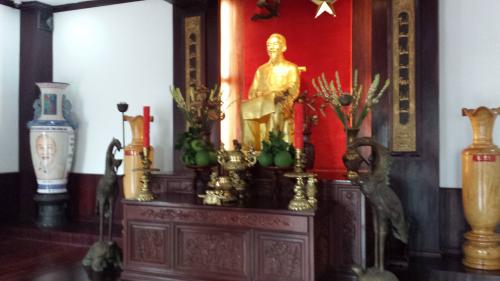 Ho Chi Minh keeps getting me into trouble. 
Here in his namesake city, you can't go far without running across Vietnam's father figure. Make that uncle figure. Uncle Ho -- his nickname is a sign of affection rather than disrespect -- smiles at you everywhere: from billboards, banners, currency.
He's commemorated in a number of places around this city of 13 million souls. One is a namesake museum in the port district. The building, known as the Dragon House, was built by the French in 1863 as the former custom house. 
Ho was just 21 when he embarked from here in 1911 on a voyage to France, the Soviet Union, China and the United States that ended up lasting some 30 years. He spent much of that time trying to rally support for Vietnamese independence from the French colonists. When he returned to his homeland, he led the Viet Minh war that overthrew the French in 1954. He died in 1969.
I toured around the old custom house one grey morning.
Place is full of photos and captions of his life and times. Pictures show him speaking at political and labour gatherings. Meeting foreign dignitaries. Visiting a hospital, an air force unit, teens and farmers.
Outside is a white Peugeot presented to him as a gift.
And my trouble?
A couple of weeks ago, I drew official whistles from guards at another Uncle Ho shrine: his larger than life statue located in the plaza fronting the People's Committee building (another former French edifice). That time, I had gotten too close with my camera.
Now in the museum I had my camera out again, this time to catch the statue and shrine picured above. No whistle this time, but a guard motioned me back. I had neglected to remove my shoes at the room entrance.
That's two strikes. We have a week and a biit left here in Uncle Ho's city before we head back to Canada. Looking to avoid a third strike before that...
No photo with this post but maybe better to imagine it for yourself...
We visited a new restaurant the other night. "We" are myself and Jeff Winch, media and film instructor at Humber College who is also on assignment for Uniterra here in southern Vietnam. Both working at the Ho Chi Minh City College of Economics. He's helping produce film for the school. I'm working on marketing and promotional materials.
We found a seafood place. I'm not big on seafood, but as Jeff likes to say, it's an adventure.
Like many places here, this restaurant's size is deceiving. Small street frontage but inside it opens up into a cafeteria-size space, high ceilings. Din of voices. Rows of tables. And stacked rows of fish tanks along the walls, all bubbling away. Elsewhere, aquariums are just part of the ambience of a place. Here they contain dinner.
Before now, we've found eating places where the menu has English subtitles, even if not quite correct English. Our favourite last week -- not the entree itself but the menu listing -- was the sign announcing the daily feature: "Penis and ball of goat with medicinal herbs."
And usually the wait staff are able to help us figure things out. Tonight it was all Vietnamese.
We thought we made out a picture of shrimp on the menu. Still, we weren't sure whether the waiter was playing back shrimp or squid. And why was he offering chicken feet? At least, that's what we thought he was offering, although it made no sense in a seafood place. Having asked for shrimp and rice with greens, we sat back with our beers, listened to the rain battering at the galvanized roof and waited to see what came...
It didn't take long: it never does here.
The server brought us cooked shrimps all right. But then she brought another plate. Jeff and I looked at each other and back at the plate. Big shrimp this time: six of them. Each about as long as a pen. And still with appendages waving. Kind of slipping around on the plate. Well. 
Along with the shrimp came a stainless steel hot pot. Popular thing for the table here. DIY dinner. Unless you're foreigners who need help. The server lingered throughout the meal to help.
She slipped what looked like a fat paraffin candle into a separate pot, then placed the cooking pot on top. Waited for it to boil. Opening the lid, Jeff said, There's something in there. Some kind of soup.
A few minutes later, the server emptied the plate's occupants into the pot, replaced the lid, let it all simmer for a few minutes. Threw in handfuls of greens for just a minute, the way you do broccoli or asparagus here.
She fished out the shrimp -- now reddened and still -- on a plate between us. Ladled the soup and greens into bowls along with fine noodles like spaghettini. Never did see any rice: maybe they were rice noodles.
I had a couple of the shrimp but they were a bit rich for me. Stuck mostly to soup and greens, all nice and spicey as so much of the food is here. Jeff ate the lot.
Late Friday we're booked on the overnight train to Nga Trang, a beach place on the South China Sea. An eight-hour trek from Saigon Railway Station. Will get there early Saturday morning, stay overnight and catch the overnighter back to Ho Chi Minh City on Sunday, arrivng early-early Monday morning.
I expect this beach place will feature plenty of seafood. Will look for something a little less DIY than the other night.
It's an adventure.
Two out of three people here in Vietnam were born after 1975.
Read that again. Slowly.
A young country, this. 1975 was the year that Saigon fell to the North Vietnamese and communism came to the south. Today a huge gap separates those born before the Vietnam War from the majority -- those with no personal recollection of that conflict. 
Today in my Guelph Mercury column (From the Second Storey), I write about one witness to the war years here -- and how Hoang Don Nhat Tan links his experience to that growing younger generation.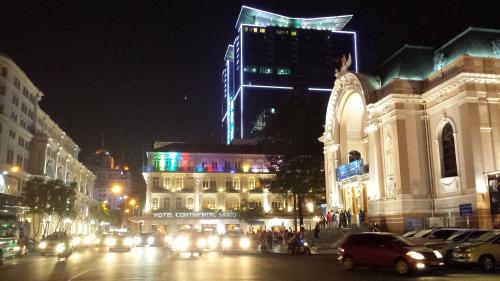 Someone at home in Canada asked whether it's safe to walk around after dark in Ho Chi Minh City. Yes, is the short answer.
I've been out after dark in the city every evening since we arrived 2 1/2 weeks ago. Staying in District 1, which is the tourist haven and arguably the most secure. But a couple of times, I have lingered after work at Ho Chi Minh City College of Economics, which is in District 10.
By taxi, it's about 15 minutes between college and hotel. On foot, about an hour. A couple of times, I have walked all the way after dark. Scary? No.
First, there are always lots of people around, People spend much of their time outdoors here.
The sidewalks are like front patios or porches for many people. But business patios, not leisure patios. Everyone is out front, selling what they're selling. Food mostly, it seems, but just about anything. For entire city blocks, you walk past what look like North American-size garage openings, each side by side in one long row. Each one contains a business: could be anything and pretty much is: a hair salon, a photocopy place, a scooter rental place, a restaurant, carpets, furniture, another restaurant, a bar, a coffee shop, another restaurant, another scooter rental. Closely packed businesses like multiple Main Streets stretching for entire city blocks -- and not just on the main roads but on many of the side streets, too.
Those businesses stay open late. Not sure what time they pull the grilles down or across, but anytime I've been out after dark, they're all open. And they're all occupied with owners and patrons, someimes just sitting around but they're there. Inside and outside kind of spill into each other.
That means it feels safe just beause there are so many people around. Not to mention the non-stop traffic. Scooters forever passing within feet of the sidewalk. You might see all those people as just so many purse-snatchers, but it feels like the opposite: just so many eyes and ears aware of each other.
One night early on, I walked for what seemed like forever, aiming for the hotel. Realized I'd overshot so had to find my way. Asked a security guard outside a hotel. Ten minutes that way, he said. Sure enough, 10 minutes later, I recognized where I was. By the way, many security guards around here, not just at hotels but other places: scooter dealerships, bookstores. Seems they're more worried here about shoplifting than about mugging.
Many of those people smile -- even after dark. It's like walking around downtown Guelph, honestly, with traffic mayhem -- and without the sketchy bar scene on Wyndham and Macdonell.
One Saturday afternoon I was on a long walk on a busy street in unfamiliar territory. A guy called out to me from behind. I turned to see him pointing at something on the sidewalk. I'd dropped a bill. Not much money but still...
Another day, someone pointed out that I had set my phone down on a chair while attending to something else. He had no English, this fellow, but vigorous pantomiming made his message clear. Don't leave your valuables sitting around where someone might snatch and run. Far from looking to mug you, people remind you to be careful. Not just after dark but in the daylight. Kind of the way you would pay attention to yourself and your belongings in, I don't know, Toronto, Montreal... There are more sketchy areas in this city, I'm sure, but common sense tells you where to go or not.
So, yes, safe in Saigon, at night or in the day...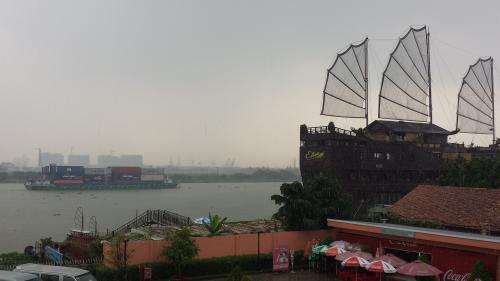 Today's Guelph Mercury says there's a heat wave in town. Imagine what it must be like here in southern Vietnam. You might be surprised.
I looked at the Guelph weather today. Says it's around 30 with humidity.
Weather concerns have turned out to be a bit of a myth here in Ho Chi Minh City. Today -- Thursday -- it's supposed to be about 33 with humidity around 83 per cent. That's been pretty much the story every day here since mid-July. The highest daytime temp has been 35. Nights, the temperature drops to about 26 (granted, I'm staying in an AC'd hotel).
Even up in Hanoi in the north, where I'm told things can get hotter, it's been the same story.
I had expected to be uncomfortably sticky here. 33 degrees and 85 per cent humidity might be offputting to some. I'm kind of indifferent to weather -- cold, hot, humid, rain, sun -- so maybe it's me. A few times I've found myself wringing wet. But that's because I've chosen to take a long trek on foot, sometimes with a full backpack of stuff. Otherwise it's been comfortable -- kinda like summer at home, I say to folks, maybe in a bit of a heat wave.
Ah, Southern Ontario. Ah, Saigon...
Speaking of myths, I was also warned about the rainy season here in southern Vietnam. That's happening right now. I had imagined days of rain on end. Maybe even monsoons...
There are two seasons here in the south. Up north, they have four seasons more like ours at home. (Someone said one spot north of Hanoi gets snow.)
Here, Saigon gets a rainy season and a sunny season.
Rainy season is June through November -- so right now. But rather than constant rain, what you get is a downpour at some point on most days. The heat builds through the day and then everything breaks open for about an hour or so. Sometimes it's torrential. The other night at dinner, a thousand people started pounding on the roof -- or that's what it sounded like. By the time we left the restaurant, the rain had stopped.
Yesterday morning it rained. The photo above shows the grey over the Saigon River, maybe you can make out the rain. Again, about an hour or two, then it cleared for the rest of the day. Par for the course this month: that's the rainy season.
They say the sunny season -- December through May -- brings hardly any rain at all and temps up around 40 by April. Lows of 20 in December.
There's been plenty of sun here in this rainy season. Solutions for heat here include smoothies and fruit drinks, just about anywhere. Here'spart of the crowd from the college where I'm working, all at the Ben Thanh market downtown. We were out for a photo, video shoot for promo materials for the Ho Chi Minh City College of Economics (media guy Jeff Winch from Canada is in the middle of first photo below). Having freshly made sugar cane juice (a bit of lemon juice thrown in).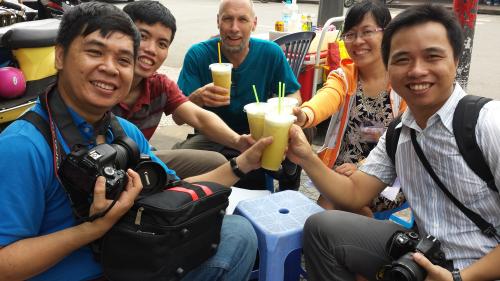 How fresh, you ask? The market vendor grinds the sugar cane right there...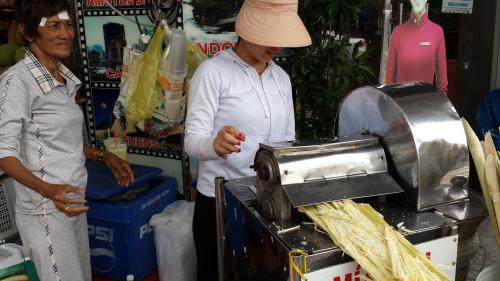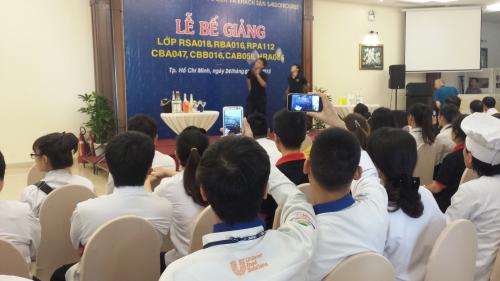 Graduation ceremony for students in certificate programs at Saigontourist Hospitality College late last week. About 100 students graduated today, some having studied while working in the industry. Certificate students spend two to four months learning specific skills: bartending, cooking, baking, housekeeping.
Pre-graduation entertainment consisted of two STHC staffers demonstrating juggling of cups, bottles and other bartending items. Well, flaming torches are not standard bartending tools but they did, er, light up the room. 
Part of my Leave for Change assignment here involves working with the college to assess promotional materials including their website and to suggest improvements. Also including them in a couple of workshops about interviewing and writing skills.
Also met Mr. Tan here, a lifelong Ho Chi Minh resident and STHC staff member whose story will form part of this week's From the Second Storey column in the Guelph Mercury. Look for that here Thursday.