Stephanie Craig's blog
My three weeks in Botswana are over. I am back in Canada and, to be honest, I am having a hard time readjusting. The culture shock coming home feels much more severe.
I'm also having a hard time making sense of all my thoughts and feelings, so I will talk technical stuff for this post. I somehow I managed to wrap up nearly all the things I promised Stepping Stones International (SSI) and Lisa. I just need to put some finalizing touches on the organizational marketing plan to round off my work. I should have this sent to Lisa in a week or so.
As part of my requirements as a Leave For Change volunteer I had to fill out reports prior to leaving on the capacity development activities completed.  It was stressful at the time, trying to fill out complicated forms while I was still wrapping up my mandate work, but a good recap exercise. I conducted 40 interviews, created four guideline documents and eight tools for the staff to utilize. I also led a formal staff training that was well received (phew). We talked about SSI branding and marketing, how they can help support the brand and marketing efforts, and the importance of story telling in their organization.
In the final report I also had to reflect on my own most significant professional take-aways. They were obvious: 1) Remembering how much I love working for small non-profits. 2) Remembering how much I love facilitating trainings.
Overall I feel good about what I accomplished, but I also feel overwhelmed by what else could be done. As cliché as it sounds, I know my future purpose is linked with Stepping Stones International and their mission.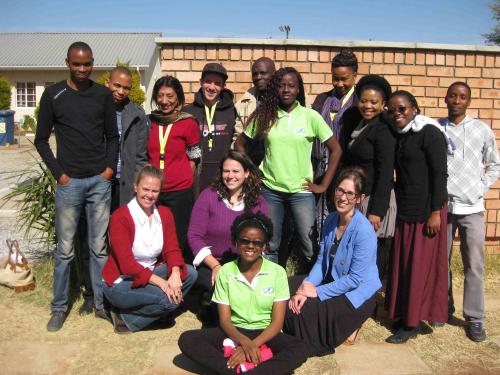 Some of the SSI staff and I on my last work day.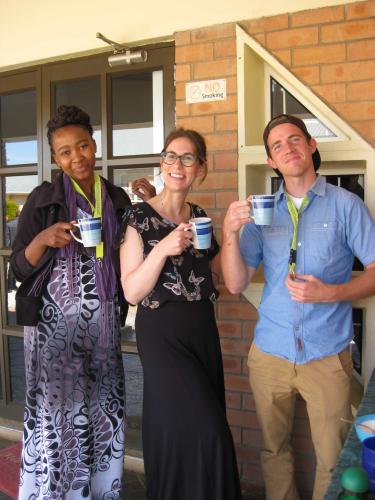 Lyan, myself and Garrett pose in a truly Batswana way: tea mugs in hand. Lyan is the Administrative and Education Assistant I wrote about in an earlier blog post, and Garrett is an American who came to volunteer for three months. He just signed a one year work contract to continue with SSI.
Isaac, myself and Lila. Isaac is the SSI Social Media Advisor. Lila is the Program Manager for SSI and a fellow Canadian.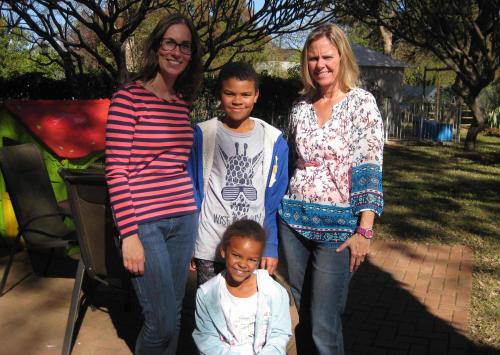 And here I am with the Jamus. Lisa hosted me in her home for the majority of my stay. She has two children who are away from home attending school (one in South Africa and one in the US) and two children, Abby and Alexander, who are still at home and pictured here. They were amazing hosts who I know made my time in Botswana even more life changing.
Over the last week I've been busy working on the deliverables of my mandate. With three full days to go I am feeling the pressure. I am trying to be positive and just focus on wrapping up as much as I can.
I am working on several documents and templates that can be utilized by the staff and management team as tools and guidelines. This will hopefully alleviate some stress and worry so there is less guessing and more doing. The team here has the capacity, brainpower and imagination to execute the plan, but as usual it is time that is the enemy. I think more than anything I am pointing them in a direction to ensure efficient use of their time and resources. I also think part of my purpose here is building the staff's confidence in their own skills and direction.
Here are the deliverables I have set out for completion by the end of the week:
A general marketing plan accompanied by a yearly work plan
A branding guidelines document, including guidelines for protection of their brand when collaborating with other organizations (almost complete)
An annual report template (almost complete)
An e-newsletter plan and template (half way complete)
Refreshed PowerPoint template, letterhead template (almost complete)
Suggestions for a revised promotional brochure (half way complete)
Suggestions for steps and priorities in the future (almost complete)
Many of my tasks are in collaboration with my SSI colleague Isaac. He works part time on Stepping Stones' website and social media. He has a degree in marketing, and we have similar thoughts around best practices, which is helpful when it comes to meaningful collaboration. Since he only works part time he doesn't have a lot of opportunity for strategy. Together we are working on goals, guidelines and objectives for the website and social media platforms employed.  We are collaboratively working on the following:
A number of website content and structure updates (almost complete)
A social media strategy (complete)
Social media community and administrator guidelines (complete)
I am also presenting to the full SSI staff team on Friday. The goals set for this presentation are: conveying basic points on branding and marketing, the strategy created during my time here (and how their suggestions fit into this plan) and how each of them can contribute to the strategy in simple ways.
Because my interviews are wrapped up and space is limited at the centre in Mochudi, I've been working from Lisa's home as of late. Her home operates as the head office, with staff coming in and out during the day. It really is a hub of activity.  Especially when funders drop by, deliveries are made and her kids come home from school. It is unconventional but works somehow. The casual approach gives a real "team feeling" as though we are all working on one big mission rather than isolated projects.
On a random note, Lisa's home is also like an icebox. I'm guessing the house was built to naturally keep the temperate cool during Botswana's extremely hot weather. The issue is that it is winter right now in Botswana and the house is very cold. We've all been working covered in blankets or in rooms with heaters. I never expected to be covered by a heavy blanket and drinking hot tea to keep myself warm while working in Botswana, but here is the photographic proof: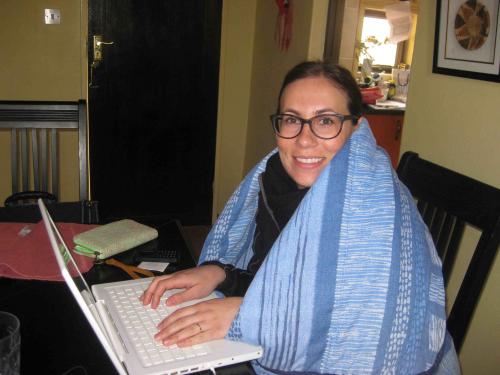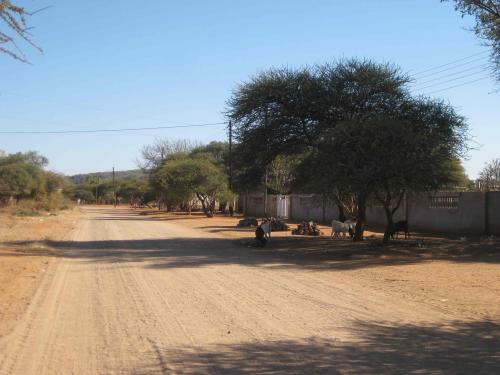 The road to Stepping Stones.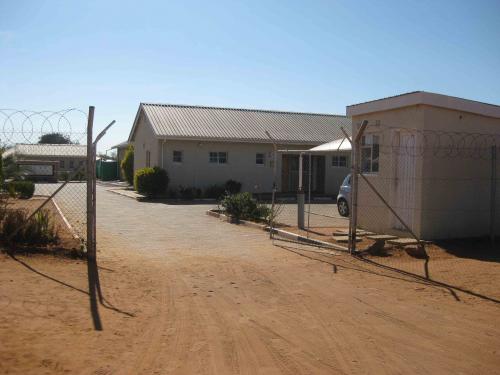 The entrance.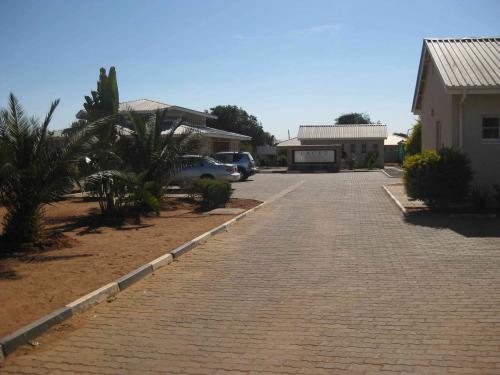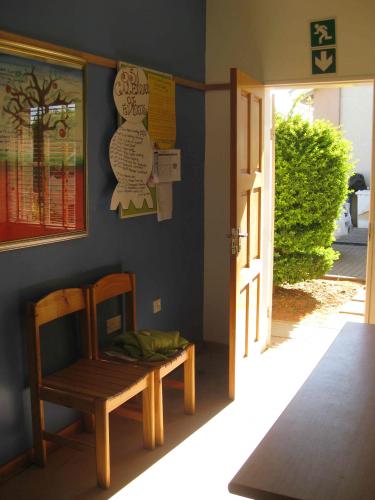 The main foyer.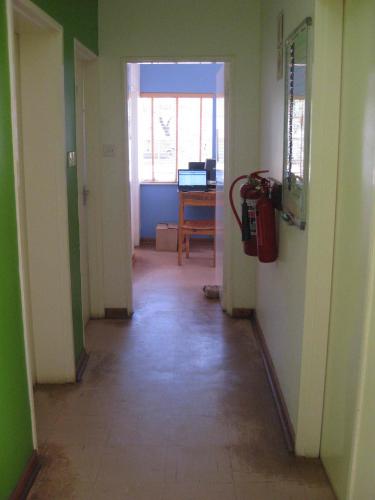 Hallway down to the staff and volunteer offices.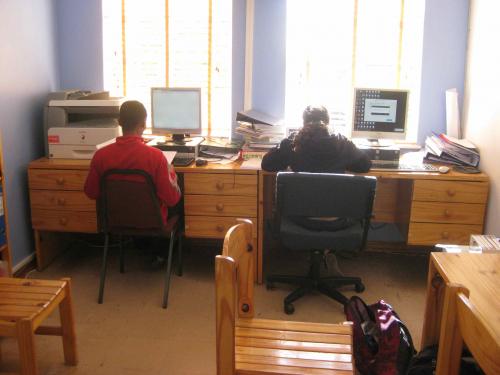 The staff and volunteer office space.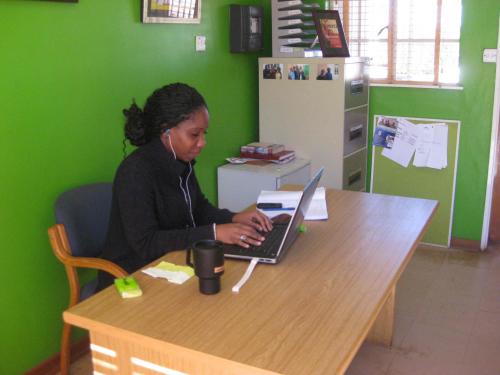 Dionne, a fellow Leave for Change volunteer, is working on an analysis of the local judicial system and how the laws and courts do not protect the rights of children, especially in cases of sexual abuse and rape.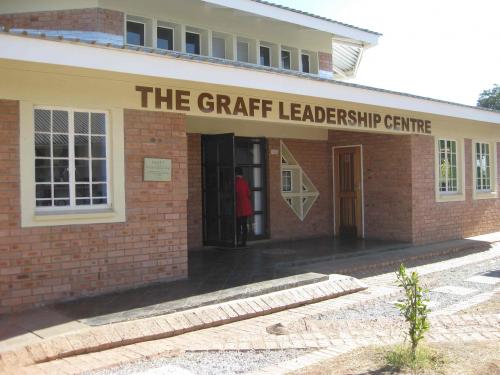 The leaderhip building.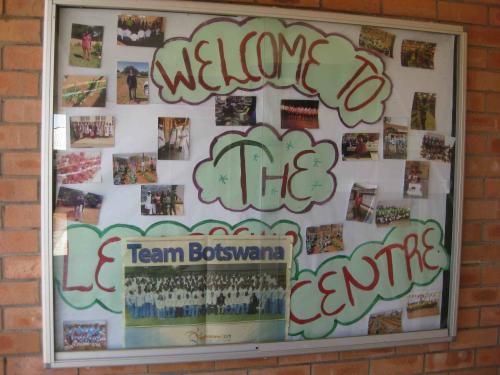 Welcome to the Centre.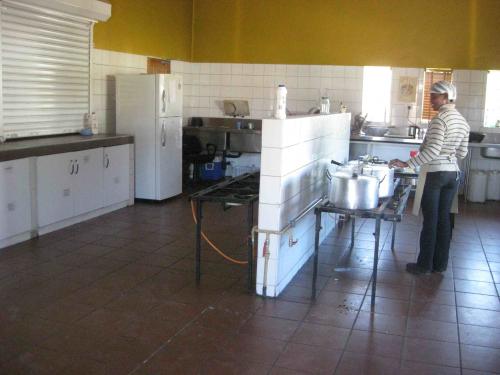 The kitchen.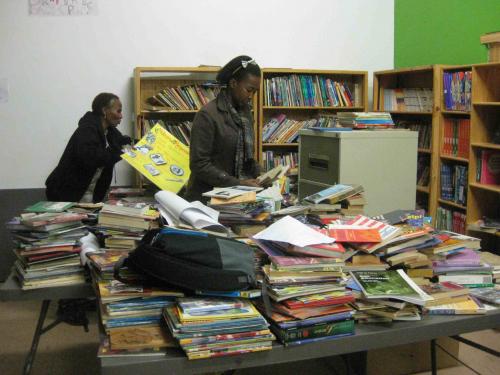 Tinny and Lyan sorting books by reading level.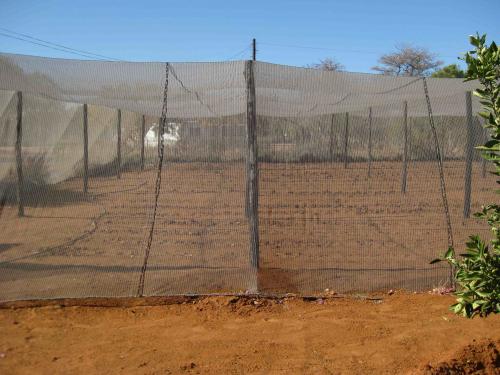 The centre's garden is cared for by the youth who then sell the produce as an income generation project.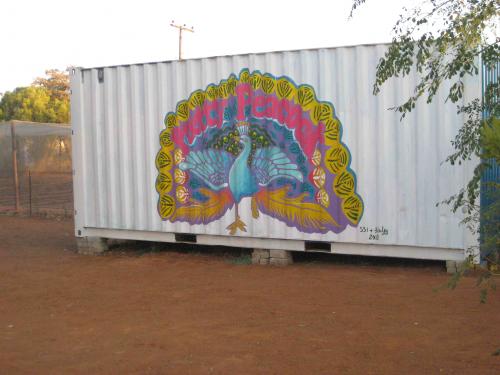 Another income generation project is a second-hand store, "The Pretty Peacock", that the youth manage.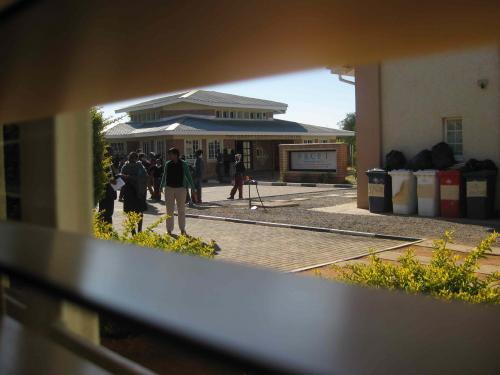 When at the centre I am often cooped up doing work, but through the window I can hear laughter and even singing while the youth choir practices. I'll often peak out to see what's going on.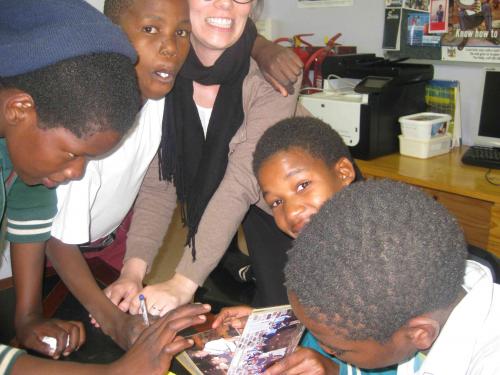 One day the art therapy activities spilled into the boardroom where I was working. Chaos ensued.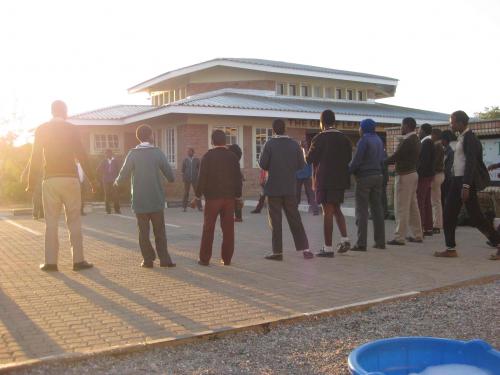 A group wrap-up activity one afternoon before dinner.
When Lisa asked me to interview SSI community members, I was fairly uncomfortable with the idea. Walking into strangers' homes and asking questions of a personal nature isn't easy. But Lisa really felt it was important for me to meet with them, and the SSI staff arranged for a Leadership Program participant, Niomi, to act as my translator. I was reassured that showing up unannounced is socially appropriate here. I can't imagine trying to do this in Guelph, but I was happily surprised when the first two women welcomed me warmly.
After a day of trekking around the dusty streets of Mouchudi, I was tired. I had spent the last six hours speaking to SSI youth participants and community members. By 4 p.m. I had interviewed a Grannies' Club participant and an Aunties' Club participant; I just needed to speak to a caregiver, "M", and I'd be done for the day.
Niomi and I were driven to M's home in the same van that picks up and drops off the in-school youth participants. The already bumpy roads of Mochudi seemed even more severe in the well-worn van. I was hot, tired and knew I hadn't been drinking enough water.
We drove through downtown Mochudi and made a quick right turn down a dirt road that, to be honest, seemed more like a back alleyway. The driver stopped abruptly and I realized we had arrived.
Right away I could see this home was different from the other homes I had I visited that day. Unlike the other parts of Mochudi I've wandered through, these plots of land were squeezed closely together.
I jumped down from the van and in my peripheral vision I could see brightly coloured clothing hanging from the wire fence surrounding the plot. Two women and three small children were sitting, watching Niomi and I as we approached. I began to get nervous.
Something about this home was different. I could tell more people lived there and with less. Their home consisted of three small sheds and a fire pit in the middle that pierced blackened soil. Niomi pushed through the gate and yelled back at the driver to wait for us. We would only be there for 15 minutes to minimize our intrusion.
As we slowly approached, Niomi said hello and then indicated to me that I should introduce myself as well. M beat me to the task by proudly introducing herself as the grandmother of a child at Stepping Stones. Our introduction handshake was more like holding hands than a professional greeting, but three small puppies sleeping near by distracted my attention.
M welcomed me to sit with her on her plastic green garden chairs, which were perched on a dirt ledge a step above the fire pit. I needed to navigate my feet around the puppies to sit down.
M was wearing a white toque, a brown sweater and a blue jacket. The buttons on the jacket reminded me of something my Grandmother Craig would wear, and I felt a pang in my heart.
I began the interview by asking Niomi to thank M for agreeing to meet with me. I tried to make a conscious effort to look M in the eyes rather than at Niomi my translator. As we began to communicate through stilted translation, three young children gathered around M and perched on her shoulder and arm. They leaned on her with such comfort and ease that it was obvious that she takes a leadership role in raising them, although they are much too young to be her children.
M shared with me that she is 76 years old and she has 11 children, six of which are still living. She has 15 grandchildren. She explained that she is a single grandmother and that Stepping Stones has taught her how to handle and care for her family. Through workshops she has learned how to talk to her children and what to do to help them grow up. She said she also using what she has learned from Stepping Stones to care for another boy in the neighbourhood who is being neglected.
The sun beat down on my face and arms as I leaned toward M. I tired to guess what she was expressing in Setswana. Although I couldn't understand her words, she was communicating through her facial expressions and body language. Her eyes softened and welled with emotion as she answered my question: "What impact has Stepping Stones had on her life and the life of her grandchild?"
Niomi translated M's answer: "Ever since I started going to Stepping Stones I have been so good. Everything has changed. I am thinking of new ideas and new ways to raise my family. Stepping Stones is my husband. Stepping Stones is the father to my family."
I was in awe.
As I stood up to say goodbye I felt regretful to leave M, even though I have just met her. I felt like one of her grandchildren needing to cling to her for support. There was something about her that was strong and honest.
As though she could sense my hesitation to leave she leaned forward and embraced me in a true hug. Not a fake hug where your arms just graze the person and your feet stay planted to the ground so your bodies don't touch.
Lisa was right. It was key for me to understand the perspective of caregivers and community members.
M gave me something a mission statement, tweet or elevator pitch will never capture. M sharing her experiences reframed how I view Stepping Stones. The model of community engagement and teaching came to life. A child may be at the center of the SSI programs, but SSI is changing whole families and communities. One workshop, program and interaction at a time, they are breaking the cycle of familial disconnect, confusion, hopelessness, neglect, abuse and poverty.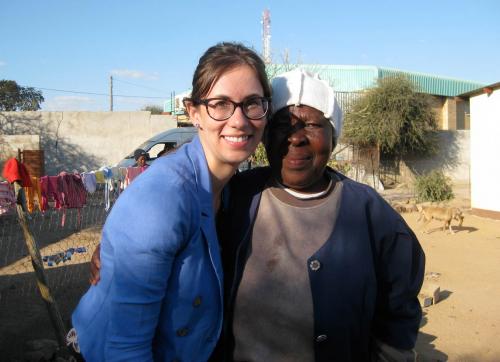 M and I
So I've told you about my first day arriving at Stepping Stones and what it was like to walk around for the first time. But now I need to explain the organization in more detail.
Because I am here to help Stepping Stones as a Brand and Marketing Advisor, I've had the wonderful opportunity to spend my first three workdays speaking with staff, board members, community members, participants and the management team. I will share more specifics from my interviews in future posts, but for now I want to share the basics. Here is what I've come up with so far:
Stepping Stones International (SSI) is a non-profit non-governmental organization that serves orphaned and vulnerable youth in Botswana to ensure they have leadership and life skills to cope with and contribute to the world around them. Lisa Jamu, the executive director, and Tinny Seitei, the operations manager, started the organization in 2006.
 
The main SSI centre is located in Mochudi but also runs HIV prevention programs and literacy programs in other districts across Botswana.
 
SSI focuses on four core areas: Life Skills, Leadership Skills, Psychological Support and Community Mobilization and Advocacy.
 
The two age groups of youth directly served are:
Orphaned and vulnerable youth between the ages of 12-18 who have been identified to SSI by teachers and school counselors. These adolescent youth are referred to as "in-school participants" as they are still attending school and they come to programming Monday through Friday after school from 2 p.m. to 5:30 p.m. These participants benefit from life skills and leadership programming, psychological support and one hot meal a day.
 
The second group is the Leadership Program participants who are "out of school youth" but who do not yet have a job.  These participants apply to the program themselves and attend on Mon, Wed, and Friday mornings. They learn life and leadership skills to help them get back into school or start their careers.
SSI takes a holistic/community approach in supporting the youth in their programs. They know they cannot teach, heal and encourage these youth in an isolated way. Each participant in the in-school program has a social worker or psychologist who works with him or her on an individual basis and conducts home visits four times a year. Through these home visits it became apparent that more needed to be done to help these youth in their home situations. One of the projects developed is a communications workshop for caregivers, which teaches caregivers (who are often extended family members) how to better communicate with the youth they are raising. Another example of their holistic and community based approach is the different outreach groups SSI facilitates. They run groups for Young Mothers, Grannies, Aunties and Uncles. They also run a program called Teen Club for HIV+ youth. These groups meet once a month on Saturdays.
 
The SSI staff, volunteers and board members feel it is not enough to only help the youth in their programs, so they also directly attack the causes of the issues that these youth face. Right now SSI's main advocacy efforts are around gender-based violence. A UNFPA Botswana study, found that over two thirds of Batswana women have experienced some form of gender violence in their lifetime, and 44% of men admitted to perpetrating violence against women. SSI is currently conducting major research efforts to inform themselves and the government on how to go about tackling this complex and relentless issue.
So, that's a scratch on the surface of what SSI does. My blog post could go on forever. There are many more programming elements, projects and advocacy efforts happening, and I am continually shocked at how much this small staff and volunteer compliment is doing and undertaking.  Their approach makes total sense but is also completely overwhelming.  
I am here to help with their brand and marketing strategy, part of which will hopefully help them secure more funding. They are in serious need for what is the Holy Grail for non-profits: unrestricted funds. Unrestricted funds would go along way to support staff capacity and administrative support, but I know from my previous work with non-profits that no one wants to support salaries. But without people, how can you make any impact?
The youth who come to SSI are not being provided what I would consider basic needs to survive in the world. Without the SSI staff, who would teach these youth how to set goals or write a CV? Who would provide them with the physiological support that they so desperately need? Who would make their meals, teach them about hygiene, show them how to read and give them the opportunity to make money through financial literacy programs? Who would teach them how to love and be loved?
The staff is responsible for the wellbeing and growth of the youth in their programs, but they are also seen as the go-to people for local women and children in need. The staff are seen as leaders in the community on subjects that most want to avoid.  Tinny receives phone calls and emails on an almost daily basis from women and youth she's never met: women and youth who are victims of physical and sexual abuse. I asked Tinny how she responds to these emails. I mean she can't save the entirety of Botswana. She looked and me firmly responded, "Of course. I call them and ask them to meet me for tea. And we talk." And that was it. Plain and simple; she makes herself available to anyone who reaches out to her in need. She doesn't forward emails to other agencies or tell them that their request is beyond SSI's mandate. She is willing, without question, to support people with her time, a listening ear and a person on their side.
It is in this example you see the pure selflessness of the organization and the staff. You also see an example of the breadth and depth of what they do beyond their official mission statement.
But how do I brand an organization that takes such a community approach? How do I suggest they market their various programs to donors without being seen as plagued by mission drift? I guess that's my task for the next two weeks and I am desperate to be helpful. I need my contribution to matter. I can't leave here without knowing I have helped this organization, in some small way, which has helped so many.
Stepping Stones International is located in Mochudi, a town 45 minutes outside of Gabarone. Mochudi has a population of 44,000 and is a much more traditional village than Gabarone. The homes are smaller and only the main roads are paved. When driving into Mochudi, dry trees and reddish dry dirt dominate the landscape. The roads are littered with bumps: natural ones and the same man-made speed bumps that dominate the streets of Gabarone. The occasional small goatherds on the side of the road make me smile.
My driver Elliot, a thin man with a relaxed attitude, turns down a back road that looks more like a walking path and I wonder how anyone finds their way here. I can't even say if I remember seeing road signs in Mochudi. I will have to look for them on Monday.
We pull up to the plot of land where SSI lives and foreigner trees line the front perimeter. The main entrance is gated. Obviously I am here early. I clumsily unravel the chain that holds the two main gates together and thankfully the padlock on the chain is unlocked. The warm morning sun glows down on me and cuts the cold air as I walk up to the entrance of a white cement building. There is no large sign or awning to welcome me. The whole entrance is clean but understated. The building has two front doors and I start to get nervous. I take a deep breath to calm my nerves. I am walking into foreign domain on a first day of work.  I walk through a door to the right, which is just cracked open and entire a small room with a big table. It must be a boardroom. "Dumela ma," says the women in side. I can tell she is the cleaner and has come early to tidy up before the staff arrives. After shaking her hand and seeing her warm soft smile, I feel at ease.
In my short amount of time here, I have come to realize that Batswana have very serious facial expressions. It is only in brief moments that you see smiles. I have also come to realize how much I rely on smiling as a social cue to ensure I am connecting with a person. At first I thought there was some sort of communication breakdown when I was speaking with people.  Why is no one smiling when I meet them? Why does everyone seem so reserved? Is it me? Am I saying something wrong? It has taken me time to realize this small cultural difference, and now I appreciate a smile more than ever as it is guaranteed to be genuine.
I am told to go see Lyan on the other side of the building. I walk out the door I entered and walk through another entrance. I can see that this must be the main way visitors enter Stepping Stones. There is a small desk and two filing cabinets.  The walls and cabinets are covered with drawings, photos and posters, but the desk is bare.
Down a short hall to the left I can see Lyan sitting at a computer in the room at the end of the hall. She is very young and has fabulous hair. My hair is fine and flat and I have to tease it like crazy to get any sort of height. Her hair is in a small ponytail but is pulled up to one side making me jealous of her fabulously voluminous hair. Lyan is quite young and has just started as the Education and Administration Assistant. She started at SSI as a volunteer for about a year. She calms my nerves as she smiles and tells me she will take me on a tour although it is obvious I have interrupted her.
There are three main building that make up the Stepping Stones centre. The building I am in is the main administration building where most of the staff and volunteers have their offices. It has two offices, one bathroom, entrance foyer and a boardroom: the room I started in. The next building is a large gymnasium sort of space with a big kitchen attached. Every day the SSI youth participants receive a hot meal. For many of the youth, this is the only proper meal they eat each day.
The back of the gymnasium is filled with bookshelves and tables. Books cover the shelves and tables. It's a mess. Lyan explains that they have started a literacy program in partnership with the University of Utah because they realized that the majority of their youth couldn't read at the appropriate level. She said as part of the program they tested each participant and only one of their 60+ youth was reading at the appropriate level. The majority of the youth are four to six levels lower than where they should be. The books are in a chaotic state because she is working on labeling and organizing each book by reading level.
The third building is a newer looking building. It is their Leadership Centre. It has one large circular room in the middle with doors around the perimeter going out into smaller breakout rooms. There are computers in some of the rooms and offices in others. The leadership program office, lifeskills program office and IT office are all located in these different rooms. Round tables and chairs fill the large circular room. Later today these chairs will be filled by youth who come to SSI in three mornings a week. These youth are no longer in school but don't have jobs yet either. Here youth take exams in Form 3 (Grade 10) and Form 5 (Grade 12) to determine if they continue on in school. Unfortunately many youth in Botswana don't pass their exams and then are left with nothing to do. In fact, 50% of Form 3 students didn't pass their exams this year. These youth have trouble finding jobs and are left with nothing to do. As you can imagine this is a real problem with major social and economic implications. Lyan explains that these youth work on their literacy skills, improve their CVs and interview skills, and enhance their computer and financial literacy skills.
We then walk past a dirt courtyard sort of space that is probably big enough to play a small informal game of soccer. The dry red dirt that dominates the ground seems barren to me. I imagine kids playing here and wonder what sort of games they play.
We arrive back where we started, and I take a deep breath. Now that I have the lay of the land, it's time for me to start my work for the day: interviewing staff and board members.
The last three days I've been settling in more and more. I was given a lot of different advice from different people before coming but there were several main things that I was to avoid: drinking the water, eating raw unpeeled vegetables/fruits and interacting with dogs.  I've unintentionally done all of these things now. Sorry Mom. I promise I am ok.
I am staying at the Innisfree Apartments in Gabarone for my first five days. The hilarious part is that my husband's name is Innes. I am truly "Innes free". I guess it was destiny.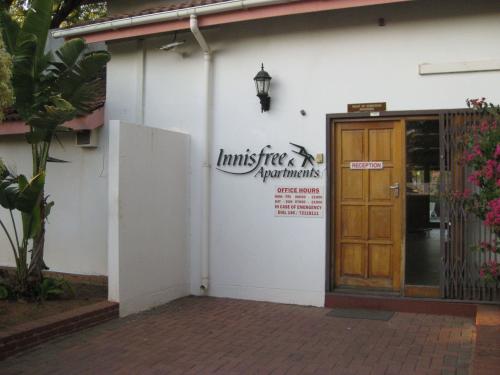 I have been at Stepping Stones for the last two days interviewing staff, participants, family members and board members. I will blog about that in a couple of days. In the meantime, here are some photos I took of the streets on my way to and from work to help give a sense of "regular views". Driving through Gabarone feels like driving through four or five different cities. From one turn to a next the view, roads, houses, buildings and plants change: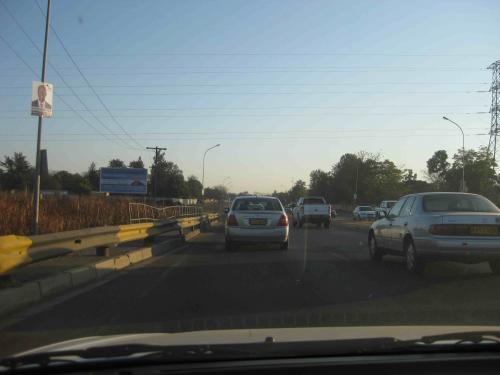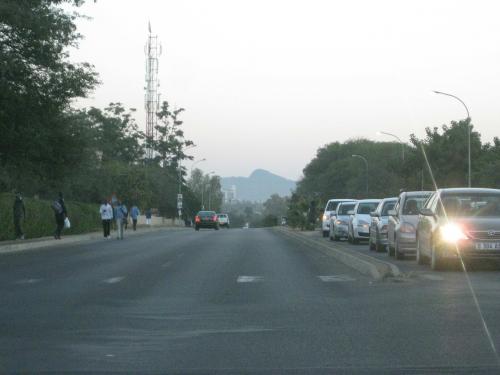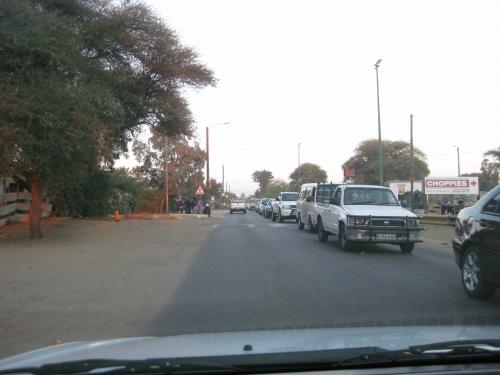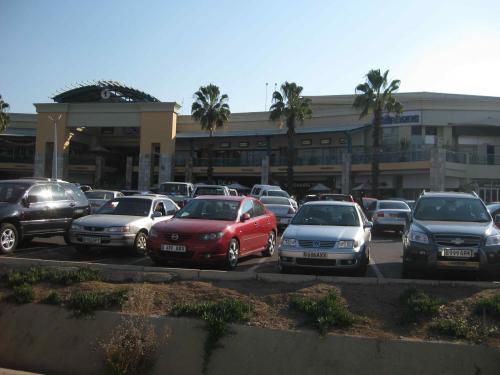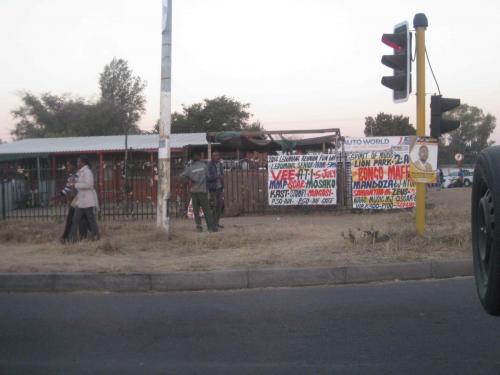 On Canada Day, it was also a holiday here. It was Seretse Khama Day and wasn't a work day. It seemed odd to be on vacation my third day here, but I headed to Mokolodi Nature Reserve with three other WUSC volunteers: Camille, Dionne and Elena. Dionne is also a Leave for Change volunteer and Elena is a long term volunteer with WUSC. She arrived a day later than I and will be in Gabarone for a year.
Here are some photos of from what I am now referring to as my "giraffe tracking". I may or may not have reordered the photos for effect: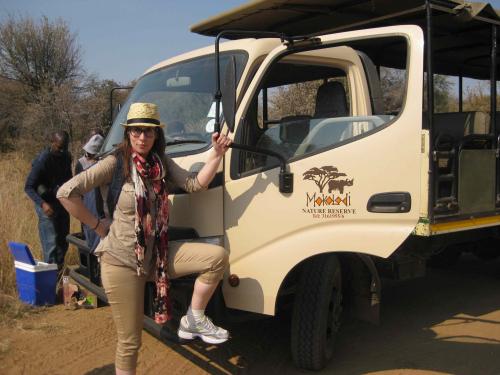 Was I the only person in safari clothing? Yes. Was I ashamed? No. When in Rome.

This is giraffe urine.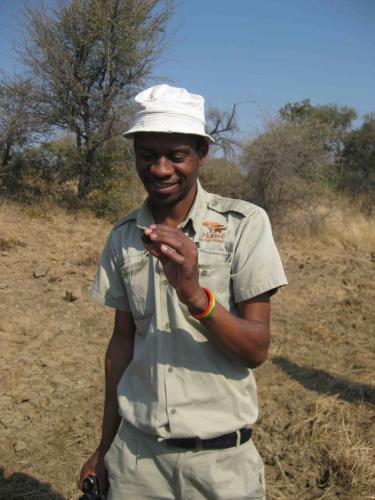 Apparently giraffe urine has a very strong smelling odor. Our guide told us a male giraffe was nearby based on the smell of the urine.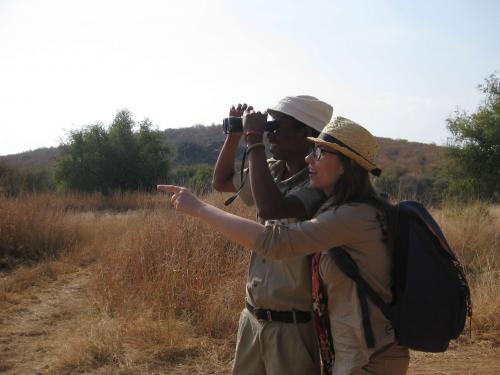 "I see something!"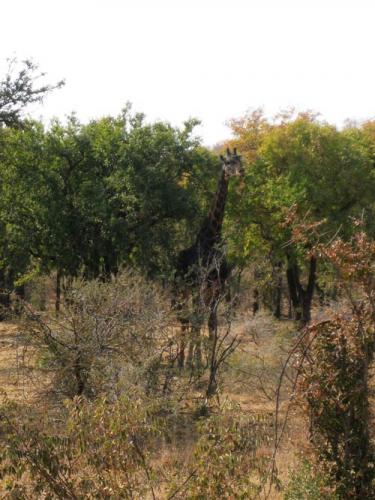 Giraffe!!! Apparently they get darker as they get older and this male giraffe is very old.
My second day in Gabarone was focused on training arranged by the World University Service of Canada (WUSC), which is one of the organizations that facilitates the Leave for Change program. Chillie, the WUSC Botswana Country Coordinator, introduced us to WUSC's programs in Botswana and their focuses: university education opportunities and supporting HIV & AIDS prevention and awareness. My mandate with Stepping Stones International connects with the latter.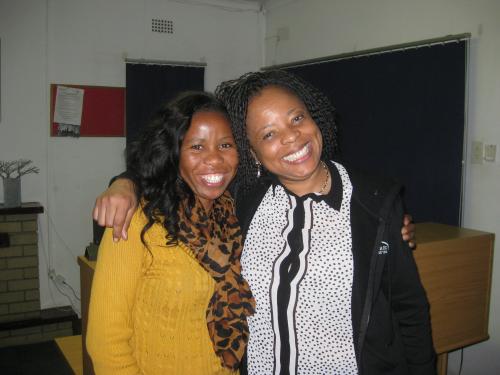 Mmapaseka and Camille.
The front of the WUSC Office in Gabarone.
Mmapaseka arranged for us to have two external speakers as part of the training. The first was the Gabarone Central Police Station Commander Supt. M Bonang and one of his traffic officers. He gave us a general presentation on the safety of Botswana and some of the issues they are dealing with.
My favourite point of his presentation was when he casually explained that in the winter (which is now) they experience a higher rate of home burglaries because people are burrowed under heavy blankets and are less likely to hear an intruder come into their home. I stopped him to confirm what he had just said. Yes, people in the winter sleep better and have their heads covered with thick blankets, which makes it easier for intruders to break into home.
He also provided us with some general safety tips. Most of them are very similar to general rules I would follow at home. He concluded by giving us his personal cell number to call anytime if we were in trouble. Incredibly nice.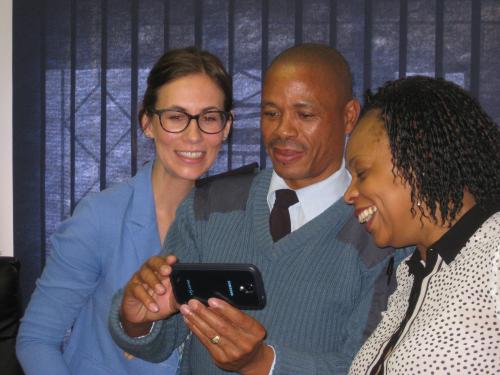 Supt. M Bonang, Camille and I pose for a selfie.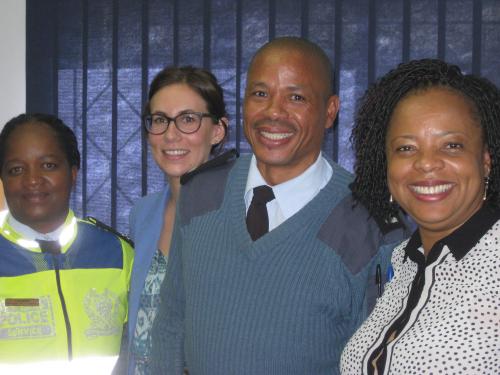 The traffic officer, me, the commander and Camille.
The second external presenter was a professor from the University of Botswana, Log, who provided us general information on the country's values, family structures, customs, traditions, gender considerations and political influences. He was very informative and gave us a lot to think about.
One particular point of conversation that I found very interesting was the role of women-led NGOs and how they have changed over time in Botswana. He explained that in the 1970's when Botswana began receiving a lot of international support many of the people who benefitted were women, who started their own businesses and NGOs. Until the late 1990's these women were influencing a lot of social change, which the whole country was benefitting from. But by the early 2000's many international NGOs and governments had decided that because Botswana's GDP was growing so quickly, that further financial support was not required and aid should be directed to "poorer" countries. Unfortunately as the external funds were pulled out, the NGOs established by women lost their funding. Log explained that this has almost completely halted the women's movement in Botswana and a massive amount of local leadership capacity has been lost.
Botswana is growing at an incredibly fast rate. It has only had independence a democratic system (and independence from Britain) since the mid 1960's and in that time the country has grown from one of the poorest countries in Africa to one of the wealthiest. But with so much drastic growth in such a short period of time there are going to be problems with the political and social structures.
Log explained that with this rapid growth and change has come a break down in the traditional social networks and family structure. As an example, he said that traditionally young men would be taught by other men in their family, community and tribe how to properly treat women, how be a good father, how to be a good husband and how to be a good friend. He said that these social networks and systems have been lost due to the rapid demographic changes, such as urbanization, and this has resulted in a significant increase in violence against women in the country. He also says that this breakdown in the traditional family structure has contributed to the HIV & AIDS epidemic.
On the surface, yes, the country has a lot of money, but this doesn't mean that the money is filtering its way to every person in every community. And as we all know, money doesn't buy happiness. Log said, "There is a crisis of the spirit that has not been addressed", which really hit me. It is in this statement that I was reminded why I was here. No matter the GDP, or the developed look of Gabarone, Botswana is combating many complex issues.
My introduction to Botswana was an odd one. When I stepped off the propeller plane that brought us the 45 minute flight from Johannesburg, I was sleep deprived and sick. The 36+ hours of travel had left my body and mind weak. As my friends and family know, experiencing motion sickness on a simple drive to Milton isn't a rare occurrence for me. I always forget what a poor traveler I am until I am in the throws of counting my breaths to distract myself from my hurling stomach and whirling equilibrium.  Keeping my stomach in check for the duration of my travels was a serious success and I was more than happy to place my feet on Botswana soil.
It was in this same weakened state that my first glimpses of Botswana left me wanting to have a good cry. I looked out into the desert terrain that surrounded me and it looked just how I had thought it would: reddish orange sand leading to a foreign horizon void of trees and buildings. An emotion I can't pinpoint flowed through me and my eyes began to swell. A small hill jutted out of the landscape with what looked like small trees covering its dry surface. I was seriously fearful I might have a mental break down on the tarmac amongst strangers.  How stereotypical would that be? Crying at the sight of Africa. Thankfully my fellow Leave for Change volunteer, Camille from Humber College, broke my concentration with a joke.
I tired to keep my calm as we waited for over an hour for one of Camille's bags that never ended up coming. Thankfully Mmapaseka, WUSC Botswana's Sector Program Officer who was picking us up, was patient and waited for us. She greeted us as we cleared customs and walked in to the large vacant Gabarone airport.
My seriously naïve moment for the day, which I will blame on jetlag, happened just a few moments later as we walked out of the airport doors. As we began walking through the parking lot, I spotted an amazing, perfectly grey elephant. I could not believe my luck. He was beautiful… until I realized he was a giant sculpture. Embarrassing. Thankfully I realized this before I pulled out my camera.
On the car ride to our apartments for the night, my first impression of the streets of Gabarone was how developed it is. The city doesn't really even look that foreign. I've realized I haven't even taken any photos because it looks so "regular". The roads, city layout and buildings remind me of Australia, New Zealand, the Caribbean, Mexico and a bit of home all mixed together. I am surprised by how familiar it all feels.  
It felt even more like home when Mmapaseka took us out for dinner at an Indian restaurant. I ordered butter paneer masala and felt a bit strange about eating Indian on my first night in Africa. But you know what, it was some of the best Indian food I've ever had.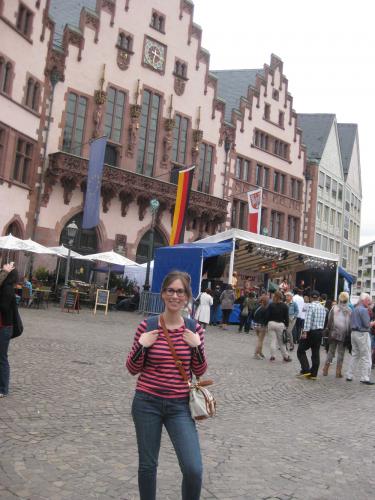 This photo was taken when we went out for a quick dinner in the old part of Frankfurt. Between our flights from Toronto to Frankfurt and then Frankfurt to Johannesburg we had a 14 hour layover, which we spent mostly trying to catch up on sleep. But for an hour or so we ventured out.
Today my flight leaves at 4:40 p.m. I fly through Frankfurt and than Johannesburg before arriving in Gabarone (the capital) at 1 p.m. on Sunday.
I'll be staying in Gabarone while working with Stepping Stones International as a Brand and Marketing Advisor. I'm sure my future posts will be filled with stories of my time at Stepping Stones, so I will hold off on telling you what a fantastic organization it is. 
My post today will focus on the dreaded task of packing. I think it's safe to say I've been packing for a month now, collecting all of the things I (may) need. I'm feeling quite accomplished with the fact that I've fit everything into one large suitcase and a carry-on backpack. Fingers crossed my suitcase won't be over the weight limit.
While packing I found it very difficult to decide on what to pack, specifically what clothing. All of the online resources and blogs are on what to pack for a safari in Botswana rather than "what to pack while working for three weeks with a youth development organization". I promised I would write a post specifically on what I packed to help future Leave for Change volunteers. To be fair I have no idea if I've packed what I will need, but this is what I landed with:
1 long skirt
2 dresses & 1 slip
7 dress shirts for work (5 short sleeve and 2 long sleeve)
4 tanktops for under my dress shirts
1 fleece jacket and a pair of gloves (it is quite cold in Botswana now)
1 jean jacket
1 linen blazer
1 pair of yoga pants
5 pants/capris (2 jean and 2 dress)
3 sweaters (2 causal and 1 nice cardigan)
1 t-shirt
1 pair of pjs
3 scarves (well two scarves and one buff)
4 pairs of socks
5 pairs of shoes (flip flops, running shoes, Ecco walking shoes, dress sandals and a pair of Sanuks)
1 hat
For toiletries/electronics I brought:
alarm clock
camera
laptop / internet cord / memory stick
plug adapter
earbuds / ear plugs / eye mask (for the plane)
granola bars, Goldfish crackers and All Bran bars
Re-hydration salts
baby wipes / anti bacterial hand gel
sunscreen
insect repellant / Afterbite
packages of Klennex
Bandaids
Petobismol / Cipro / Imodium / Gravol / Ibuprofen
Malarone (Anti-Malaria medication in case I go north)
Shampoo bar and conditioner
Bar of soap
Facewash/eye makeup remover
Deodorant
Razors
quick dry towel / bathing suit
A few items of make up and lip balm
A purse
Packing shot 1: Sadly one of the items below can't come with me.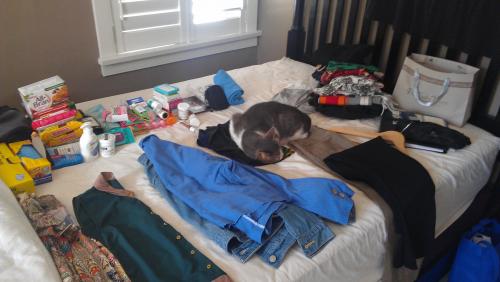 Packing shot 2: Mid process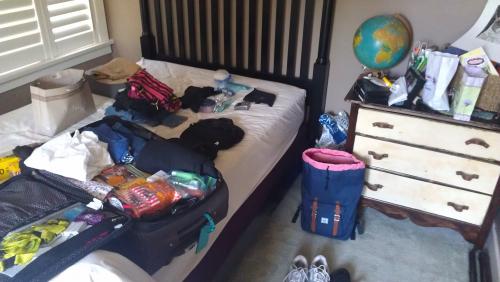 Packing Shot 3: The end result and Archie's second cameo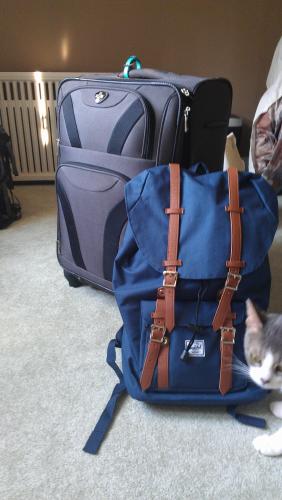 I've also brought along some Canadian junk food for my hosts who I will be living with: maple cookies, chocolate loonies, Hawkins cheesies and Smarties.
So that's it! I am getting very excited as I've heard so many wonderful things about Botswana. My main goal is to be as helpful to Stepping Stones as possible and learn as much as I can. Thanks to all of you who've sent me well wishing emails, phone calls, text messages and in-person encouragement.