Amanda Hathway's blog
7 cooperative visits and 4 farms= field visits done! The new plan is to only give one presentation next week on Tuesday. For the most part my powerpoint presentation is done except for the additions of pics and proofreading. So I'm off to Chitewan for the weekend!  Thanks to Kumar (manager at MDMPCU) and Gele, all arrangements have been made and I just need to get there.
Gele got me to the bus station just in time to catch a local bus.  Now this was going to be an experience! I wish I had videotaped it. It was just like I have seen on some travel shows - I shouldn't be shocked but now I was living it.
Yes, the "conductors" hang out the door looking for passengers to pick up along the way.  Yes, there was  loud Nepalese music and yes, it was crowded.  But there were no chickens that I know of, maybe one duck.
Again, I was the only non Nepali on this bus.  A bit intimidating for this sheltered girl!  The conductor did take advantage of this situation and did not give me back my change. I wasn't sure what to do. It was definitely not about the money but the principle. A young couple cross from me noticed this and spoke a wee bit of English so after a short conversation she asked the conductor to give me my change. How sweet! The man sitting behind me offered me his water when he saw me popping pills (Gravol), but they were chewable so I was good.  The people of Nepal are so wonderful and friendly.
I arrived at my destination to only be more confused and feeling lost. I was approached by several people offering rides and hotels, etc.  I fended them off and eventually, with some help (again friendly people), found one of my contacts and got hold of the Resort I was to stay at. Maruni Sanctuary Lodge is wonderful.  It's peaceful, clean, super friendly staff and manager, other tourists, and, best of all, air conditioning!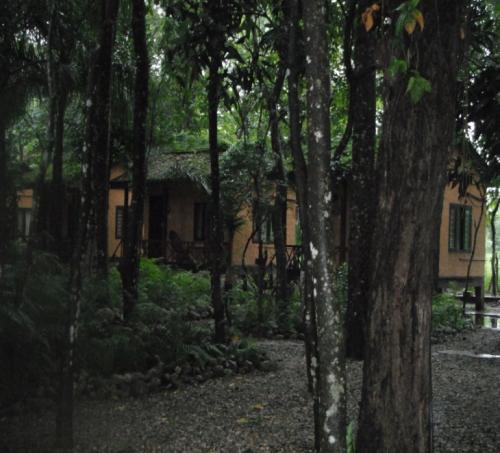 My cabin
My stay started with a meal.  I didn't really need it but they thought I did and I ate the chicken. That was a mistake. Next was a walking jungle tour.  Not likely to see anything dangerous other than the leeches attacking my feet! EW!
Back to the resort for more food, and to meet a group from Australia (I seem to attract Australians on my adventures), then bed. I had a great sleep.
The next day was full of "programs":  a jungle safari on an elephant, elephant washing, canoe ride, another jungle walk and more leeches, and cultural event in the evening.  On our jungle adventures we only saw different deer, birds, leeches, and alligator but we heard a tiger, or so we were told. I shared the day's fun with a very nice family from Kathmandu who spoke English.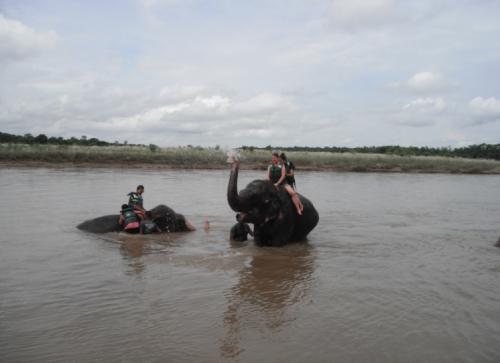 I'm on the front of the elephant; this was so fun and refreshing!
Sunday was relaxing reading on the verandah and then heading back home. This time on the local bus the driver thought he was driving on the 400 series of highways! He cut 30 minutes off the time and I really was not sure if I would make it back in one piece, or without chucking my cookies or other nasty things happening (reference the eating of chicken).  Upon finally arriving safely in Hetauda I managed on my own to hire a "peacock" to take me back to the hotel. What a much need reprieved from the city. I was recharged for the week!
After a bit of discussion earlier in the week, the plan has been revised, phew!
Today was our last field visit to a cooperative and I have been taken to see some farms and some milking! Today we went to a newer Cooperative, all female that is up in the hills … another interesting ride on the motorbike.  Oh, and heads turn as I am the only passenger on a motorbike in Nepal that wears a helmet (safety first!).
This Cooperative is about 2-3 years old. One of the biggest hurdles is they have a chilling vat but no power to run it. They also had small production/collection volume so depend on a local truck to come and pick up their milk vessels to deliver them to the DDC (local milk product producer). This truck may be late, or may break down (the roads are crazy) so it could delay the delivery which decreases the quality of the milk. We really do not know how good we have it in Canada! The women were all quite chatty which was great.
The view from here is wonderful.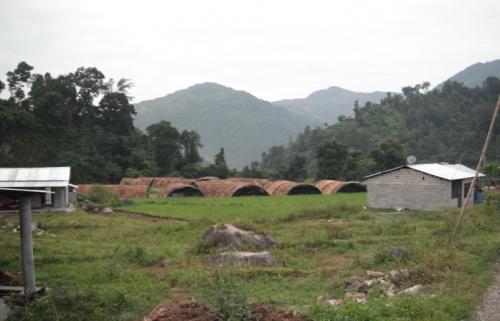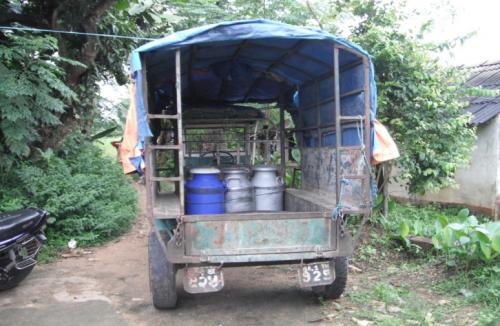 Local truck to pick up the milk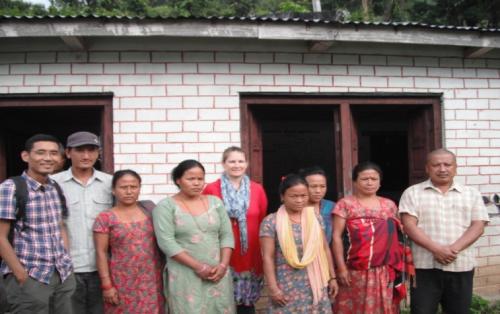 Women's Cooperative, with Gele
The rest of the day was spent compiling my scribbled notes and fighting with my computer which had a meltdown.  Note to self: make sure the computer you take on work trips actually works!  I really think, like me, it doesn't like the humidity … did I mention how hot it is?!
Boy, it's hot here!
Sunday started with an early rise which was ok since my internal clock was so off that it was easy (normally I do not do mornings!). We met at the office and were greeted by Kavi and Bindur who would be accompanying us (Gele and me) on our field visits.  
Kavi was my faithful and careful motorbike driver and occasional translator. So off we go. The benefit of riding on the back of bike is there is a breeze.  I was suffering from the humidity; why did I think it would be cooler?!
The first cooperative we visited was in the middle of the morning milk collection. I turned heads since they don't get many North Americans round here! Everyone was friendly and let me look around. I didn't have much to say but I did have lots of questions - what is this, what are they doing now, what does that machine measure, etc.  
Our meeting with the cooperative board members was next-and tea was served. There was a good turnout and some of the women were present and were quite vocal (not that I had any clue what they were saying).  As we were trying to leave one woman invited us for lunch at her place however the Manager had arranged snacks for us already…next time!
Back to the city centre and time to regroup and organize before our afternoon/evening cooperative visit.
Again this was a good visit, although somewhat overwhelming…I kept hearing the words investment and finances … um, I deal with animals … not money!  This is where Gele started to help me greatly! He clarified that this was not my expertise … phew!  These two cooperatives were fairly progressive for Nepal, and offered a fair amount of incentive programs for farmers to become members. They were not perfect but working towards it.
The next day was more cooperative visits and meetings, but I wanted to see some farms!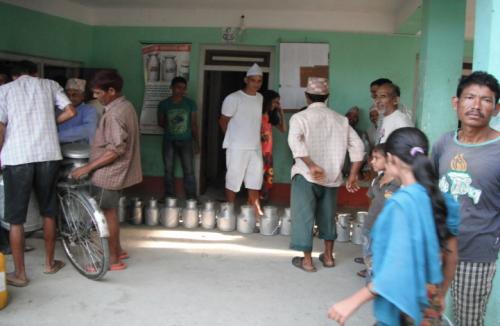 Farmers waiting in long queue line to have their milk analyzed and weighed. Milk quality and therefore payment is based on SNF and fat, not bacterial levels like Ontario!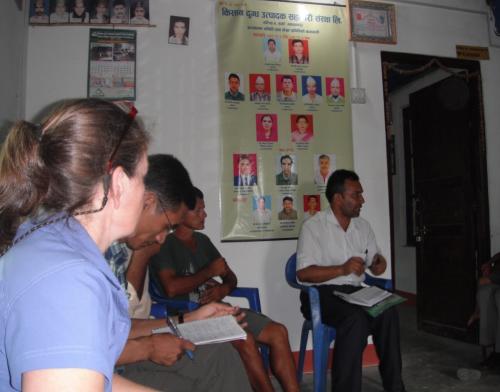 Me trying to take it all in!
After an interesting hilly, twisty drive we finally arrived in Hetauda, Makwanpur district. Now I know why it takes so long to get here. If you were to draw a straight line from Hetauda to Kathmandu it would be about 80 km, however the road we took goes up through the hills, lots of back switches, gravel (rocky) potholes, pretty much single lane, with vehicles going both directions, so it takes 4 hours. There is also a highway that can be taken to get here but it takes 6 hours! We have arrived. It is Friday night, I think!
Saturday morning started with a meeting with the Chairperson, Manager, another board member and national volunteer with the Makwanpur DMPCU, along with Babbina, my program sector leader and Gele, a CECI national volunteer that was staying here with me to translate and help facilitate the mandate.  We discussed my mandate and what they expected of me in the next 11 days.  It seemed like a lot and I was quite intimidated, but thought I will give it a go and see how things work out.
The plan was to visit 14 Primary cooperatives that acted as collection centres for milk, some having proper weigh scales, milk analyzers and chilling vats, and some not. This included visiting two women only cooperatives, something fairly new in Nepal but something they were encouraging as the women do a lot of the work including collecting the milk and looking after the animals.  Not sure how we are going to get all these visits in plus I have to make two presentations. Hopefully it will all fall into place.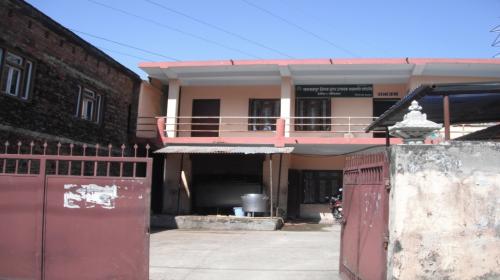 Makwanpur DMPCU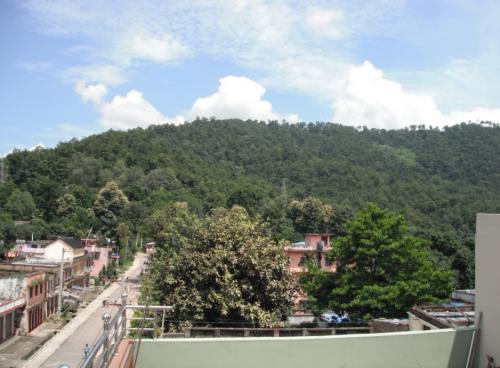 View from the balcony of my room in Hetauda … greenery!
And yes, there are barking dogs and roosters here too but I'm getting used to them.
Today is Day 3 in Nepal, I think. I keep losing track of what day it is and am still hurting a bit from jet lag.  So here is a long winded catch up on what has been going on.
My flight from Toronto was great. We left on time and arrived in Hong Kong at 5 am their time (5 pm Ontario time). I had great seat mates, a couple from Toronto that were heading to the Philippines to visit family.  They even checked up on me in the airport when I was looking lost. Really what happened at that point was I was pointed in the wrong direction and ended up in departures when I wanted to escape the airport and tour Hong Kong. Well eventually when the information desk opened I put on the charm (joking) and they escorted me back to arrivals so I could leave the airport.  So once through HK customs off I went and I had picked up a new friend along the way, a younger woman from Russia that was in the same predicament as me.
We had a quick tour of The Peak, ate some gelato, checked out the botanical gardens then headed back to the train station as the heat and humidity were doing us in, combined with jet lag. Getting on the correct train was a bit of a challenge ... I will never be a good candidate for the Amazing Race!
Back to the airport where I splurged for a shower before waiting for my next flight. On boarding I met up with Jesse, a long term volunteer with CECI, who was just starting his adventures too. We both had lots of questions but I knew (hoped) the answers would come once we arrived at CECI in Kathmandu.
After a couple glitches at the Kathmandu airport I made it officially into the country ... oddly my new passport wouldn't scan ... that made me a bit nervous ... was I going to get stuck in the Kathmandu airport for the night???
We were greeted by Antoine, another long term volunteer at CECI who made us feel welcome, showed us our "digs" for the first few days and then it was time for bed.
Night 1- I have discovered I have roosters, dogs (many) and canaries as neighbours ... so not much sleep.  Day 1 involved orientation for the day, a visit to the local medical centre to speak with the doctor, and a meet and greet luncheon with all the staff at CECI.
Day 2- Today was our City Tour ... this is where culture shock sets in further ... you see all these pictures in Lonely Planet, etc. but now it is reality. We (in Canada) do not know how good we have it. Having said that it was very interesting observing the different cultures and traditions. Oh and yes the dogs were still barking all night ... they get fed at 4:45 a.m. so very noisy wake up call (and early!). That evening we were off to a jazz bar ... somewhere around here, I could never find it again but Antoine seems to be a master of the streets!
That brings me to today. Today I met with the chairperson of the Central Dairy Cooperative Association LTD Nepal (CDCAN) and also my contact at the Makawanpur District Milk Producers Cooperative Union.  This was mostly just an introduction to the partner association but also my introduction to (Nepali) sweet tea!
After our crazy drive back (the driving is crazy) to CECI I had the afternoon to finish up a couple of tasks and more reading as I head out tomorrow for Hetauda, the location of my mandate partner for 10 days or so. I really hope I can complete my mandate in such a short time! I feel like I am finally settling in here ... sort of ... I still feel lost walking around and have not been too adventurous on my own, but I have sort of figured out how to get across the streets alive!  Everyone here is so friendly!!!
Well time for bed, as I think the dogs are quieter ( music + ear buds have been my saving grace) and my computer battery is running low ... it is load shedding time so no power for now.  I will try and post pics in my next post ... my computer was cranky when I tried to do it today!
Namaste
Well here it is, the big day ... well actually the big day starts at 1:45 am ... ugh! I hope I sleep on the plane!
So as like all the other L4C volunteers it has been a bit of a emotional/stressful/exciting few weeks getting ready. Lots of questions and fortunately I have had lots of good answers.
Packing has been challenging ... I seem to have more stuff than clothes ... snacks just in case, meds of every kind, stuff to bring to my volunteer placement, notes and notes on information I have researched ... in case my computer is proving more frustrating than normal. In all of this I tried to remember what a good mentor used to always say K.I.S.S. = Keep It Simple Stupid!  Really, is anyone going to care that I am not a fashion statement while I am there? No, afterall I am going to stick out like a sore thumb anyway!
By the way in case I didn't mention it in previous blogs, I fly to Hong Kong, 12.5 hour layover so hoping to do some touring, another 5-6 hours to Kathmandu (a stop in Bangladesh?). 24 hours in Kathmandu for orientation and then I am shipped off to Hetauda which is in the Makawanpur District. Not quite Terai but close. I have been told this is the cleanest, greenest city of Nepal although very industrial. Apparently I will only see tourists if they are lost.  Past participants have given me a few tips on the area.  It also sounds like I will have a lot of time to myself! Yikes!
But all in all I am looking forward to this trip and very grateful to the University of Guelph for its support, as well as Uniterra, CECI and WUSC and to all my friends and family that have put up with me this summer while preparing for this.  Hmm once I find my instructions I will add links to these organizations as well as pictures!
Well, time to do last minute packing
Namaste
Mandy
Well I am FINALLY getting around to starting this blog. Where has summer gone?? I leave August 31, and get to Nepal September 1 and am there for 3 weeks. It is a long haul to get there but I think it will definitely be worth it and I am looking forward to my mandate.  My mandate is Dairy Quality Control Advisor to the Makawanpur District Milk Producers Cooperative Union (MDMPCU).
I have been busy researching for my mandate as well as the country-what to bring, what to wear, and on and on it goes! I did a "mock" packing today...made more lists of to dos and to buys...I am a known procrastinator so thought I should get on with this now!
I have been fortunate to have had a chance to chat with 2 L4C candidates that have been previous years in similar roles, Mary and Luke. they have both been very helpful and encouraging. There is still "lots" (in my mind) to figure out but I get the impression that once I am there everything will fall into place.
Stay posted!
Mandy