Frédérique Arroyas's blog
OK, so my day today was dedicated to orientation. I met the staff at the CECI-EUMI office and some of the volunteers.  Fatimata and her assistant Dipama went through the manual with me, using a PowerPoint presentation.  You can imagine how exciting that was!  The saving grace was that everyone here is super friendly. They love to joke around and diffuse any tension with humour.  That seems to be the way to their hearts so I've started doing it too and it seems to work well! 
I was supposed to go register at the Canadian Embassy but it's closed for Canada Day.  The celebrations were held at the ambassador's home so I tagged along with the director.  The drive took us through the suburbs, miles and miles of road with soooo many people.  Men, women and children riding on bicycles, mopeds, motorbikes, cars and donkeys! The roads are lined with stands selling food and all sorts of articles.  The population of 1,500,000 lives in the streets mainly.  Most of the streets aren't paved. The red dirt gets everywhere and when it rains, which it does mostly every day in July and August, huge puddles form. 
Cultural shock actually hit me today as I watched all these people through a car window.  Street life here is so different from anything I've ever experienced.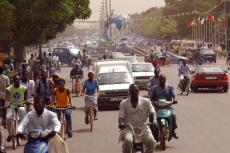 Place des Nations Unies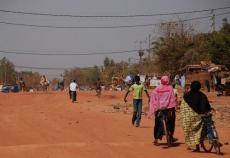 a red dirt suburb street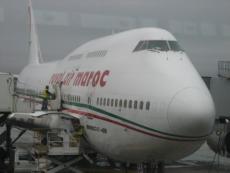 Royal Air Maroc Boing 747
Le voyage qui m'a amené à Ouagadougou, Burkina Faso a été bien long.  Toronto-Montréal-Casablanca-Ouagadougou, c'était une épreuve de 20 heures! Les deux avions de Royal Air Maroc que j'ai pris (Montréal-Casablanca et Casablanca-Ouagadougou) étaient bondés et chacun avait du retard. Heureusement que mon premier jour (dimanche) était réservé au repos.  
Je suis logée dans un hôtel confortable, le Ran Hotel, à Ouaga.  Voici la belle 2CV qui a commencé mon aventure du dimanche. 
2CV multicolore
Son propriétaire, portant des couleurs assorties à sa voiture, c'est Zêdess, un musicien burkinabè.  Enfin, ça je ne le sais pas encore.  Pour l'instant, il me dit qu'il est ici en tant qu'invité pour une émission de télévision.  Piquée par la curiosité, je décide d'aller jeter un coup d'œil dans la salle où il est entré.  Un jeune homme d'élégance simple et assurée vient à ma rencontre.  C'est le producteur de l'émission et il m'invite à assister à l'émission.  Quelle aubaine!  La salle est adaptée en plateau de télévision, avec des gradins pour le public, remplis de jeunes gens en tenues branchées.  Ils seront eux-aussi filmés car l'invité d'honneur est assis en leur tournant le dos.  Les caméras captent donc l'invité et le public derrière lui. 
Le premier invité s'appelle Soum Bill, un rappeur de la Côte d'Ivoire qui fait de la musique engagée, style «Zulu».  Ensuite, c'est le tour de Zêdess (le proprio de la 2CV multicolore).  Il est Burkinabè et parle de son engagement pour son pays.  Je reste encore un peu pour écouter le numéro de musique live, le duo Vitalo chante son nouveau tube « Sécurité Sociale » accompagné d'un petit orchestre composé d'un tamtam, d'une basse et de ce fabuleux instrument à corde ouest-africain la kora.
Après l'émission, conversation avec les musiciens dans le parking.  Ils m'ont donné une copie de leur CD et un T-Shirt.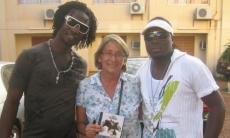 Posing!
J'ai lu que Ouaga est la capitale culturelle de l'Afrique de l'Ouest.  Selon toutes les indications jusqu'ici, c'est bel et bien vrai … mais j'ai quand même tout un mois pour vérifier. 
Demain, le boulot commence au bureau du CECI avec la présentation du personnel.  Pour aujourd'hui, j'ai tout de même l'impression d'avoir entamé mon mandat de « communication événementielle », ayant été témoin de la production de l'émission « Le Café » et d'avoir fait connaissance de plusieurs acteurs sur la scène culturelle du Burkina Faso.