Mary Fowler's blog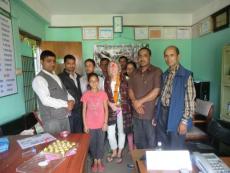 Last Day at the Lalitpur District Milk Producers Cooperative Union
Yesterday was my last day in the office. I didn't go for the entire day, just drove in with Babina for my end of mandate meeting with my Manager....and most of the Board of Directors of the Lalitpur District Milk Producers Cooperative Union ... gulp! Since this is a performance review of sorts, I really wasn't expecting 10 people at the meeting, but I figured it couldn't have been terrible news or they might have cut back on the crowd. It was all good, whew! The Nepali really love speeches. REALLY love speeches. Even though at times, they seem bored and fidgety with the droning on and on. So, there were speeches, which were kindly translated by Babina. And there was delicious sweet milky tea. And a beautiful bouquet of flowers, a garland of marigolds, two lovely scarves, a Buddha and many tika. It was really lovely. At the end of the official send off, Uddhav took me down to show me the tree saplings and grasses that were donated by the Nepal Agricultural Research Council (NARC), inspired, he claimed, by my presentation. The two tree types donated, Tanki and Ipil-ipil, are legumous and really valuable for the farmers who struggle to provide good nutrition to their livestock during the dry season. These trees grow deep roots therefore are drought resistant, prevent soil erosion and can provide an excellent protein source when all other crops are finished for the season. I was so pleased!! When I had first mentioned that I had read that NARC distributed saplings and improved grasses to farming groups, it was thought that this program no longer existed. But it still does and with some inquiries, the saplings were released for plantation in Bhattedada. Hundreds of them! I could not possibly be happier.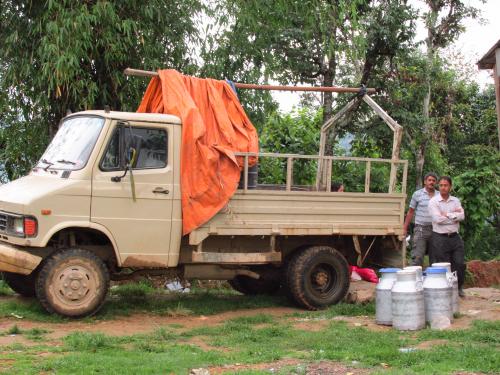 Tata!: This is the beast of a truck that delivered us to the village over the most precarious roads I have ever traveled. Carved into the hills, these roads are rocky, rutted, land slide eroded and scary fun. Regular street motorbikes and scooters travel the same roads, putting us MX riders to shame. This truck delivers milk from the villages into Chapagoan, produce, 15+ passengers and in the middle of the night ... babies! The night before we left a woman from the village called for a ride into Chapagoan. She was in labour and needed to get to the hospital. The baby had other intentions and was delivered half way to the hospital. I know exactly why, the truck ride is bone-jarring. That baby was jostled out!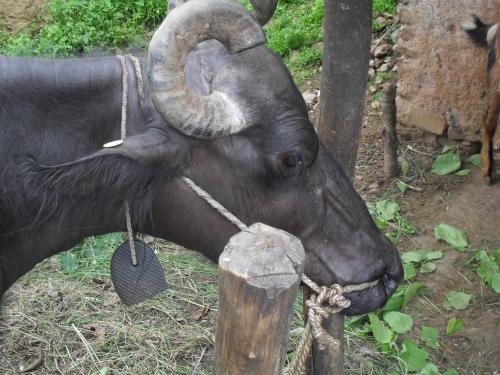 Buffalo Flip Flop: Veterinary care is about 2 hours away and often it is the cost that keeps the farmers from calling unless it's a dire emergency. When all else fails, tie a flip flop around their neck.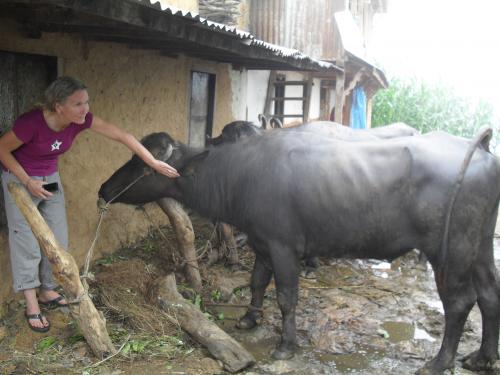 PPE in Bhattedada: This is the village bull. Each village needs their own bull to check for estrus and service the buffalo in the area. One bull can service about 30 buffalo. He really was one of the friendliest buffalo I met. I think he was hoping I might take him for a walk around town.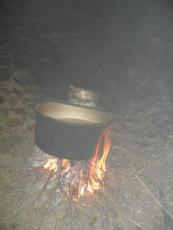 Boiling of khole: This practice of boiling up ground corn, rice hulls and mustard oil cakes is, as far as I can tell, novel to Nepal. This khole was being boiled over a fire right in the barn adding to the very poor air quality and using valuable firewood
Yesterday was the training session for the dairy farmers in the Lalitpur District. I think it went very well. The chocolate, candy and biscuits were well received. If I have learned nothing else, I have learned that the Nepali like their sweets. The best part was that the classroom was full to the brim with an equal number of men and women. My biggest fear was that no one would show. I had them start with introductions of who they were and where they were from. I had no idea what they said, but they smiled and I smiled and we did a Namaste to each other. Then I broke them into groups of 4 and I had them jot down, as a group, their concerns regarding providing optimal nutrition all year round and what they hoped to learn from the session. After that we talked a bit about dairy farming in Canada and the US and I showed them a slide of Ever-Green-View, who is the world record holding milk producer. She's a monster of a Holstein and in her prime she produced a whopping 32, 700 kg of milk a year, which is roughly 107 l/day. They seemed unexcited or maybe they thought I was full of it. Who knows?? We moved along to the quiz and that got people talking, which was the plan. I put some questions in the quiz that pushed a bit at common, but in my opinion, detrimental practices that I observed. Throughout the presentation, they loved seeing photos in the slides and always wanted to know where I took them and often guessed who's buffalo/cows they were if they were in that district. During the lecture part of the learning, we had some great discussions about practices that seemed rooted in tradition, but don't really make a lot of sense. There were a lot of Nepali head bobs on some of the challenging issues such as feeding khole (essentially boiled porridge for the cow/buff), but it gave us a lot of discussion and engagement. I hope I have changed a few practices that are a waste of resources and could be causing more harm than good. It would be interesting to hear about any changes in a year or so. Part of my recommendations for sustainability of this initiative, is to have a highly skilled Veterinary Technician or an Agricultural Technician do rounds of the district and continue to follow up on the recommended practices and provide advice on emerging issues. There is research showing that farms in other districts of Nepal that have a regular visit have increased milk production and lowered calf mortality due to better feeding practice and overall management.This is really needed in Lalitpur.
Today I woke up to a wee bit of a GI disturbance so I spent the day in the "home office" nice and close to a clean flush toilet with an abundant supply of toilet paper. I'm sure everyone wants to read about that, huh?? I'm feeling much better, thanks. Pepto-Bismol is my friend and apparently fresh vegetables in a yummy salad are not. Working from the hotel is a bit more ergonomic as well as hygienic. I have a back breaking coffee table desk in the office at the LDMPCU. The transition from my cherished standing work station to hunkered over a coffee table doing research between internet outages and power outages has been quite the never-to-be-repeated experience. My RMT, Sandra, might be getting a call when I get back.
Which is soon! And I am ready to fly. It's been great, but I am really missing my home, husband, family, friends and work colleagues a lot. It's one thing to be in a very different country and busy. It's another when things are all wrapped up and all you can think about is going home.
And now, I just want to click my ruby slippers three times.
Woman Carrying Forage Home, Bhattedada: The women of the village typically forage for tree fodder and grasses 2-6 hours every day.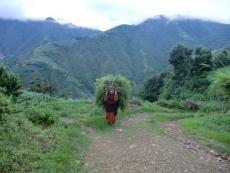 I'm in my last week here in the Lalitpur DMPCU office. My training session with the farmers from the district is booked for Wednesday. I worked all day yesterday on my PowerPoint presentation, and today I reviewed it with Uddhav and it has been accepted as "good". With a big smile. I'm happy with that. One little glitch with the two movie bites I have inserted. They work well on my computer, but not on Uddhav's, so I have sent a query to my Tech Asst, or more commonly known as my husband. He has been my go-to guy for all the presentation headaches I come up against. Thank-you, Keith! His recommednation was to convert it to a different format - so I made a movie! I'm so excited. It will not be short listed at the Cannes Film Festival, unless they open up a new category "Best Short Film on Tree Fodder and Forages of Nepal".
If they did, I'd have it all sown up.
Now that the presentation is off to be translated into Nepali, I'm at a bit of a loss as to what I need to still accomplish in the few days I have left. I would like to incorporate some of the photos I took into the educational pamphlets I have made, so that will occupy a day. No, I am not cleaning the washroom. I have read the fine print on my mandate and washroom cleaning is not listed. I will run through the presentation and I want to make up a quiz show. Winner gets chocolate - OK, everyone will get chocolate.
 
It is still raining here. In fact, today moved from heavy rain to deluge. Of course, this is the day I booked an early AM flight over the mountains. We took off, flew through a lot of clouds, but the clouds did not end, so they circled back and were re-issued tickets for tomorrow. Go away clouds, I'm ready to see mountains.
Tonight I am out for dinner with Naomi and Mel. We are going to a pretty famous Kathmandu restaurant. My entire stay here has been occupied by eating amazing food and doing no exercise. I'm going stir crazy. Walking in Kathmandu is challenging enough and kind of intimidates and irritates me. I am so obviously a tourist I am relentlessly pestered. Running is out of the question. So if you can't find me when I get home, I'm running somewhere.   
Took a little break in my blog, here is the update.... dinner with Mel and Naomi was excellent; lots of fun and great vegetarian food. Have I mentioned that I have become a vegetarian while away? Believe it or not, meat is not appealing without refrigeration. The restaurant, which is right around the corner from my hotel, has a funky hippy atmosphere, no chairs, everyone sits on cushions around coffee tables. So good, I went back on my own last night.
The second day mountain flight was a success! It was still raining on the ground, but when we punched through the clouds, the highest peaks were visible. We got a great look at Everest (called Sagarmatha), Lhotse, Makalu and Cho-oyu. Everyone got to go up to the cockpit for a great view all around the plane with the co-pilot pointing out the various peaks. What an exhilarating way to start a work day.
I RAN TODAY!!! On the way to the airport yesterday at 5:30AM we noticed all sorts of people running and I was inspired. Getting up before the shops open was ideal. Enough people on the street to feel safe, but not bothered. Awesome! I only got a little disoriented, but I pretended that "I meant to do that" and just turned back when I knew I missed my street. The streets all wind together like noodles and if they are named, it usually in Nepali script. And using landmarks is a bit dicey. I do have one easy land mark for my neighbourhood. It's a street vendor that sells fresh wild boar meat, just sitting out there on the stall counter, with the skin and hair on, dyed red to be more appealing(??) At least the pick up truck unloading liver and lungs from the rusty bed of the truck, etc wasn't there this AM. The juxtaposition of the truck load of meat beside my little oasis in the hotel seems to define this city of contrasts.
The trip to Pokhara was a much appreciated break. Although the snow tipped peaks of the Annapurna range, Machhapuchre (the Fishtail) and Dhaulagiri mountains remained hidden in the clouds (sob!) we all still enjoyed the mini-vacation. Jennifer and I took a tour through a beautiful monastery, visited a spectacular waterfall and hiked the Sarangkot trail to a view of the entire valley. Two of the other girls took to the jungle for a leech filled adventure! Not only did they get leeched through the day, which was traumatic, but they discovered an extraordinary amount of very large cockroaches in their hotel room when they went to turn in for the night. So around 11:00, while I was sitting in our hotel lobby catching up on email, the three girls, in their pajamas come running into our hotel for a room. It was good to have them close by anyway. Camille has been quite sick and she needed a good rest.  The next day started cloudy so we decided a walk into the town and relaxation by the waterfront was in order. It was just what we needed.
Back in the office on July 1, I strung up my Canadian flags and brought in doughnuts. What says Happy Canada Day more than doughnuts, eh?  They were good doughnuts too, big, and not as sugary as ours. I think our Tim Horton's' people need to come to Nepal to learn doughnut making.
I met with Santosh Pandey, a Co-operative and Institutional Development Advisor with CECI who was sent to Chapagaun to help me develop my action plan. Santosh has an agricultural background and is fluent in English, whereas Uddhav is very familiar with buffalo milking and farming practices but we struggle to understand each other sometimes. He speaks and understands English more than he gives himself credit for and is getting better with all his exposure to Canadian volunteers. Having Santosh act as a knowledgeable  intermediary certainly really helped me head off in the right direction and solidify my mandate. The three of us picked out the top 50 tree fodder, shrub, climber, grass fodder and crop by product that is fed in the Hill's Region. With this information, I have set out to create a table with; lopping/harvest time, yield, propagation methods and basic nutritional content of each (CP, NDF, Ca, P, Tannins). I will be working on that for the next few days and come up with my recommendation for the highest quality feed/combinations for feeding lactating and growing animals and how to best maintain dry buffalo/cows. Next week, on Wednesday or Thursday, I will do a presentation of my findings as a training session. Lots to do between now and then. I have also created 7 pamphlets with basic nutritional advice, animal care and husbandry, behaviour, and common diseases which will be translated and published to hand to participants as well as a hand-out from my training session. I'm glad I don't have anything planned for this weekend! I am so enjoying this challenge.
I had a really wonderful, touching experience yesterday morning, which highlights every day here in Nepal. I was very early for work, being such a keener to get at this research. Unfortunately, being early does not help if you are locked out of the office. So I was sitting on the steps reading and a woman came up the steps heading for the upper floors of our building. She happily smiled and gestured that I should follow her up. So I did. She took me to her apartment, which had a beautiful terrace garden and overlooked the city and the surrounding hills. Her husband was working on his vegetables, but came and sat and chatted. He was fluent in English, whereas his wife was not, but we all had tea and a great chat until I was able to get into work. As I was leaving, he said, "Our garden is your garden, come anytime you want".
When I arrived in the office Tuesday, much to my surprise about half way through the day my manager announced to me and Naomi, that we would leave for a field trip to visit some farms THAT day and come home Wednesday afternoon. Uddhav gee, have you ever heard about planning in advance?? I had packed with me in the office, all my stuff to head into Kathmandu for a night of laundry service, flush toilets and hot showers. I had not had a hot shower since I arrived in Kathmandu, in fact a nice clean cold water spigot was a luxury. And now I am hearing that I am about to forfeit my reservation in paradise to go do what I had come over here for. Alright. I can do that.
We had a chance to dash home after work to pack our overnight bags and be ready to meet the milk truck around 4:30. Nepal time is cyclical. 4:30 really means 5:30, so I stood out front of my home and said hi to staring passersby for an extra hour. No problems, it is what it is. The shopkeeper brought me a stool and a mango juice. So kind. At 5:30-ish the truck arrived, packed beyond the rafters with milk cans and passengers bound for Bhattedada and other villages along the way. Uddhav and Naomi got in the truck bed and, princess that I am, I got a ride in the front seat with the driver and two other passengers. What a ride. For those who know my daredevil ways, this one was totally up my alley. Death defying barely describes it. The milk truck is a Toto, a Unimog type vehicle. Nothing else would possibly make this hour long journey of 15 km. Huge rocks, massive ruts, rivers running through and along a road that is narrowly sliced into the steep terrain of the hills of Nepal. I smiled the entire way!
Bhattedada is at the end of the road. It is a small farming village that sprawls out over the surrounding hills, comprised of about 300 residents. As we were getting out of the milk truck, the buzz of questions in Nepali starts around us and we just hearing Uddhav say  "Canadian". The view across the valley to Sankhu was breathtaking, steep green lush terraced hills and forest. Off we went to where we would stay, immediately greeted by my newfound favorite beverage, hot, sweet buffalo milk tea. The first cup of many. We were staying at the home of the Sapkota's, the best driver in the village, OK, the only driver in the village, but he was GOOD.
After tea we visited 4 farms, including the Sapkota's. Many of the young buffalo were highly malnourished and stunted. Most of the adult milking buffalo were in good body condition, there was definitely a gap between the feeding practices of the milk producers and the calves. A high percentage of the farms had an equal number of calves to buffalo, which is a good sign, but on one farm they had lost all calves. Practice seems to be to rely on buying in new stock, not raising their own replacement heifers,something for much further discussion. We learned that most farmers used the manure from the buffalo and cows to produce bio gas to cook their food, which was super interesting. As the sun set, we headed back to the house and gathered for dinner. The family was quite traditional, we all sat around the fire cooking area on sacks and wood platforms and ate the most amazing meal of corn meal porridge (like polenta), sag and curd curry and the ever present dal bhat. I bravely ignored the cockroaches until I discovered one crawling on me, then I yelped and brushed it off almost onto Uddhav's plate. Good amusement for all. I'm such a girl when it comes to bugs.
The next day started with observing the business at the milk collection centre. Looknauth, you will be so disappointed. The milk was brought in by jerrycan in many cases and dumped into jerrycans in all cases to take back to the totally unclean big black bulk tank on the truck. No thought about hygiene when handling or transferring. No screen. None of the samples had been tested using the boiled milk clot test until I requested to see it. The samples were just tested for fat content, as that was what their pricing structure was based on. That day we hiked all over the hills to various farms, drank many cups of tea and had fire cooked popcorn and roasted soybeans (yum!), and found similar management practices in most. The stabling, where the beasts got to spend 18 or so hours a day were dark, stuffy, hot, poorly ventilated barns. There were some odd veterinary care practices, including the ever-so-helpful flip flop necklace for sick buff and feeding strategies that were somewhat based on myth more than science. We took lots of video and photos and after two nights in our home stay, we headed back to Chapagaun Thursday AM. Not a moment too soon, the road is now closed after two days of rain brought on another major landslide. The city of Kathmandu is now faced with a major shortage of milk with such a big supplier as this area of Lalitpur closed.
Back safe and sound in Chapagaun, I have spent the past two days learning all about the tree fodder, grasses/legumes, commercial and non-traditional feed stuff used in the area and the various nutrient compositions. There are only about 160 species of tree used for fodder, no problem (eek!!). At every turn, I seem to be saying, "we don't do that in Canada". We don't feed any sort of tree fodder to ruminants for dairy production. In fact, we don't feed any of the stuff they feed. The locals make a hot starchy porridge for their cows and buffalo called khole that is acidic and consumes firewood to boil. This feed is the buffalo's main water supply and is probably causing massive digestive upset and laminitis. Many of the fodder is high in lignin, which cattle should turn their noses up at, etc. So many variables that we just don't face. Fortunately, Uddhav gee has a very firm agricultural background and truly knows the changes that are needed, so we will work together on the report to affect change.
Off to bed, taking a mini vacation to Pokhara with the other Canadian volunteers for the weekend. Time for some more sightseeing. Thanks everyone for your comments, it means the world to me.      
The work week in Nepal includes Sunday, so yesterday I was back to work in the Chapagaun office after a very full weekend. I was in to Kathmandu staying at the Passage House Friday night and went out to dinner with the other CECI volunteers. Pizza and beer in Thamel. What can we say? We needed a touch of home. Afterwards we met for karaoke with more volunteers and a few poor Nepalese who must have thought we were loopy. And VERY bad singers. It was a lot of fun and exactly what we all needed.
Saturday was a CECI arranged tour of the local World Heritage Sites. We visited the Patan Durbar Square including the Golden Temple, the Shree Boudhnath, the monkey temple and the Pahupati which is where the dead in Kathmandu are cremated in funeral pyres at the side of the Bagmati river. Must say, its a bit odd from a Canadian standpoint, to be a tourist at a funeral, but it seemed very accepted. Who would have thought??
Saturday night was a birthday party at the Passage House for a couple of Xui's colleagues from her office. Xui cooked up a storm, the rest of us at the House kicked in some sort of snack, salad or drink. One of the guests is a trekking guide, and offered that he would guide no charge for friends. I hope his memory stretches out far, in the event that I can come back.
Yesterday in the office was pretty quiet. In fact I was thinking that I had been duped being the only person there for the first few hours, but eventually people started drifting in after noon and the regular buzz and hum of that space commenced. Naomi, a Masters student from Ottawa, came back from the city and immediately lit up the office. She is living with the office Manager, Uddhav, so they invited me back for tea after work, giving us a chance to get to know each other better, and honestly, to let me know Uddhav a bit better too. He has been very quiet, which I was not sure how to interpret. I see a different side of him around Naomi. Naomi and I sat at the table and Uddhav made the tea. Very nice visit, he has a beautiful house (which is VERY clean!). Dinner with my family last night was also quiet at first, and maybe it usually is, but after a little bit, we all warmed up and talked about the difference between Canadian and Nepal culture. From marriage and kids, to living arrangements and job opportunities, it interesting for me to learn the differences and seemed a bit shocking for them to hear that we would leave our mothers to live on their own. Sorry mom, I'm a bad daughter! In the home I am living in there is grandma, mom and dad, the three sons and their wives and their collective three children including two infants. It's a hub of activity to say the least.
I found out a bit more information about why people milk the traditional Nepal cow versus the buffalo in some of the urban areas. I couldn't understand it, the buffalo produces higher quality milk, seem to cope with the dietary challenges that a cow cannot, and has offspring that are both used (males can be slaughtered or kept as bull and females as replacements for the herd). Whereas with these small Nepal cows the only useful animal is the heifer calf, the bull calves are turned loose as they are sacred and cannot be eaten. From what I understand now, the cows are very inexpensive, something like 200USD versus 1000USD for the buffalo, that is a big difference. The cooperative loans money to farmers to purchase the buffalo, this has been a huge advancement for farmers. The buffalo are imported from India which adds to the expense and they are more valuable in general, supporting this price. I hope to find out how more of the calves can be raised in Nepal and decrease the reliance on importing animals and the complications that come with that.
At this point the roads are still closed due to landslides. They opened briefly at the end of last week then closed again. When we cannot get through, but more importantly the milk also cannot come to the chilling centre, it's a bad situation for the farmers, throwing milk away this long time.  Tonight is Uddhav's daughters 12th birthday and I have been invited to the party. I know she loves pink, I hope I can find something for her. 
Thanks for all the kind words of encouragement. I am doing much better now.
 
Last night the family had another big dinner, seems I am quite the attraction of the town. I truly wish I could speak even the slightest bit of Nepalese, would make these situations a little less awkward. I spend a lot of time smiling and occasionally nodding if that seems to be needed. I am adopting the Nepalese head shake as it seems ambivalent enough for most occasions and chances are I am not agreeing to give away my house or something along that line.
During the night we looked at pictures. What a great way to get to know each other. I wish I had brought more. One of the daughters is in China at med school, so a lot of these were from the farewell party.It really was quite the affair. I thought she was getting married. Beautiful, colourful dresses.
I was fearful that I ate something I shouldn't have, feeling a little green this morning. As I was in the bathroom, a tray of curry for breakfast arrived and a cup of milk tea. I gratefully accepted the tea and had to turn back the curry, trying to make them understand that while I appreciated the gesture, my belly was hurting. She quickly offered me cake instead, which was funny because my new teenage friend had asked me last night what my favorite food was and unable to think of anything reasonable, I said "cake". Word travels quickly, I suspect there may be cake at every meal now. Woo Ha!!
Work has been productive, at least I think I am being productive. I have done quite a bit of research in the office and now have drafted up 5 different pamphlets for the dairy farmers. They are strictly draft since I have not yet been on the farm tour. That should be Monday if the landslides settle down. I'm looking forward to that. I do have two cows that live under my window, they are a good study of body condition scoring. I also see a few cows and calves along my way home, my general first impression is that the cows are too lean, scoring <2, the buffalo was about a 3, she seems in very good condition. I suspect that the buffalos do better here, they are better converters of the type of roughage available.
After work tonight I am heading into Kathmandu for dinner with the girls at Passage House and tomorrow we go for a tour of the city with a party to follow. Sounds a good break to me.
Love you all!
PS - pictures will have to wait, the internet speed is SLOW.
It happened. Full force. They warned us. Yesterday was absolute culture shock. I melted.
First of my stops was the Lalitpur District Milk Co-operative Union office, where I was to receive my mandate and meet my colleagues. That went smoothly, no surprises in regards to my mandate, but I learned that no one in the office spoke English, everything about my mandate was translated through Babina, who works with CECI. And she was heading back to Kathmandu as soon as she dropped me at my home stay. My home stay was a few minutes away. I was shown my room and met some of the people who lived in the house. No one spoke English except the one son who spoke a little but did his best to show me around the house. As I walked back to the office, I was absolutely overwhelmed.
In a way similar to any big city, the surrounding smaller cities seem to fill in the distance, making it all like one big sprawl. But in this case, it's like Arthur meets Toronto. My apologies to all you Arthurites, but Arthur is rather, um, rural. So is Chapagaon. The issues with such a huge populations become even more exaggerated here. Garbage is simply dumped into the river or burned in the streets. Where 30 years ago these plastics would not have existed, and all things in Nepalese culture were recycled into compost or re-used, our modern world is full of the petroleum based stuff and instead of what we do, neatly putting it away in someone like Elliott Lake's backyard, it is pitched into waterways.
I walked back to the office. Sat at my shared desk and discovered that if I needed access to internet, I would need to share the only Ethernet plug with the senior account manager. I borrowed it quickly and sent a panic email to CECI - Get me out of here!! I will work my hind end off, but I need to come back to Passage House and live with people who speak English. And have a shower. And brush my teeth. And use internet. Then I gave back the Ethernet cord, shed some un-obvious "shared office" tears and got cracking at my mandate. I re-established a connection at the end of the day, and CECI agreed to pull me out of there and set me up in Kathmandu somewhere. And wanted to be assured that I was alright, that no one had done anything wrong. That allowed me to asses my situation. No one had done anything but be extremely nice to me and accommodating. Yes, my situation wasn't what I was used to, but geesh, what did I expect? I worked out the day, produced my first draft of an educational pamphlet on calf feeding and walked home. Still shedding a few tears, but I walked towards the hills and enjoyed a break from the rain and started to feel a little less like the world was ending. I had a good talk home to Keith and that really helped, I was feeling connected to my home again. As I was puttering about in my room I had a visitor, one of many throughout the course of the evening. My visitor was a young teenage girl who is part of the family, but lives in an other section of the house. She is a student in college and I found we could converse a little more, which was such a relief. She brought me her 4 month old baby cousin to hold. Yup, me holding a baby. Unbelievable how powerful that was. I held this sweet little girl who did not have a name because babies are not given names until they are 6 months (for reasons I did not want to consider) and I knew I was going to be ok.
Yes, everything was very different and yet really everything is exactly the same.
The title is dedicated to my incredible and silly girlfriends. How can I be so far away from home and feel just as close to all of you? Yesterday in an email, I described my "inspired" exercise regime. For those who know me, they will know that I live for a good, long run through the forest. This is not a possibility in Kathmandu and possibly not where I am staying for my mandate. So ... inspired by Lori's ridiculous youTube forward called "Prancercise" (which I will not post, as Sandra said, she wants that 3 minutes of her life back), I started an equally ridiculous routine in my 10 x 12 room. Galloping around like an idiot and swinging my calf electrolyte buckets around for a full body work out. Thank goodness for curtains, door locks and being up before any other human in Kathmandu. The dogs are up bright and early. Barking their fool heads off. The CECI office are right beside a cocker spaniel and pug breeder. I thought Daschunds could get whipped into a barking frenzy at just about anything - they hold nothing to these pooches!
Yesterday I completed my orientation at CECI. The staff here welcomed the new volunteers with a wonderfully spicy lunch at a Nepalese restaurant close to the office. The food was fantastic and I met some great people including a fellow who was born and raised in Guelph, go figure! He has been volunteering around the world with his wife and son for many years - next stop for him is Botswana where they are building a house. What a life.
Today I leave for Chapagoan which is where I will be staying for the duration of my mandate. I'm really looking forward to getting there. My view from the plane when landing at the airport in Kathmandu was of lush green hills and valleys, with brown paths snaking up to little hillside farms. Terraced rice plantations dot the mountain sides. The monsoon has come early this year, bringing floods to the plains area in the south, called the Terai. Although no floods in the area I am traveling to, there have been some mudslides (don't tell mom!), which means some of the farmers have been unable to bring their milk to the chilling stations.