Denise Mohan's blog
Now that I've been back at home for a few days, I've had the chance to look back on my 3 weeks in Guatemala on Leave for Change. As I think about lessons learned, work done, challenges faced, friends made, and so many new experiences, I am dazed by the expanse of it. A narrative would go on forever. So let's see if I can crystallize some of it into a bulleted list.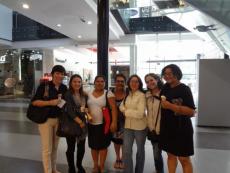 CECI Guatemala colleagues i. CECI Guatemala staff: professional, warm, welcoming, supportive, knowledgeable about everything I needed. From orientation to my mandate and ongoing professional support to other essentials like navigating Guatemala city,  advice on what and where to eat, help organizing weekend trips, shared meals and a willingness to drive me places whenever possible. Their generosity is astounding and I am so grateful to Claudia, Isabel, Jerzón, doña Rosita, Silvia and Tanya.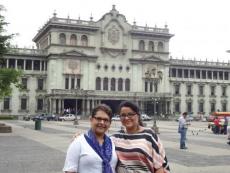 Vicky, Co-ordinator of CVG and maker of delicious plantains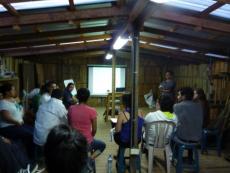 Workshop with TECHO volunteers - in a shed!
ii. The dedication, support and friendliness of the many other volunteers that I met. Thank you all for the warm welcome and for your support. A special thanks to Vicky for "everything"!  Nobody else does fried plantains with cream, sugar and cinnamon quite like you.
iii. Guatemalans working in youth volunteerism know what they're doing. Key adjectives for these inspiring people include committed, talented, educated, articulate, passionate, visionary and most definitely patriotic. Their level of engagement in my workshops was simply outstanding. Thanks, everyone!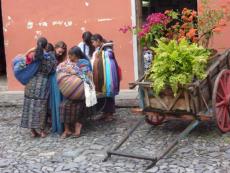 I got permission to take the shot, but I wonder what the topic of conversation was. iv. Guatemalan culture: I came away with so many new experiences of food, music, clothing, painting, architecture, history, politics, religion, the art of weaving, and so much more. Witnessing the strong influence of Mayan traditions was an inspiring and instructional experience.
v. Everyday things that I won't forget:- Breakfast is a big deal. Eat like a king for breakfast, I was told multiple times. My request for 1 egg and 1 slice of toast meant: a plate of fresh fruit, 1 egg, 1 toast, jam, juice, coffee, fried plantains, refried beans, local cheese and sometimes yogurt. Needless to say, now that I'm back at home, I am on a strict eating plan on which an egg means one egg!
- My CECI colleagues actually stopped working at 1:00 p.m. and gathered together to have lunch. They sat at a dining table, ate, conversed and laughed for a full hour! Compare that to my usual 10 minutes gobbling a sandwich while typing on my computer.
-The couple in whose B&B I stayed were appalled and mystified as to why I was working until late every evening after working all day. This was truly a puzzle to them. 
-Guatemalans are warm and affectionate, always hugging and kissing each other hello or good bye.  I was greeted this way from the first moment and was an expert at it by the end of the 3 weeks.
On a more sober note, one of the facets of the Leave for Change program that I truly value is that we do not parachute into our mandates with ready-made solutions. We are listeners and facilitators more than anything and together with the people in our host countries, we discuss the issues they have identified and we build solutions together. I am truly impressed by the level of engagement of Guatemalans already working to improve life and services in their own communities and at the national level.  Now that I am at the end of my mandate at the Guatemalan Centre for Volunteerism (CVG), which brings together many volunteer initiatives and seeks to be the national resource for all volunteer organizations in the country, I hope that my efforts to support the work of the Centre in achieving its mission have been worthwhile. To fulfill one of the expected results of my mandate, I have submitted to CECI and the CVG a manual which will allow for replication of the discussions, planning and strategies addressed in my workshops. My sincerest wish is that it will be a useful tool for the CVG and its current and future volunteer member associations.
I'm happy to be back at home with my family. I'm enjoying again the freedom to walk wherever I want, whenever I want… and sharing my experiences and fond memories of my Leave for Change experience, Guatemala and my Guatemalan friends.  And thanks to my many other friends who have been a strong support system throughout this entire experience.
Would I do this again?  In a heartbeat!
Weeks 2 & 3 have gone by in a flash!  Days in the office preparing workshops for various organizations. Meetings to discuss the issues needing to be addressed and hours in front of the computer researching the issues within the Guatemalan context, in order to facilitate a discovery of strategies by Guatemalans for Guatemala.
In week 2, I facilitated 2 workshops focused on helping volunteer organizations to identify and fulfill their vision & mission within the parameters of their organizational values.  The feedback was very positive and the participation level impressive!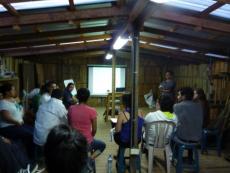 Workshop with TECHO Guatemala
I knew there would be 2 more workshops in week 3, but for what audiences?  After an unplanned conversation with my Co-ordinator about how to build a course on volunteerism, she came up with the idea of me giving a workshop, through the Ministry of Education, for primary school teachers in the country. Its aims? To promote a culture of volunteerism within the educational system and to identify ways to lobby all levels of government support. Wow!  What a challenge, and what an amazing opportunity. Teachers are some of my favourite people, after all.  The final workshop, for representatives of various volunteer organizations in the country, was an inspiring  success given the level of engagement of the participants in the presentation as well as in the Q&A session.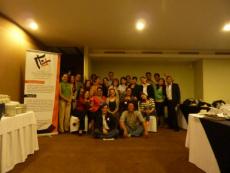 Fun people, hard workers: reps from volunteer organizations
This schedule necessitated many long work days, the worst of which lasted 15.5 hours! This meant, of course, that my 2nd weekend here had to focus on something other than "the job".  What better option then, than to hop a flight from Guatemala City  to Flores, to visit Tikal, archaeological wonder of the Mayan world and an item on my bucket list? After a 4 hour delay leaving (airport closed due to extreme fog) I was more than ready to start my adventure. Tikal was so much more than I ever imagined it would be!  The sheer expanse of it took my breath away and learning that what I saw represents a mere 20% of the site is mind boggling.  The jungle weather was hot, with 90% humidity and in 4 hours, a guide led me through 16km of trails, not counting the time spent climbing to the top of pyramids and temples.  Muscles I didn't know I had were hurting for a couple days after! This was an incredibly educational and inspiring visit, and a dream realized.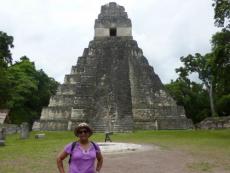 Tikal: Mayan magnificence   After staying a quiet night on the island of Flores, surrounded by beautiful lake Petén Itzá, I was renewed enough to take on Guatemala City once again.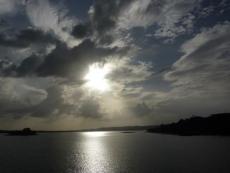 Lake Petén Itzá:Tranquility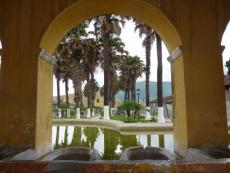 Antigua Guatemala
I'm running a week behind… well, they did say time here moves at a different pace! After week one's crazy work schedule,  I was up for a little tourism last weekend. From Guatemala City, I got on a bus to Antigua, about an hour away.  Many University of Guelph students spend a  winter semester abroad in Antigua and I have been a reference for so many of them, I couldn't pass up the opportunity to get to know the town.  Cobblestone streets, colonial architecture and the 50%  indigenous population made for a fascinating visit. Upon arrival on Friday afternoon, I was given the "doomsday personal security talk" by the owner of my B&B. This threatened to spoil my visit, but once I decided to put it behind me, I was able to go out and enjoy the sights, sounds and tastes of Antigua. Think plaza, colonial churches, narrow stone paved streets, colourful facades, frozen sangría, excellent coffee, chorizo,  local treats like champurradas (large, crunchy  semi-sweet cookies), pepián ( a meat or vegetarian stew), fried plantains, frijoles refritos, fresh fruit… such  delights!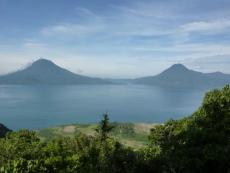 Lake Atitlán, surrounded by volcanoes 
On Saturday I visited Lake Atitlán. After arriving in the town of Panajachel, I got on a boat and traversed the volcano surrounded lake to visit some of the villages on its shores. Here, I felt completely safe, relaxed and at peace under brilliant sunshine tempered by lake breezes. A local artist who gives free painting lessons to the local kids displays and sell paintings by area artists, including the kids. I could not resist the beautiful work by the children and I'm taking home a couple of pieces. I visited a women's weaving co-operative. The building is surrounded by an orchard in which they grow and gather every fruit, vegetable, seed, leaf, stem and root used to dye the wool.  What a fascinating and educational visit!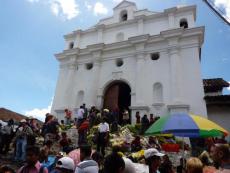 Chichicastenango Market on Church steps
On Sunday, I visited Chichicastenango to visit the 400 year old Santo Tomás church and the famous indigenous flower, vegetable and artisans' market. One word for the market: Wow!  As for the church, I could witness the Catholic and Maya religious rituals being performed side by side in the same sanctuary. One word for the church: Inspiring!
Before returning to Guatemala City on Sunday night, I was able to spend a few final hours in Antigua, where the entire historical core was overflowing with families out for dinner, buskers, marimba performances, churchgoers, and of course vendors of every possible thing.  It was a wonderful experience of Guatemalan culture outside the big city. 
Week two began fast, furious and  full of work, work, work. You'll soon hear about that!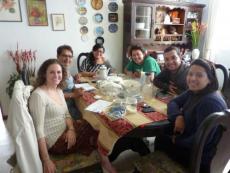 Breakfast meeting with volunteers of TECHO Guatemala
What a whirlwind!  I had anticipated writing more frequent blog entries, but the reality here has made that very difficult, due in part to a capricious internet service.  The other part is my schedule... the first week was packed! Several orientation meetings enlightened me on various topics:
How CECI, my Leave for Change organization, is structured in Guatemala.
What the Guatemalan Centre for Volunteerism expects of me during my mandate with them.
Guatemala City –  personal security is a huge issue. Don't walk anywhere, don't flash jewellery, money or electronics. And above all else, never look like you have a laptop with you!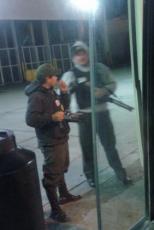 Guatemala City is a tensiuon filled place. Through the bus window: armed guards in bullet proof vests at a gas station
I am impressed and inspired by the young leaders of Guatemalan volunteer organizations. They are passionate about their work, are well spoken, and motivated by a desire for "una mejor Guatemala" - a better Guatemala. I am currently researching intensively the four workshops I will be giving over the next 2 weeks. There isn't a lot of easily accessible information pertaining to the Guatemalan context, but with persistent digging and patience with the internet connection, I'm getting there.
An interesting observation… I have never before witnessed an office culture like the one here. From the moment of meeting a new colleague, an exchange of hugs and cheek kissing begins. Thus begins and ends each day at the office, in every meeting, with every volunteer and even with my landlady. I have ever been kissed or hugged so much in my life before!  Watch out when I get back, people!
That's it for this time. I am committed to short blog entries :-) Hasta luego. I'm looking forward to hearing from you!
Only 2 days to go before I leave. And no, I am not the least bit ready!  Having been busy the last couple of weeks getting a head start on courses for the Fall semester, I am still catching up on my reading about Guatemala and my mandate in particular. As I do, I'm creating copious notes which I plan to use to corral my thoughts as I get into action on the ground in Guatemala City. All the CECI, Uniterra and CVG organizational and policy material is fascinating to read. But I am bothered by other important questions. Like, shall I take one suitcase or two? Will I be able to sleep on a strange pillow? Should I take a water bottle and an insulated mug? Or just one of those? Or neither? LOL. These, too, are important questions when setting off into the unknown.  I imagine the final decision will be dictated by the reading on my luggage scale.
Only this morning did I find out about my lodging arrangements. And oh yes, courtesy of Canada Post, my information packet from CECI was never delivered to me- it was delivered to somebody, just not me!  It was amazing to watch CECI staff scramble into action to provide me with alternate copies of everything.  As Suzanne at CECI said, thank goodness my package didn't contain a required visa and my passport!
I have been very encouraged and inspired by reading the blogs of fellow 2013 L4C volunteers, as well as those from past years. Thanks, everyone. I hope I can make regular contributions to my blog over the next 3 weeks. I also hope to receve comments from many of you as I take off on this exciting journey.  having you with me on this journey will make it all the more special.  Un abrazo para todos - Denise.
It's official! Guatemala City, here I come! 
I've attended the pre-departure orientation, read loads of documents, had my immunizations, filled a prescription and had a police check confirming that I am no danger to any society. And as of this week, I have the detailed description of my L4C mandate. I am going to the Centre for Volunteerism in Guatemala City from July 1-21 to assist in identifying ways and creating programmes to promote youth volunteerism in Guatemala. According to the Centre for Volunteerism, initiatives to engage adult volunteers have been very successful.  However, there is a real need to foster a culture of volunteerism among Guatemalan youth.  My professional experiences in teaching, training young educators, facilitating workshops and public speaking combined with my personal experiences as a long standing volunteer will hopefully inspire me to successfully complete the requirements of my mandate. Doing so while speaking Spanish, a language that I love, is an added bonus. ¡Sí, me voy para Guatemala!