Looknauth Ramsahoi's blog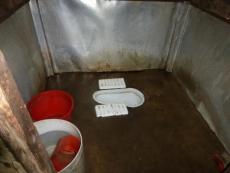 No old age hip joint surgery
I read a medical article somewhere explaining why Canadians have high incidence of hip joint surgery. The way we sit, walk and and use the toilet allows for the ball joint of the hips to wear one way only.  In countries using toilets like this in the picture, the required movement allows for ball joint rotation in a number of different dimensions and the ball joint wears more evenly in all directions...hence lower incidence of the need for surgery.
For the squeamish...there's yoga!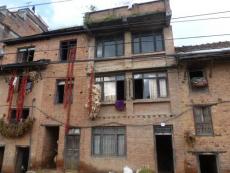 Drying food In Kathmandu and surrounding area, there are so much places and things to see and do. The temples are so amazing. But I like plants and agri-food system activities. I will not mention that the ganja grows everwhere here and no one seems to be using it...it don't smell it.
I found it very smart that every avaibable space is mostly used to grow some food for human consumption. Old jugs on the roof to grow spinach. Loufah sponge ( which is edible when not hard) is climbing on almost every house. Items to dry, chili, corn, soybeans, garlic, onions, hang from houses.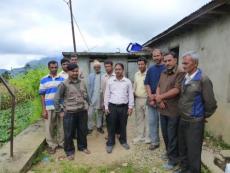 Chilling center tourMy mandate was to study the existing milk production chain from production to consumer and to identify areas for improvements.
Seeing that tomorrow is my last day in Nepal, my postings are rather like synposis of the project.
To give you an idea of the existing state of affairs, I hope this sentence would suffice. Packaged, pasteurized milk sold in Nepal comes with the following information: boil before use, use within 48 hrs where as pasteurized milk is drunk from the bags and has a shelf life of about 18 days in Canada.
Thats a goal for Lalitpur dairy industry in Nepal.
Many challenges exist, geography, very hilly, big hills, where terracing is practiced and cattle cannot be pastured due to the risk of falling off( they are always tied up), farms are small, 2-9 animals, no refrigeration and awareness of sanitation and milk quality concerns need to get to all stakeholders in the production chain. Farms, collection centers, chilling centers, milk transporters, dairies, milk testing ,retailers and even the consumers.
All farmers practice subsistence agriculture growing corn, rice, garlic, peppers, pumpkins, ginger and a multitude of vegetables. Chickens, goat and pigs are also popular.
Agriculture practices are impressively sustainable. I saw corn, pumkins, cucumbers, pepper and ginger all planted in one field. Manure and compost are used on the farm and many frams have biogas facilities.
The National Dairy Development Board, NDDB has already compiled  comprehensive guide biiks and laboratory handbooks for this industry but identified lack of resources to get secure implementation.
With the innovation, optimism and stoic hard working ethics evident in the culture of the Nepalese people, with the proper sustainable tools, I see success.
It is the  hope that projects such as this would add momentum to the improvement efforts of this industry.
The last couple of weeks have been a mad whirlwind of activities, meetings, stakeholer visits, training sessions, meetings, reports ( Yeah, I know, not much blogging!) and more info gathering.
It should be the end of this assignment, but I feel as though, it really just started!
Well, I have been absent from this social place for a while, it's time to catch up.
I was dropped of by the team in Chapagaun on the 5th, about 30 km or so from the CECI passage house in Kathmandu. At first , I was rather perplexed as to why I would have to relocate to somewhere that close. But when one experiences Kathmandu traffic situation-vehicles, bikes, pedestrians, potholes, dogs, cows, chickens and bandhas..understanding comes quickly.
So leaving me alone at Chapagaun felt that when you are dropped off at school the first day...not really (I am a bit older now)
The the host family lived about 5 minutes walk from the Lalitpur District Milk Producer Cooperative Union (LDMPCU) office, the partner organization I will be working with. So this was an ideal arrangement.
The office works Sunday to Friday and shares the internet access with a bank. When the bank closes, we no longer have access. One evening i went searching for an internet cafe and came across about 200 people marching on the road holding bamboo sticks on fire and chanting. Shops were all quickly closing their doors, but people just stood by the roadside calmly watching. The group, congregated by the village circle, piled all the sticks into a heap to burn , threw pamphlets about and speeches were heard. I was told that this was to alert people that the bandha the next day will be strictly enforced. I stood by for a few minutes and then left, without looking for an internet cafe.
The picture is a snap of the paddy fields behind the house I stayed at.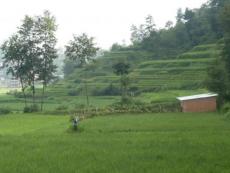 Rice paddies
Bandhas are like strike efforts by a particular group to garner support for a specific concern and all traffic and work are asked to close when this happens.
The Staff and members of the LDMPCU were very nice and welcoming. The Office manager, Uddhav spoke good enough English for us to communicate well and translate for me. The teenager kids of the host family, Usha, Manoj and their cousin Prakash were also excellent translators for me and certainly contributed to making my stay comfortable.
I did learn a few Nepa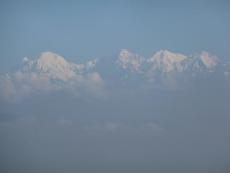 lese words including, Ghar: house, namaste-good for greeting and byes, ramro: nice or good, meito: tasty, Dhere: very, tato: hot, pani: water or rain
On the Sat morning the kids took me up a hill for a hike. I cannot describe the view, except I can include a pic of the mountains here.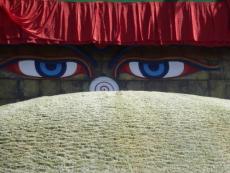 Buddist StupaWe arrived at Kathmandu airport at about 11:00 AM on the 3rd. The only plane arriving at that time, the exit time was speedy and nice. Navraj from CECI picked us up and took us to the passage house.
On the 4th, we were all oriented and briefed by the CECI staff. Everyone is very nice with warm welcomes and very well organized sessions. All three of us even visited the doctor for a health awareness chat. Linda said the it was bizarre that she only goes to the doctor alone and now here she was with 2 other guys!
On the 5th, the office organized a city tour with a guide. This was very insightful and helped us get bearings...however little. I know that I am not driving here!
We visited  2 other holy sites along with the Buddha Stupa. Check out this link for an excellent description
http://www.sacred-destinations.com/nepal/kathmandu-boudhanath-stupa.
Wind beneath my wings.
Hong Kong.....Well beneath the wings of the BOEING 7777-300ER from TO to HK anyways. 398 passengers! I was in row 60. Not really at the back, but close enough that when I looked up the aisle, it felt like I was looking down a long tunnel. Are you curious as to what kind of engine can haul a plane of such a size at about 500 km/hr for 15.3 hrs non stop thru the air? I am!
So, left TO at 1:40 AM, Sept 2nd, arrived at HK airport at 5am Sept 3rd.

Traveler's tip 1: take an aisle seat so you can get up and walk around without disturbing anyone.
Traveler's tip #1.1: Drink a lot of water so you have a compelling reason to get up and walk to A specific location.
Washrooms in this aircraft were neat. The mirror arrangement was excellent; I must tip the barber for a job nicely done.
Money sense tid bit #1: With the current prices of houses, hire aircraft lavatory designers to get you that special look within a budget.
Traveler's question #1: What did people do before in flight movies?
I was able to meet up with John and Linda; two other leave for change volunteers from Canada. Since our next leg of the journey left at 6:00 pm that day, we decided to go into Hong Kong.
What a place, tall buildings, streets very clean and tidy, but......construction. You might think that down town was bad? Think again. The transit system is awesome, the high-speed train from the airport to Kowloon was so fast, my ears were popping.I found it interesting that in one of the malls one might feel as though you were in Eaton's center. We did a bus tour, took the ferry to Hong Kong Island and went up the PEAK with a cable car. What a ride up the 1400 plus feet above sea level peak. The pic here shows the view from the top. Across the water is Kowloon and downtown Hong Kong is on the same side of the peak.
Isn't Amazing?
 Isn't it amazing that one can travel 8323 miles in 22 hours today?
 I am trying to get prepared and ready for departure at 01:40AM Sept 02 for Nepal from Toronto and my brain is constantly buzzing with must do's, should do's, might as well do's, for work, house and family. Just imagine what the Vikings would have had to do for a fraction of such a journey.  I cannot! In comparison, my "to do's" at hand is a piece of cake and I bet I will catch some beauty sleep enroute, at that!
 In Nepal, I will be partnering with the Lalitpur District Milk producer's Cooperative Union in Lalitpur District, Chapagaun, outside of Kathmandu as a Dairy Quality Advisor.  This assignment is through the University of Guelph's Leave for Change volunteer program through Uniterra. Uniterra is comprised of CECI, Center for International studies and Cooperation and WUSC, World University Service of Canada.
 Isn't it amazing that people travel half way across the world to share, support and partner with others in development initiatives? Yes, the trip in itself is an adventure but the feeling of making a wee bit of a contribution towards helping others is important for me.
The distance around the earth at the equator is about 25,000 miles, travelling a mere 8,000 miles is a healthy reminder, just how much more is still achievable.
 Yes, it is amazing what we are able to do!
Many thanks for the help, training and support from the Leave for Change staff at Guelph and CECI office.
 Will keep you posted