Rebecca Knaggs's blog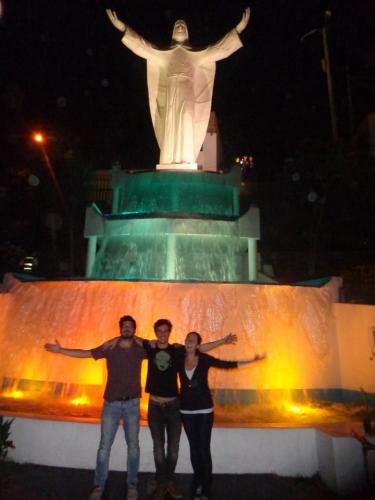 So I know so far I've been ranting about the kindness and love shown by the wonderful people of Peru. However, now it's time for a bit of a confession: I have a Type A personality. This basically means that I plan...everything...days in advance. I plan, I'm productive, I prepare. And if I don't...well I tend to go a bit loca. Now, this is all fine and dandy in the Canadian economy where everyone is always connected, but as I very soon found out, this isn't exactly how Latin Americans work.
The organization that I was working for - La Asociacion Aurora Vivar - only worked Monday, Wednesday, Friday (10am (ish) - 5pm) with the obligatory lunch hour where everyone would stop working and have lunch together. This left little time for being productive...or preparing...or planning. In addition, outside of the workplace, nobody was connected to their email. 
There were days I woke up not knowing what the plan would be for the day. Do I have a workshop today? What material should I prepare? Should I prep? Should I practice? How many people were attending? How are we getting there?
Eventually, at the risk of having a nervous breakdown, I said to myself:
Rebecca: Just. Go. With. It.
So I did just that. I stopped that incessant need to plan everything days in advance. I enjoyed having my lunch hour and not being connected to my cell phone when I wasn't working. How many of us actually separate ourselves from our desk at work and enjoy our lunch? T'is but a rare thing - am I right? In actuality, there was one day where nothing (and I mean nothing) went as planned, but everything turned out pretty darn well in the end. However, that's a story for another post...
Why is it that those who have the least are usually the ones to give the most to others? 
In my most recent post, I spoke of the people of Chacrasana, who didn't think twice about welcoming 3 Canadians into their community. They fed us, they kept us safe, they gave us shelter and they adourned us with gifts - simply because they were happy to have us in their homes. In fact, throughout the night, they even kept thanking us for being there! 
In this post, I'd like to take the opportunity to pay kindness forward. If you're reading this blog, please take 2 minutes out of your day and maybe $20 out of your pocket to welcome someone into our Guelph community. Use the link below and help UofG sponsor 2 Syrian refugees and help give them the tools and the opportunities they need to make a better life for themselves as well as the world. 
http://news.uoguelph.ca/2015/10/u-of-g-to-sponsor-syrian-refugee-students/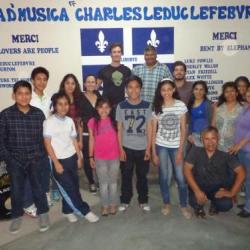 "You're going to Peru – So you're going to Machu Picchu, right?"
As I only had one full weekend in Peru, my sights were set (and very determined) to make it to the Inca ruins of Machu Picchu. A week before I left Canada, I had mapped out a very tight, but still do-able, itinerary to get me to and from the Inca Ruins in 2 days. I needed to have that cliché picture with the sun setting over Huayna Picchu in the background.
Well, unfortunately I didn't get to Machu Picchu – but where I did get to, was worth so much more than altitude sickness and the combined hours of taking a plane, bus and train.
When he was 15 year old, one of my housemates came to Peru and stayed with a family in a small town outside of Lima known as Chacarasana. Travelling 4 hours in total, Marino came to pick up myself and my 2 housemates, to take us back to his house; a house which he built from the ground up with his bare hands. After getting settled, Marino, his family and the Chacrasana community took us over to La Sala d'Musica where the kids in the community came together, connected by the universal language of, and their love for, music. Every Saturday they practiced incessantly, for 3 hours, playing the drums, flute, guitar, bass. Song after song they performed for us, when suddenly Luis (the music teacher) announced that we would probably know the next one they were about to play; Zombie by The Cranberries.
The people of Chacrasana, compared to all that we have in Canada, have little to nothing. And yet, they gave us an experience that was worth so much more than material possessions, so much more than that picture at Machu Picchu. Without even knowing us, and without even thinking twice, they opened their arms and invited us into their community. They showed us love and compassion and opened a door for us to step right into their lives.
On the drive back to Lima, it scared me to think that I might forget these feelings of compassion and unconditional love once I returned to the hustle and bustle of Canada. However, all of a sudden Marino's wife Laura slipped her bracelet onto my wrist. "Para ti."  She told me that this bracelet was made of Huayruro seeds, which in Peruvian culture, symbolize the origin from which all living beings are derived: the earth. They are used as amulets for abundance, fertility, as well as good luck and are said to drive off any negative energy.
I didn't get to Machu Picchu – but what I did get was a whole new perspective on life and love.
I don't think I'll ever feel the same way again listening to that Cranberries song.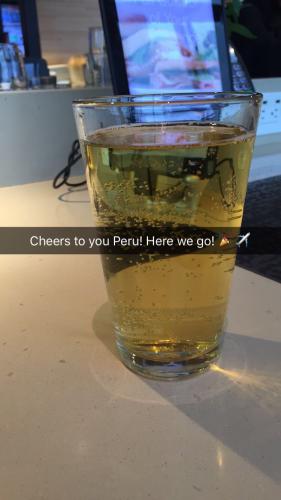 Funny how quickly time moves. It seems as if it were only yesterday I was seated at the Leave4Change Orientation over the May 2-4 weekend. Quite possibly (and obviously) the youngest person in the room, I was humbled to be seated amongst the likes of UofG all-stars such as Andrew Vowles, Mario DesChamps, Sandy Smith. And it was at this precise moment, looking around that room at everyone munching casually on their chocolate croissants, I thought – What the heck am I doing here?
Born and raised in Trinidad and Tobago, I arrived in Canada at 19 years old. By this time, I had already been through the Secondary School system in Trinidad where the girls all took courses such as 'Clothing and Textiles' and 'Food and Nutrition' and the boys were enrolled in 'Technical Drawing' and HVAC training. For years I wondered what that object was that they all carried around (and admittedly, it was only a few days ago my partner told me it was a T Square…).
The years of discrimination I've felt from the education system, (not only in Trinidad), have culminated and ultimately joined forces with a M.Ed. in Adult Education and Community Development. In fact it was only on Friday that I quite literally tossed on my M.Ed. regalia and shook hands with the Chancellor at my UofT Convocation (He says 'hi' by the way, Franco).  
But, there I was on Saturday evening: with an –er - apple juice – in Pearson Airport about to board the Air Canada flight for Lima, Peru. To the people at WUSC and La Asociación Aurora Vivar, thank you for welcoming me before I've even stepped foot off the plane. I can't wait to learn with you and to learn from you. You may not know it, but you already hold within you all the answers you're looking for.
Cheers. Salud.