Leave for Change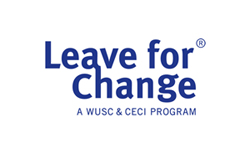 This program is on hold and we will be reevaluating our commitment to the program and will communicate when a decision has been made.
Embrace an adventure of a lifetime and volunteer your talents and skills through Leave for Change!
Leave for Change offers faculty and staff the chance to undertake a short-term volunteer assignment in a developing country. Participants volunteer their talents, skills, and experience to build capacity in a local partner organization while learning about international cooperation first-hand. All you need to contribute is your vacation time (3 - 4 weeks). The costs of participating (transportation, accommodation, vaccinations, etc.) are covered through an agreement between the University of Guelph and the Leave for Change Program. 
Leave for Change is offered in partnership with Uniterra, a joint initiative of World University Service of Canada (WUSC) and the Centre for International Studies and Co-operation (CECI).
Learn more about Leave for Change by watching the Leave for Change promotional video.
View our recorded Panel Presentations to hear from past participants: