Meet Valerie, OAC Student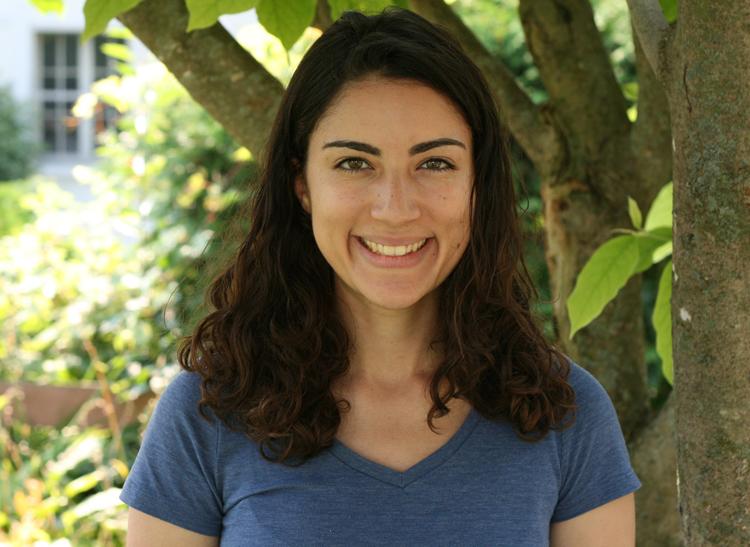 About Valerie Freemantle
Valerie Freemantle is a third year student in the B.Sc.(Env.) program. She is in the co-op stream of the program and enjoys the variety that her courses provide. Read on to learn about some of her favourite places to hang out on campus and her favourite courses so far.
Program: Bachelor of Science in Environmental Sciences - Environmental Science - Co-op
Hometown: Newmarket, Ontario
Year of Study: Third year
---
Why did you decide to come to the OAC/Guelph?
I loved the campus and the flexibility of the programs. I really wasn't sure what I wanted to do in grade 12, and Guelph's program gave me variety without being unfocused.
What do you like best about your program?
I like that it has helped me understand how to think more critically. Today, we are constantly bombarded with stories, facts and images and it can often be a little overwhelming. My program has helped me develop a better way of sorting through all of this and separating the probable from the improbable.
Do you have a favourite class or professor?
My favourite class is tied between Physical Geography (GEOG 1300) and Meteorology and Climatology (ENVS 2030). My favourite professor is also a tie. It would either be Prof. Martin Williams (Physics1020) or Prof. Jeremy Balka (Statistics 2040).
What residence did you live in during first year?
I was in the Environmental Science cluster in South. After a day I knew about 20 people in my program and I still keep in touch with many of them.
What are you planning to do after graduation?
I would like to continue into a graduate program. I haven't narrowed down the place or program yet, but it will have something to do with either earth sciences, teaching or both.
Did you have a summer job?
I was in school this past summer, but I had a co-op job during the previous winter semester. I was hired as an intern at an outdoor education school near Algonquin Park with the Toronto District School Board. I had a chance to learn from incredible educators, while doing some of my favourite things: being outside and working with kids. It was honestly a dream job for me. I absolutely loved it and am going back for a second placement.
What are your favourite events/activities on campus?
My favourite on-going activities are the dance classes that are offered at the Athletic Centre. I used to be a competitive dancer and the classes are a nice break from schoolwork. My favourite campus event of all time was when Craig Kielburger (of Free the Children) did a presentation in War Memorial Hall and Alastair Summerlee (the president of the University) opened for him with a presentation about his experiences in Dadaab, the world's largest refugee camp. Listening to these two great speakers was very humbling and inspirational.
What is your favourite way to procrastinate from studying?
I like to crochet and knit, so I will often start looking for gift ideas for Christmas or upcoming birthdays. Because I am making something tangible, I feel like I am being productive. Baking, running and Netflix are also helpful (if sometimes too long) study breaks.
Where is your favourite spot to hang out on campus?
I love being in the Science Complex Atrium. The Second Cup there happens to play my favourite radio station and the seats are very comfy. It also has natural lighting and wi-fi, so it is my first choice for long study sessions. My favourite place to eat is the Mongolian Grill in the Prairie Eatery in South.
Do you have favourite spots in Guelph?
Favourite spot in Guelph is at the Boathouse. It is downtown on Speed River and in the summer you can rent canoes and kayaks. They also sell ice cream and are easily accessible by bus. Can't get much better than that.
Share this page
Find related news by keyword
News Topics