COVID-19: Guidance for Using Medical Masks
The University of Guelph has updated its requirements for masks worn on-site. Faculty, staff  students, contractors and visitors are required to wear a medical-style mask when attending at U of G locations – cloth masks are not considered acceptable at this time.
Medical-style masks must fit tightly to the face without gaping and completely cover the nose, mouth and chin. Public Health guidance indicates that medical masks provide more reliable protection from COVID-19 than non-medical masks.
There are additional PPE requirements for employees required to work in student residence or family housing units. Please refer to Environmental Health and Safety (EHS) guideline on "COVID-19:How to Work Safely in Student Residences of Family Housing Units" for details on these requirements.
Medical masks are available through the Physical Resources Stockroom.
What is a Medical Mask
Medical masks refer collectively to "Surgical masks", "Isolation masks" or "Procedural masks". Medical masks used in Canada and the United States are typically classified by the American Society for Testing and Materials (ASTM) as "Level 1", "Level 2" and "Level 3".
Many commercially available "non-medical disposable masks" have a similar appearance to medical masks, but they have not been evaluated or tested to ASTM standards and are therefore considered to be "non-medical masks".
It is difficult to distinguish between "medical masks" and "non-medical disposable masks" by appearance since medical masks typically do not come with markings on the mask itself. To confirm if a mask is a "medical mask", check the original box for specific wording: "ASTM" AND "Level 1", "Level 2" or "Level 3".
The specifications for medical masks are as below:
| Test | Level 1 | Level 2 | Level 3 |
| --- | --- | --- | --- |
| Bacterial Filtration Efficiency, % | ≥95 | ≥98 | ≥98 |
| Differential Pressure mm H2O/cm2 (Pa/cm2) | <5.0 | <6.0 | <6.0 |
| Submicron particulate filtration efficiency at 0.1 micron, % | ≥95 | ≥98 | ≥98 |
| Splash Resistance/Synthetic Blood Resistance, mmHg | 80 | 120 | 160 |
| Flame Spread | Class 1 | Class 1 | Class 1 |
| Microbial Cleanliness (cfu/g) | N/A | N/A | N/A |
From: https://buyandsell.gc.ca/specifications-for-COVID-19-products#200
Why Use a Medical Mask
When worn properly, wearing a medical mask can help protect you and others from COVID-19.
Using a medical mask COMPLEMENTS (but does NOT replace) the following measures that prevent the spread of COVID-19 between people:

If you feel sick, DO NOT come to work and notify your Supervisor.
If you become sick while at work, STOP working, isolate yourself from others, notify your Supervisor and go home as soon as possible. Refer to U of G webpage "What to do when you're sick or have been exposed" for more information.
Proper hand hygiene - wash/sanitize your hands frequently.  Be mindful of high touch surface areas
Respiratory etiquette by covering coughs or sneezes with a tissue or your elbow.
Who Should NOT Use a Medical Mask
If you have a medical condition, disability, or impairment that affects your ability to wear a medical mask and need accommodation, please contact:
Employees: Occupational Health and Wellness (OHW) at ohw@uoguelph.ca and notify your supervisor. Please note that employees are not required to disclose their specific medical condition to their supervisor.
Students: Student Health Services at 519-824-4120, Ext. 52131.
When a Medical Mask Should NOT be Used
When it is damp, dirty or damaged.
When it impairs vision or interferes with tasks.
When a respirator (e.g., N95 filtering facepiece, half facepiece or full facepiece) is required as part of assigned personal protective equipment (PPE) and has been approved for performing the work safely (e.g., agricultural workers during spraying pesticides).
How to Wear a Medical Mask


Check the mask for damage; if damaged, discard.


Open the mask to fully cover from nose to below chin

Place over nose and mouth and secure to your head with ties or ears with ear loops (depending on the style of mask).

If the mask has a nose bar, pinch around your nose to reduce gaps between your face and mask.
Adjust if needed to make sure your nose and mouth are fully covered.
Avoid touching the mask while wearing it; if you need to adjust your mask, clean your hands with alcohol-based hand sanitizer or soap and water before and after you touch it.
Keep your nose, mouth and chin covered at all times, until you are ready to remove the mask.
Avoid lowering the mask to have it placed against your neck; instead remove and replace if necessary.
Medical Masks - Fit
As with any face covering, proper use and fit to the face continues to be an important factor. When worn, a medical mask should:
completely cover the nose, mouth, and chin without gaping
allow for easy breathing
fit securely to the head
fit comfortably to avoid frequently adjustment
How to Remove a Medical Mask
Remove your mask if it becomes damp, dirty or damaged.
Wash hands with soap and water for at least 20 seconds or apply alcohol-based hand sanitizer with a minimum of 60% alcohol.
Do not touch the front of the mask. Remove using the ties or ear loops.
Medical masks should not be reused and should be safely discarded after use. Dispose of it in a lined garbage bin and wash hands or apply alcohol-based hand sanitizer afterward.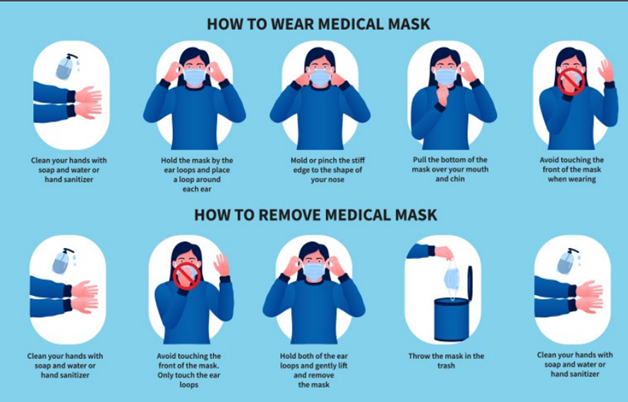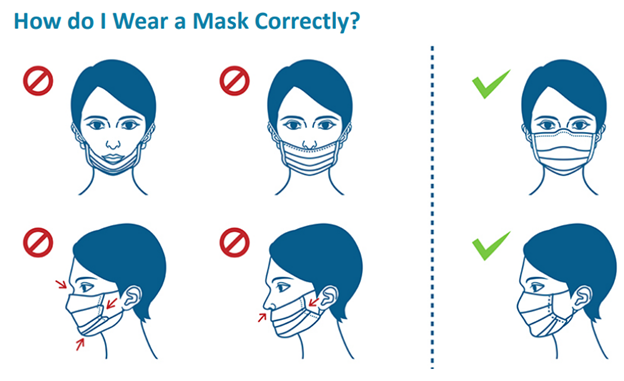 What NOT to do with your Medical Mask
Do not touch your face under the mask.
Do not use a ripped, visibly soiled or wet mask or if the ear loops/ties are damaged.
Do not wear the same mask for a long period of time; it must be changed when it gets damp.
Do not share masks with another person
Do not wear the mask below your nose or chin.
Additional Resources on the Use of Medical Masks
For any concerns or inquiries related to COVID-19 and working safely, please contact Environmental Health and Safety (EHS) at ehs@uoguelph.ca or Occupational Health and Wellness (OHW) at ohw@uoguelph.ca