COVID-19: Guidance for Student Transportation
In accordance with the Postsecondary Education Health Measures Framework for Fall 2021, issued by the Ministry of Colleges and Universities (MTCU) on August 31, 2021 and Ontario Regulation 364/20: Rules for Areas at Step 3 and at the Roadmap Exit Step, indoor instructional spaces such as classrooms and in-person experiential learning spaces are allowed to operate without physical distancing requirements at post-secondary institutions, where mandatory COVID-19 vaccination policies have been implemented. In consultation with Wellington-Dufferin-Guelph Public Health (WDG PH), this may include student transportation vehicles (e.g., buses) for academic field trips and experiential learning.
The University of Guelph has mandated that all faculty, staff and students accessing U of G buildings and University-managed facilities must have submitted proof of vaccination against COVID-19 or received an approved exemption request by September 7, 2021.
Physical Distancing Where Possible
Student transportation vehicles for academic field trips and experiential learning can operate at full capacity. However, where the vehicles are able to operate at less than full capacity, students should be seated in a manner that maximizes physical distancing.
In buses, the seat directly behind the driver should remain empty to maintain physical distancing between the driver and students. In other vehicles (e.g., vans and cars), this should be adhered to if possible.   
Operable windows and roof vents (if applicable) should be open when feasible to increase ventilation. 
Assigned Seats
In buses, seating should be assigned (preferably with numbers) and a record of the seating plan should be kept to assist with potential contact tracing by Public Health in the event of a COVID-19 positive case.
Changing of seats at any time during the trip should not be allowed.
Students who live in the same household or in the same residence unit should be seated together where possible.
Close contacts between students during loading and unloading should be minimized. Where possible, the students should be loaded to seat the back of the bus moving to the front and unloaded from front to back in an orderly manner. Assigning seats with numbers can help this process.
For example, in a bus with the maximum capacity of 50, the student who is assigned the seat closest to the bus entrance can be numbered as "#1" and the furthest from the entrance as "#50". It is recommended that for each loading, students are instructed to form a line-up outside the bus so that they can efficiently get on the bus in order from #50 to #1.       
Monitoring for Symptoms
Reminder for all faculty, staff, students, and contractors (e.g., bus drivers) involved on the day of the trip:
If you feel sick, do not go on the trip and inform your supervisor or course instructor.
Every day and before coming onto the vehicle, you must complete the University of Guelph COVID-19 Daily Screening Form.    
If you become sick during the trip, inform your supervisor or course instructor immediately, who should take measures to protect the others around you. U of G COVID-19 Call Centre at 519-824-4120, extension 53906 can provide guidance and connect you with supports from Student Health Services or Occupational Health and Wellness as necessary.
Those who plan for trips should refer to their departmental contingency plan in the event where a participant feels sick during the trip.
COVID-19 Supplies Recommended for the Trip:
Supplied cleaners / disinfectants
Disposable gloves for use in cleaning and disinfection
Disposable garbage bags
Extra masks 
Hand sanitizers with at least 60% alcohol
Paper towels and absorbent materials
Hand Hygiene
Alcohol-based hand sanitizers with at least 60% alcohol should be available. In a bus, they should be available
near the entrance (for everyone to use when boarding and exiting the bus) and multiple locations throughout the bus (for students to use during the trip)
Before and after each trip, everyone should wash hands with soap and water for at least 20 seconds. Dry hands with a paper towel or with cloth towel that no one else will share.
Avoid touching eyes, nose, or mouth with unwashed hands.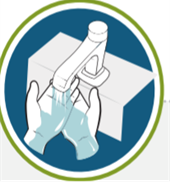 Clean / Disinfect
Before and after each trip, high touch surfaces inside the vehicle should be cleaned / disinfected (e.g., handrails, seat adjuster, and door handles).
Follow the manufacturer's guidelines on the use of the cleaning / disinfection products and wear disposable gloves if needed (e.g., to avoid skin irritation). The gloves should be removed with care to avoid skin contact with the outside of the glove.   
Always wash hands immediately after removing the gloves or use an alcohol-based hand sanitizer with at least 60% alcohol if soap and water are not available.

Respiratory Etiquette when Coughing or Sneezing
Cough or sneeze into the elbow or a tissue, even with a face mask on.
Dispose of any tissues used as soon as possible in a garbage bag.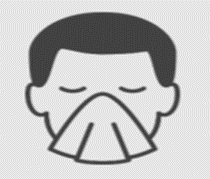 Wear a Mask
Everyone inside the vehicle is required to wear a mask. The mask should be replaced when it's damaged, soiled or damp. All participants should bring extra masks.
When worn properly, wearing a mask can help protect you and others from COVID-19.
Follow the EHS COVID-19 guidelines for Non-Medical Masks and EHS COVID-19 guidelines for Medical Masks including the precautions below:
Consistently and strictly adhere to the other precautionary measures described above as the mask alone will not prevent the spread of COVID-19. 
Do not use a mask that is ripped, visibly soiled, wet or if the ear loops are damaged.
Wash or sanitize hands immediately before putting it on and immediately after taking it off (in addition to practicing good hand hygiene while wearing it).
The mask should fit securely to the head and completely cover the nose, mouth and chin without gaping.
Individuals should be careful not to touch their eyes, nose and mouth when removing their mask and wash hands immediately or use hand sanitizer after removing.
Avoid touching the mask while using it.
When removing the mask, grasp the ties or ear loops carefully without touching the front of the mask.
Replace the mask when it becomes damaged, soiled or damp.
Resources: